A lot happened this week in Raiderville. Matt McGloin went from undrafted back-up to center-stage star. First round pick DJ Hayden's luckless rookie season is over due to injury and the offensive line is slowly getting healthy after a season of shuffling. With this in mind, I hit a few topics this week. I also added some Raiders interviews from my radio show from this week, four downs and one for the road.
I will readily admit it, I am quarterback obsessed.
After all there are 21 other players on the field for an offense vs defense play and yet all we seem to talk about on my radio show is the guy under center.
By the way, we can never talk enough about quarterbacks.
For three seasons from 2000 to 2002, former Raiders quarterback Rich Gannon started all 48 regular season games. The Raiders record was 33-15 with three playoff appearances, including an AFC Championship.
From 2003 through 2012, the Raiders started 15 different quarterbacks and never made it through a single season with just one starter for all 16 games. Their record was 49-111.
Over that same period, the Patriots, Colts, Giants, Packers and Saints started the fewest different quarterbacks, 18 combined and won seven of the 10 Super Bowls. That's Tom Brady, Peyton Manning, Eli Manning, Aaron Rodgers, Brett Favre and Drew Brees for the most part.
The point is, continuity at the quarterback position wins in the NFL and no other position is even a shouting distance second.
This brings me to the point of this exercise from a Raiders fan perspective. Whether you prefer rookie Matt McGloin, who passed the Raiders to a victory at Houston last Sunday in his first career regular season start or Terrelle Pryor, who has dazzled with his running ability this season, Oakland needs one of the young starters to emerge to be a consistent offensive threat each week. It's not on one man, but the guy who gets all the attention, win or lose, dictates a large majority of a team's success.
How good was McGloin last week in his start?
In the last 25 years, 15 undrafted rookies have started a game in the NFL.
In their first career start:
Their combined record was 5-10
They combined to throw 10 touchdowns and 18 interceptions
The average quarterback rating was 64.6
Matt McGloin won his start, threw three touchdowns with no interceptions and compiled a quarterback rating of 105.9.
None of the 15 quarterbacks threw more than two touchdowns
Only two quarterbacks had a higher rating
There is no denying it was a great start. Now NFL defensive coordinators have tape on McGloin. The key is if he can now sustain his success without sneaking up on a team. The rookie will be the center of attention, the head of the Raiders snake.
McGloin told me on my show this week he is up for the challenge of becoming a week-in and week-out consistent starter.
"There is still much more to prove," McGloin said. "We got a taste of what it was like to get that victory, you never want that feeling to go away. As long as we take it a day at a time, a game at a time, we can change this thing around."
His head coach in college at Penn State Bill O'Brien, who was the offensive coordinator for the New England Patriots, told us on 95.7 The Game this week he thinks McGloin can sustain his prosperity because he has the most important traits a quarterback needs.
"Matt has the attitude that he can make a play at any time and that's what you want in a quarterback."  O'Brien said. "What makes a great quarterback is your mental toughness, your winning attitude, your attention to detail, your understanding of defense so the ball can come out on time, your understanding of protections, it's your understanding of football and at the end of the day your ability to be a winner and that's what Matt McGloin is and I think he's going to continue, I believe, to win for Oakland."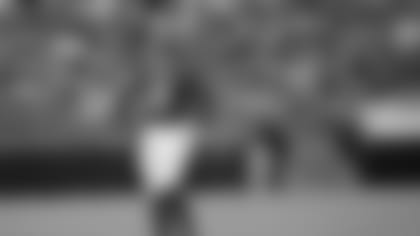 DJ HAYDEN'S FIRST SEASON IS IN THE BOOKS:
2013 first round pick DJ Hayden's season is over due sports hernia surgery. The injury occurred in practice November 6, a year to the day he nearly lost his life during a practice at the University of Houston where he collided with a player on a seemingly routine play and tore a heart valve.
His final numbers won't jump off the page at you: 26 tackles, one interception, one forced fumble, two passes defensed, but many lessons learned.
This is DJ Hayden's last 12 months:
November 6, 2012: Torn heart valve, nearly died.
Recovery period was initially diagnosed at one year by Houston doctors, Hayden lost 25 pounds during recovery.
March 18, 2013: After missing the combine in February, Hayden ran a 4.33 40-yard dash at his pro day in Houston.
April 25, 2013: After trading down with the Miami Dolphins from the number three selection to the number 12 selection, Oakland selects Hayden with their first round pick.
May 29, 2013: Hayden has abdominal surgery to remove scar tissue from previous surgeries. The procedure forces Hayden to miss all off-season OTAs.
August 2013: Hayden wears red non-contact jersey for much of training camp as a precaution.
August 23, 2013: Hayden makes his Raiders debut during week three of the preseason in a 34-26 loss to the Chicago Bears.
October 6, 2013: Hayden helps seal a Raiders 27-17 win over the San Diego Chargers with his first career interception late in the 4th quarter.
November 3, 2013: Beaten for two long touchdowns in a loss to the Eagles.
November 6, 2013. Injures groin during practice.
November 20, 2013, placed on season-ending injured reserve.
I spoke with Raiders Hall of Fame cornerback Willie Brown on my radio show this week and he thinks Hayden will justify his selection after a trying year on and off the field.
"It shows how tough he is to get through this year with all the surgeries and setbacks, he came back and fought", Brown said. "He can run, but he needs to be a little more physical at the line, it takes time."
I know we live in a society where everyone expects everything right away. When the internet first arrived, dial up was acceptable. Now if your web page doesn't load in warp speed, we get impatient. The same applies to the football field. A first round pick has to be justified right away or the fans want a new guy in there.
It's been an adjustment for the rookie from Houston who almost died on the football field   exactly a year ago. The front office knew he would take time. Hayden has the physical skills to be special. For the first time, he will have an entire off-season to match his technique with his physical gifts while getting his body stronger to better match-up with big NFL receivers. If we are having this same discussion a year from now you can officially be worried, but it is too early for that talk right now.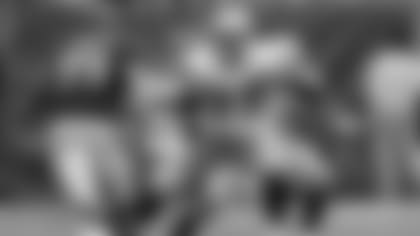 GOOD NEWS FOR THE OFFENSIVE LINE:
When projected starting left tackle Jared Veldheer suffered a triceps tear in August it set in motion a series of ripple effects of which the unit has struggled to deal with. The team has used the most offensive line combinations in the NFL this season.
Per my friends at Pro Football Focus.com, the chart below is the 11 combinations the Raiders have fielded the most often and the percentage of offensive snaps overall.
It was announced this week Veldheer is practicing with an eye towards returning Thanksgiving Day at Dallas. With some luck the Raiders haven't had this season, the team could field their originally projected front wall for the last few weeks of the season with even the luxury of some depth.
AUDIO FROM MY RADIO SHOW THIS WEEK:
As I have shamelessly plugged numerous times on the Wheel Route this season, I host a radio show in the Bay Area daily with the voice of the Raiders Greg Papa on 95.7 The Game from Noon- 3 p.m. PT. We talk to players weekly and below are some good interviews from this week looking back at the Houston win and ahead to this weekend versus the Titans:
Monday, November 17: Raiders quarterback Matt McGloin talks about the win over the Texans and looks ahead to more against the Titans.
Tuesday, November 18: Former Raiders linebacker Kirk Morrison talks about the life of his best friend, former Raiders linebacker Thomas Howard, who died in a car accident this week.
Thursday, November 21: Raiders Hall of Fame cornerback Willie Brown, the original number 24, joins the show to talk about how rules have changed to make it tough on defensive backs in today's NFL.
Thursday, November 21: Raiders right tackle  talked about Rashad Jennings' 80-yard touchdown run vs the Texans and how he became a Raider.
Thursday, November 21: Raiders linebacker  on how this defense came together and what it's like playing with his brother Kaelin Burnett.
FOUR DOWNS: KEYS TO A RAIDERS WIN AND ONE FOR THE ROAD
When the Raiders have the ball: Pro Football Focus reports Matt McGloin was under pressure on 44.1 percent of his throws last week in Houston, the highest percentage in the league. Houston is one of the lowest blitzing teams in the league, Tennessee, led by defensive coordinator Jerry Gray and the aggressive Gregg Williams will bring extra heat. McGloin held up to pressure well last week, how will he handle a different type of pressure this week?
When the Titans have the ball: According to Pro Football Focus, the Raiders have blitzed their linebackers (262), and defensive backs (114), more than any other team in the NFL. However, Titans quarterback Ryan Fitzpatrick is better against a blitz. When Fitzpatrick is not blitzed he has four touchdowns and four interceptions on the season with a quarterback rating of 78.3. When teams bring extra players on the rush, Fitzpatrick has zero interceptions and a 98.9 quarterback rating.
Led by cornerback Alterraun Verner who tops the NFL with five interceptions, The Titans have allowed a league-low seven touchdown passes this season. Conversely, they have allowed an NFL-high 15 touchdowns on the ground. McGloin was great last week, but this may be a game where Rashad Jennings leads the team to a win on the ground.
Last week the Raiders were three for three scoring touchdowns in the Red Zone vs the Texans. Over the past four games, opponents have scored touchdowns on 10 of 12 chances against the Titans defense inside the 20-yard line. Over that period teams have averaged over 28 points per game against Tennessee. A big difference compared to the first six games where they gave up about 19 points per game and touchdowns on 10 of 18 possessions inside the Red Zone. If the Raiders can keep up the trend from last week and add to the Titans recent woes in that key area of the field, Oakland will walk away with the win.
The Raiders are tied with the Broncos for tops in the NFL in first quarter scoring, averaging 7.6 points per game and Oakland is first in the NFL in first quarter scoring at home averaging 10.4 points per game. Meanwhile, Tennessee is fifth best in the NFL only allowing 2.2 points per game in the first quarter on the road. Something has to give. To keep solid momentum going from last weekend in Houston, the Raiders need to get off to a fast start at home. One for the road: Titans Head Coach Mike Munchak and Raiders starting quarterback Matt McGloin are both from Scranton, Pa., and both attended Penn State.