General Manager Reggie McKenzie and Head Coach Jack Rel Rio speak to reporters. Photo by Tony Gonzales.
Oakland Raiders General Manager and Head Coach Jack Del Rio addressed the assembled media in the auditorium of the team's Alameda, Calif., facility in an annual pre-draft press conference. The 2015 NFL Draft is the fourth McKenzie will "captain" for the Silver and Black. With Del Rio's hiring in January, this will be his first opportunity to team up with McKenzie for an NFL Draft.
"Can you get him out of my office?" McKenzie quipped.
"Reggie has been great about being inclusive," Del Rio said. "I think Reggie does a great job of being inclusive and gathering information that way. I think that's where it starts."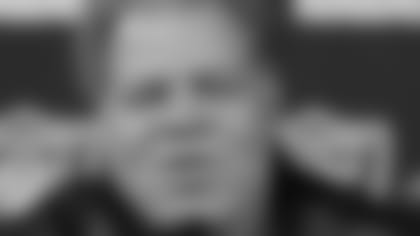 McKenzie and Del Rio were tight-lipped when it came to specific details on individual players or particular position needs, not wanting to give away any trade secrets with less than a week until their first round selection. McKenzie says he is encouraged by last year's Draft class and he hopes to replicate that success this year.
"We always hope that you get some productive players," McKenzie said. "We were excited and happy that they were productive. We're just trying to get it right. We want to get the player that we feel can best help our team and that's what we're going to do. Whether there's pressure or not, I want to hit on my seventh-round pick, too."
"The cupboard's not bare. We had an excellent draft last year, we want to have an excellent draft this year and continue to add to the nucleus of talent," Del Rio added. "We are working hard to make this roster competitive."
Del Rio mentioned after Thursday's final mini-camp practice that the roster evaluation will continue and that it would have an impact on Draft preparations.
"The first order of business when we got here was to evaluate our roster and know our guys first. So we're just getting to know our guys better, being able to get all of the veterans here and having everybody participate like they did," Del Rio said. "We make sure we all evaluate that information. We have that in order before we go to the Draft."
The road to the Draft is a daunting process for NFL prospects. From the end of the college career through the Combine and pro days to individual workouts for teams (for some) – the information gathered is voluminous. Del Rio said this encyclopedia of knowledge plus the player's college production and many other elements are taken into consideration.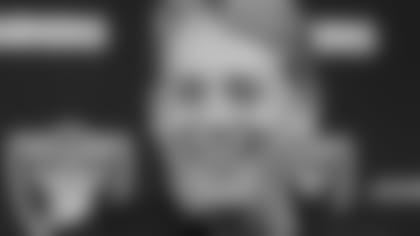 "The measurables are one piece, the college film is one piece. Live exposure, watching them interact with their teammates, is one piece. Background checks are another piece," Del Rio said. "There's so many different factors. Their health is obviously a big piece. That's one of the main reasons you have the combine, to collect the medical data on some of these prospects. Play history is obviously a big part of it, what guys have done. Productive guys tend to remain productive guys."
In just six days, the hard work of the Raiders football operation and the preparation of the prospects will collide in a three-day spectacle in Chicago. As former players, McKenzie and Del Rio are both amazed at what an event the Draft has become.
"For me, it has become unreal. This thing is huge. For the NFL to take this to Chicago, this is the biggest event for the draft. It's huge," McKenzie said. "I can't even imagine being a player now. It's night and day from when we came out."
"It's unbelievable. It's an event. The combine has become an event. That kind of begins the process of leading up to who's going to get drafted where. It's a great story," Del Rio added. "Clearly, the public eats it up and loves it and is very interested in knowing exactly what we're going to do and trying to predict what we might do. It makes for good theater."
The 2015 NFL Draft will be held in the Auditorium Theatre of Roosevelt University in Chicago Thursday-Saturday with the first round starting at 5:00 p.m. PT. Be sure to log on to Raiders.com throughout the Draft for complete coverage.