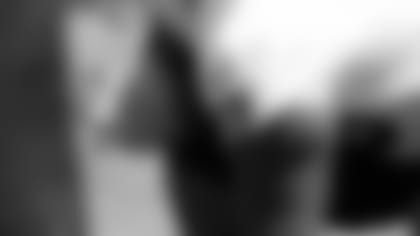 Photo by Tony Gonzales
The Oakland Raiders drafted G Gabe Jackson, out of Mississippi State with the 81st overall pick (3rd round) of the 2014 NFL Draft. The Liberty, Miss.-native collected many accolades during his college career, earning two All-America and four All-SEC selections. He also won the Conerly Trophy, awarded to the top collegiate player in the state of Mississippi, becoming the first offensive lineman to ever win the award.
The decorated collegiate athlete received his draft call from the Raiders early in the 3rd round, however, it wasn't the first time he'd heard from the leaders of the Silver and Black. "At first they called me earlier in the second round and [then] they traded back, so I was like, 'are they calling me for real this time or not?' But once they told me they were doing it, I was real excited about it and ready to go," said Jackson.
Since arriving at the Raiders facility, Jackson has enjoyed what it feels like to be a Raider. "It feels great, coming up here and being able to be a part of something special," said Jackson.
Jackson models his game after Chance Warmack, currently a guard for the Tennessee Titans. "He's just a physical run-blocker, he's strong, and he can move too," said Jackson. "I just watched him when he was in college. We played in college around the same time; he was just a year ahead of me."
One of only two offensive players selected by the Raiders in the 2014 Draft, Jackson showed signs of that type of player during Rookie Mini-Camp, pushing defensive lineman back and away from the quarterback. "It went pretty good," said Jackson on his first professional camp. "The first day started off slow because I wasn't too familiar with the plays, but by today, everything was a lot faster and quicker for me."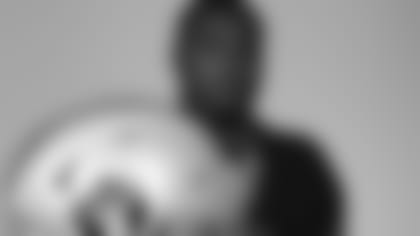 Photo by Tony Gonzales
In addition to his physical attributes – he's 6'3", 366 pounds – Jackson brings a love for the game. "I take playing football very serious. It's a job, but it's also a hobby of mine," said Jackson. "I love it. I love getting out there and competing and doing what I'm supposed to do."
Much of Jackson's personality comes from his father, who has inspired him throughout his life. "He was always a good person and a good father and good support system," said Jackson. "He was always there for his kids and my mom. He was a good father and a good husband also. He just showed me the way to live and lead by example."
Jackson is laid back and quiet off the field, except when he's singing. "I love playing music and I love singing," said Jackson. "I love music with a passion and I have to sing every day. If I don't, I feel like I've had a bad day."
On par with his love for music is food, which is not all that surprising for an offensive guard. He had trouble narrowing down his favorites and left his favorite food open ended with, "Can we just say – all?"
But Jackson – loud on the field and quiet off it – has an exemplary work ethic.  "I'm a hard worker and I'm going to give you all I've got," said Jackson.
Jackson has only briefly thought about what it might feel like to take the field in front of Raider Nation because he wants to take care of the little things first. However, he wants the fans to know what kind of player and person he is, "They're going to see a lot of hard work from me, commitment and smart thinking and wise decisions."
The rookie guard takes the field this week for the first set of Organized Team Activities. Continue to follow Jackson and the rest of the Raiders through photo galleries, press conferences and stories on Raiders.com.