El Draft de la NFL iniciará en horario estelar (Hora del Este) por segunda ocasión en su historia. La primera ronda del Draft 2011 de la NFL iniciará el Jueves 28 de Abril a las 5:00 p.m. (Hora del Pacífico). La segunda y tercer ronda se realizarán el Viernes 29 de Abril a partir de las 3:00 p.m. (Hora del Pacífico). De la cuarta a la séptima ronda se llevarán acabo el Sábado 30 de Abril a partir de las 9:00 a.m.
Los Raiders de Oakland tienen el turno número 16 de la segunda ronda (48 en general) como su primera selección en el Draft 2011. El miembro del Salón de la Fama y Director de Desarrollo de Equipo de los Raiders, Willie Brown, anunciará la selección.
El Draft consiste de 254 selecciones durante tres días. Un total de 25 prospectos han aceptado la invitación para asistir al Draft en Nueva York.
En definitiva querrán conectarse a Raiders.com durante le Draft para revisar la sección Raiders.com Draft Central. Podrán seguir cada selección del Draft conforme se vayan anunciando, observar video en vivo de las conferencias de prensa desde las oficinas de los Raiders en Alameda, Ca., y escuchar audio de llamadas en conferencia con los jugadores seleccionados de los Raiders. También podrán ver la biografía y fotos de los jugadores seleccionados y muchas cosas más en un formato organizado y fácil de usar.
No olviden que se realizará la Fiesta Oficial del Draft de los Raiders el Jueves de las 4:00p.m. a las 9:00 p.m. en el Restaurante Everett &Jones localizado en le Jack London Square de Oakland.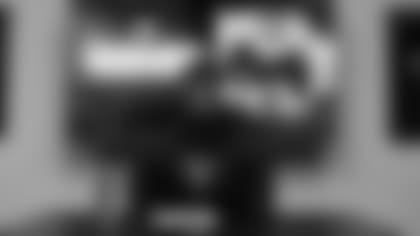 news
Raiders sign third-round pick DT Byron Young
The Alabama defensive tackle was selected 70th overall in the 2023 NFL Draft.