The Oakland Raiders travel to San Diego to take on the Chargers in Week 16 action. It's been a tough few weeks for the Silver and Black, but they are still fighting as the season comes to a close.
"We understand that we're a family," said LB Sio Moore. "Everybody is going to have their tough times but the thing about the guys we have in the locker room that people don't see on the outside looking in is that people in this organization have each other's back. We're growing together and that's one of the biggest parts of a team is that there's a family environment. We understand where we're at and we understand where we have to go. We have to go grind out what we have to grind out."
The team is still practicing hard and preparing to go out and play well against a division rival. "The guys we've got on this team, they enjoy playing football and that's why our practices are still live, our practices we still run around and have a good time practicing," said DT Daniel Muir. "It's the same thing on game day. We've got a bunch of professionals here so I think we'll be fine."
| | |
| --- | --- |
| | |
| WR Rod Streater makes a catch against the Chargers defense in Week 5. Photo by Tony Gonzales | |
| | |
The first time the two teams matched up this season, the Raiders pulled out a 27-17 victory at O.co Coliseum in a late-night game. Although that game was 10 weeks ago, the Raiders can still use that film to prepare for this Sunday's game. "You definitely can watch the film and see the different techniques that guys have played you and the habits they've had from then," said TE Mychal Rivera. "You also just learn from your personal mistakes."
The Raiders also recognize the attitude and energy they played with in that night game in Week 5. "I think what you can take from that game when you look at the tape is how we executed and how we played with a lot of energy and passion," said Moore. "The thing about this thing now is that we have to go out and match that and do better than that. We have to continue to understand the type of team we are and what we're able to do and know that we can do it when we go down there regardless if we're playing at home or playing there."
Oakland will face a team coming off a Thursday night victory over the Denver Broncos. "We need to go out and play against a team that's playing at a very high level right now," said Head Coach Dennis Allen. "They're playing good in all phases of the game. Obviously their offense is sixth in the league in total offense and very explosive. They do a great job of controlling time of possession with what they do offensively. And then defensively they've really improved and over the last three games, they're a top-10 defense. We understand the challenges and we've got to get ready to play."
Chargers QB Philip Rivers has thrown five touchdown passes and has had a passer rating of at or over 120 the last two games. "He's one of the best quarterbacks in the NFL," said Muir. "You have to get to him. Like most great quarterbacks, you have to get to him, whether it be applying pressure, whether it be your front four. Make him over-think and often times he'll make mistakes. If you let him sit around, he'll pick you apart, so you can't let him sit around and sit in the pocket all day."
Rivers has a multitude of weapons at his disposal. "Philip Rivers is throwing the ball well. Ryan Mathews is running the ball well," said Moore. "Antonio Gates, all their weapons pretty much, they're doing what they do. Keenan Allen, a guy I came out with, he's playing really good ball right now."
As Muir also explained, the Raiders defense needs to get after Rivers in order to disrupt their offensive efficiency. "What we need to do is apply pressure early, often and consistently throughout the game because that's something we did early in the [last Chargers] game and left them confused," explained Moore. "If we do that again, we can come out with the way we want the game to come out with as long as we have proper execution."
Allen, a rookie out of University of California, Berkeley, has scored four of the Chargers touchdowns in the last two weeks. "He's played exceptionally well and they get him the ball in a lot of different ways," said Coach Allen. "He's been really a red zone threat. He's also been a guy that's been a down the field threat for them. He's really improved as a receiver and it looks like the quarterback is comfortable throwing him the ball. He's a big target so that makes it tough because he's a big target and he's athletic and he's got a big catching radius."
San Diego RB Ryan Mathews has run for over 100 yards the last two games. "Everybody knows it's important to have a good balance on a football team running the football and throwing it," said Chargers Head Coach Mike McCoy. "It's great when you can run the football the way he has in the last two games. He had 58 carries in the five-day span from the Giants game to the Bronco game. He's done a great job of going downhill. You can give a lot of the credit to the other 10 guys on the field at the same time doing and executing the running game the way it's supposed to be."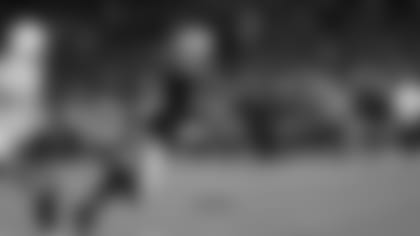 FS Charles Woodson recovers a fumble and scores a touchdown. Photo by Tony Gonzales
The Raiders understand the type of challenge Mathews presents. "He's running the ball exceptionally well," said Coach Allen. "He's a powerful back, runs with a lot of explosiveness. He runs tough, breaks a lot of tackles, and then he's got the burst to take it the distance if he gets in the clear. We have a lot of respect for him as a running back and we know that's going to be a tough match-up."
On defense, the Chargers have played better recently, allowing only two offensive touchdowns against both the Giants and Broncos respectively. "They do a lot of different things," said QB Matt McGloin. "Obviously it's some of the things we've seen throughout the season, but again, we're preparing as best as we can. We still have a great approach to the game. We have to be ready for it. They're doing a lot of good things. They're a team that's really come along so far, so we have to be ready."
"They're a real physical defense. They play fast," explained Rivera. "They have many different fronts so we have to be really sound with our protection and just execute our plays as best we can."
The Raiders offense moved the ball well last week versus the Kansas City Chiefs, but turned the ball over seven times. One of their keys this week is to protect the football. "Don't turn the ball over," said FB Jamize Olawale. "Do your job. We're able to move the ball consistently, which is a good thing, just keep doing that. Start fast and finish strong."
Offensive Coordinator Greg Olson has noticed improvement from the Chargers defense. "I think they're getting great play out of their secondary," said Coach Olson. "They look fast; they look fresh really when you look at their players. They seem to be moving better than they did earlier in the season. They just look fresher and faster."
McGloin and the offense want to get out to a quick start because they know the Chargers offense will be prepared to put points up on the board. "I think that we have to just continue to progress and make sure we understand the game plan, try to do our best and get first downs and take care of the ball and stay on the field because obviously their offense is doing a lot of good things," said McGloin.
The team is looking forward to playing in front of the large number of Raiders fans that come to support the Silver and Black at Qualcomm Stadium in San Diego. "It's always good to have the fan support, especially away games," said Olawale. "Last year they were out there strong, it was raining, and we might have had more fans than they did. It's going to be good to have them out there cheering for us, giving us energy."
"It'll be fun," added Rivera. "I'll be looking for the San Diego Black Hole whenever I score, wherever they're at."
The Raiders also have the opportunity to spoil the Chargers chances at making the playoffs. "To be honest with you, I want them to sit home with me," said Muir. "I don't want them to go to the playoffs."
The Raiders have two games left this season and, to all the players, it's important to finish the season strong. "It's really important, especially for the organization, for our coaching staff, for our players, for everybody in this building down to the trainers, equipment guys," said Muir. "Everybody in this building wants to finish strong, that's why we all come to work every day."
Ending the season on a high note would propel the Raiders into the off-season. "It's very important," said Rivera. "Us finishing strong gives us momentum for next year. It gives us momentum for the off-season. Every game and every play counts."