SS Tyvon Branch intercepted a pass during a 2011 preseason game at Seattle. Photo by Tony Gonzales.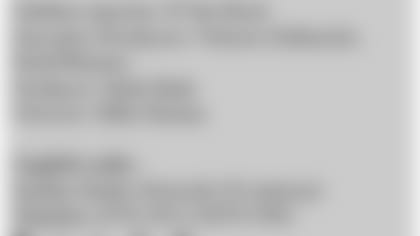 THIS WEEK'S NOTABLE STORYLINES**:
• The Raiders are looking to close out the 2012 preseason with a victory after defeating the Detroit Lions at O.co Coliseum last Saturday, 31-20.
• Thursday night's game will mark the seventh straight year that the Raiders have finished the preseason against Seattle, with five of those contests taking place at CenturyLink Field.
• The Raiders will be looking to post the team's first-ever preseason victory in Seattle.
• The game at Seattle will be the final contest before the final NFL mandatory cut-down of the season. All NFL active rosters must be reduced to a maximum of 53 players by 6 p.m. (PDT) on Friday, Aug. 31.
• Carson Palmer and Matt Leinart, the Raiders' two Heisman Trophy-winning quarterbacks, will play against Seahawks Head Coach Pete Carroll, who coached both of them at USC.
• In total, six USC alums that now play for the Raiders will be going up against their former college coach on Thursday night.
• The Raiders and Seahawks are familiar foes, as Seattle was a member of the AFC West from 1977-2002. The Silver and Black holds a 28-23 advantage in the all-time regular-season series.
PRESEASON 2012: The Raiders broke training camp in Napa, Calif., on Thursday, Aug. 23, and have returned to the team's permanent Alameda facility to resume the preseason and prepare for the 2012 regular season. The Silver and Black will close out the preseason schedule at Seattle on Thursday evening and will open the regular-season schedule at home against the San Diego Chargers on Monday, Sept. 10.
RAIDERS REDUCE ROSTER TO 75: The Raiders reduced the team's active roster to the maximum of 75 players in advance of the National Football League's Monday deadline of 1 p.m. (PDT). The Raiders on Monday waived LB Korey Bosworth, DE Mason Brodine, DE Wayne Dorsey, S Aaron Henry, CB Terrail Lambert, WR Thomas Mayo, WR DeAundre Muhammad, QB Kyle Newhall-Caballero, S Chaz Powell and FB Manase Tonga, and waived-injured FB Rashawn Jackson and OL Ed Wang.
REKINDLING AN AFC WEST RIVALRY: The Raiders have played a preseason game against their former AFC West rivals in each of the last six seasons, with fi ve of those contests taking place in Seattle. The Seahawks lead the preseason series by a 7-3 margin, with the last meeting going in favor of the hosts at CenturyLink Field last season, 20-3. The Raiders have never won a preseason contest in Seattle dating back to 1977. Th e Raiders lead the all-time regular-season series against the Seahawks, 28-23, and defeated Seattle in the only postseason contest between the two teams, a 30-14 win in the 1983 AFC Championship game.
BACK-AND-FORTH: The Raiders and Seahawks have split their last two regular-season games, both via lopsided victories. In 2006, the Seahawks blanked the Raiders 16-0 behind the efforts of K Josh Brown, who had three field goals in the game. The last meeting, in 2010 at O.co Coliseum, was won by the Raiders, 33-3. Raiders QB Jason Campbell threw for 310 yards and two touchdowns, while the Raiders defense sacked Seattle QB Matt Hasselbeck eight times.
USC CONNECTION: Raiders QBs Matt Leinart and Carson Palmer, TE David Ausbery, WR Brandon Carswell, and OLs Nick Howell and Alex Parsons all played for Seahawks head coach Pete Carroll while he was the head coach at USC. Ausberry, Carswell, Howell, and Parsons were teammates at USC with Seattle LBs Allen Bradford, Mike Morgan, and Malcom Smith, TE Anthony McCoy, and C Kris O'Dowd. Leinart and Palmer were teammates at USC with Seattle G Deuce Lutui. This will mark the first time that Carroll has faced Matt Leinart in the NFL, and the second time he has faced Carson Palmer in a preseason contest.
HEISMAN TRIANGLE: This game will mark a rare occasion in which a coach (Pete Carroll) will face two Heisman Trophy winners that he also coached in college. Oakland QBs Carson Palmer and Matt Leinart won college football's top honor while under Carroll at USC in 2002 and 2004, respectively. Carroll has played against one of his own Heisman winners before, a playoff game against Reggie Bush that resulted in a 41-36 win for Carroll and the Seahawks in 2010.
For the final preseason game, several important NFL dates remain on the horizon:
• Aug, 31 - Roster cut-down to a maximum of 53 players on active/inactive list by 6 p.m. (PDT). Clubs may dress a minimum of 43 players and maximum of 46 players for each regular-season and postseason game.
• Aug. 31 - Simultaneously with the cut-down to 53, clubs that have players in the categories of active/physically unable to perform or the active/non-football injury or illness must take one of the following options: place player on reserve/physically unable to perform or reserve/non-football injury or illness, whichever is applicable; ask waivers; terminate; trade; or continue to count him on active list.
• Sept. 1 - After 9 a.m. (PDT), clubs may establish a practice squad of eight players by signing free agents who do not have an accrued season of free agency credit or who were on the 46-player active list for less than nine regular-season games during their only accrued season(s). A player cannot participate on the practice squad for more than three seasons.
BIG RECEIVERS HELD: In consecutive weeks, the Raider defense held leading WRs Larry Fitzgerald and Calvin Johnson to limited production. At Arizona on Aug. 17, the Raider defense did not allow a completion to Fitzgerald, who had five catches for 91 yards the following week at Tennessee. Against the Lions on Saturday, Johnson was targeted by Detroit quarterbacks five times but had only one 7-yard catch. At Baltimore the previous week, Johnson hauled in five passes for 111 yards with a touchdown.