DT Richard Seymour participates in the mandatory mini-camp. Photo by Tony Gonzales

The Oakland Raiders took the field for the first day of a three-day mandatory mini-camp at their Alameda practice facility. The full-team mandatory mini-camp marks the last on-field work with the coaching staff before the Raiders report to Training Camp 2012 in Napa, Calif. "We've got 100 percent attendance, so everybody's here," said Head Coach Dennis Allen. "I was pleased with the work that we got today."
The coaches and players were excited to have everyone back together. "We're building a team and the only way you can build a team is if you have everyone here to build the team," said Coach Allen. "So we've got to work together, build the chemistry, build the camaraderie within the team, and at the end of the day, it's those bonds that you develop during these times and in training camp that take you through the rest of the season."
WR Eddie McGee echoed Coach Allen's sentiments. "It feels good to have everybody here," said McGee. "The camaraderie and the competition [helps] build what we want to be as a team."
 After taking the off-season to rest and recuperate, P Shane Lechler was ready to play some football and rejoin his teammates. "I kind of wish everybody had their names on the back of their jersey or something because it's been a big turnover, but it feels good," said Lechler. "Your body starts telling you, 'All right, it's time to start picking up the football again,' and I haven't been around here, but I know that it's that time for me. Just being around all the guys, it's a fun group but a lot of different faces. I think we're headed in the right direction. I like what I saw today."
The mini-camp is the final opportunity for the players to work with the coaches on the field before training camp. "It's real important because we won't be in this setting again until camp starts," said CB Chimdi Chekwa. "We've got to take advantage of these few days that we have and then get better individually and then come back together as a team."
"It's very important," said Lechler on the three-day camp. "Right now is where you kind of iron down some of the basics and expect guys to recall that when we get back to camp and not have to re-teach some of the stuff. That's where we're trying to get ahead and just get some of the main stuff down and get ready to go to camp."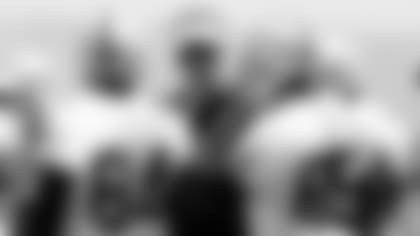 Offensive coordinator Greg Knapp works with the wide receivers. Photo by Tony Gonzales
Veteran DT Richard Seymour views the practices as an important time to develop practice habits and he has high expectations for this year's team. "That's one thing that we're trying to do at this point; coming out day in and day out, practicing our craft, working on it, fine-tuning," said Seymour. "None of us are in football shape at this point, it's good that we don't have to play a game tomorrow, but we're working in the right direction. I'm excited. I think Raider Nation has a lot to be excited about. We're looking forward to doing big things this year, but like I said, it all starts here on the practice field."
McGee is using the mini-camp to try and leave a lasting impression on the coaches. "I think it's important to leave an impression in the coaches' minds before you get to camp, and then when you get to camp it gets real," said McGee. "So I think this is important -- you want to take every opportunity you have to showcase what you've got."
Although many of the players had opportunities to show improvement throughout Organized Team Activities, the mini-camp is slightly more fast-paced.  "More plays, more opportunities," said McGee. "It's a little faster, too. Mini-camp is a good test to see where you are because we get limited time of looking at the plays before practice."
"We just know this is the last mini-camp," explained Chekwa. "The coaches are evaluating you, and you've gone through so many OTAs. We've put in most of the defense so you really want to make sure at this point that you know everything that you're supposed to do and that you're getting it done."
Coach Allen was happy with the first practice this week, but also saw areas to improve. "I thought overall, I though the effort was pretty good," said Coach Allen. "I thought offensively, I thought we executed and were able to hit some plays down the field, which I felt was good. I think speed of the game; I think we can play the game just a little bit faster. But overall, I think the guys are working. We've got to work on our execution."