P Marquette King spent his rookie season on Injured/Reserve and was part of an intense punting battle to earn a spot on the 53-man roster during training camp and replace long-time Raiders punter Shane Lechler. Winning the position during the last set of cuts, King had big shoes to fill.
King rose to the challenge and finished the 2013 season ranked No. 1 in the NFL in gross punting average (48.9). He punted 84 times for 4,107 yards and had a long of 66 yards.
The first-year player had 23 punts downed inside the 20, 11 touchbacks, and 11 fair catches.
King was another player active in the community. He helped bag food for senior citizens during the offseason. During the season, he participated in a Gatorade Junior Training Camp with WR Rod Streater and S Usama Young and signed autographs for the Toys for Tots campaign. During the week of Christmas, King adopted a local family and took them shopping to provide gifts they might not otherwise receive.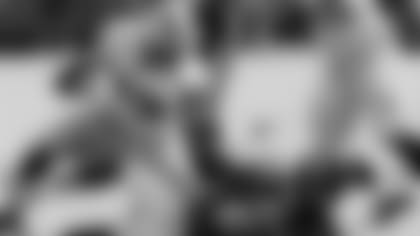 Running back turned cornerback turned running back turned back to cornerback Taiwan Jones had one position remain consistent throughout the 2013 season – Raiders special teams ace. The third year player out of Eastern Washington used his speed to create havoc on other teams' return men.
Jones had 14 tackles (12 solo) and one forced fumble. He was also responsible for his teammates' special teams tackles, forcing returners into the Raiders trailing coverage.
He also led the Raiders in kickoff return attempts and yards - 26 returns for 623 yards (24.0 avg), including a long of 41 yards.
A local product from Antioch, Calif., Jones spent time in the community during the season as well. He participated in the 15th Annual Hometown Huddle in Oakland, while also attending Holiday Heroes in San Francisco during the holiday season.