QB Terrelle Pryor looks to make a pass during practice. Photo by Tony Gonzales
The Oakland Raiders took the field for their second practice of a three-day mandatory mini-camp, which will cap off the 2012 off-season program. Head Coach Dennis Allen is happy with how the team has moved forward throughout Organized Team Activities and mini-camps. "I've been pleased with the progress so far," said Coach Allen. "I thought we had a real good practice today so that's been good."
Coach Allen has noticed improvement on both sides of the ball. "I thought our mindset was right today," said Coach Allen. "I thought our execution was really good. I thought our guys were flying around and I thought we made some good plays on defense and I thought we made some good plays on offense. So when it's balanced like that you feel good coming off the field."
The players are aware of their individual improvement as the off-season draws to a close. "I think the biggest thing is just being in the huddle and having command," said Pryor on his personal development. "It's a little different when you first start and you're a little nervous, making sure you're doing everything right when you're in the huddle making the play, making sure everyone has eye contact. I think I've gotten a lot better at that."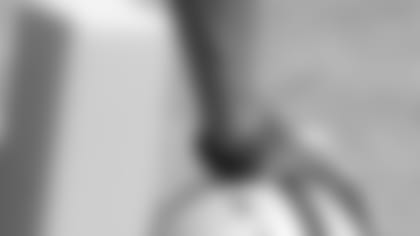 WR Rod Streater leans on his helmet during practice.
Photo by Tony Gonzales
The coaches have noticed substantial progress from undrafted free agent WR Rod Streater, who took reps with the first team during practice. "I just try and work hard," said Streater. "I think I've done pretty good running the routes, learning the playbook and everything. It's just me getting out there every day trying to get better and improve."
"It did surprise me," Streater said of taking first-team reps. "But that's what you have to prepare for, just continue to work hard and whenever your shot comes up, you just have to perform."
Streater attributes some of his ability to learn and perform to the assistance he has received from the Raiders Heisman trophy winner-veteran quarterbacks Carson Palmer and Matt Leinart. "They're tremendous, they always help me out, assist the little details and they're always there for help whenever I need anything," said Streater.
Pryor has also had the opportunity to work closely with the quarterbacks, but also has improved due to his work ethic. "I love to work hard. In my mind, if I work hard and I don't take plays off and stuff like that, I think I'm getting that one percent. I'm working hard every day. Sometimes it's not the best days but I'm still learning a new offense here. I'm just trying to get better, one percent like I said. We're all playing good; we're all fighting and competing. We're all having fun. I love them, too. Carson and Matt, I love being around them."
The younger players as well as the veterans are taking full advantage of the last days of the mini-camp. "It's very important," said WR Duke Calhoun. "Go in and know your plays and your playbook, study, take good notes, and get back when it's time to get back and execute your plays and do the right thing."
The Silver and Black will have over a month off before training camp, so the mini-camp is the final time to work together as a full team. "We've been working together so it's always important to end on a strong note because we've been doing good," said LB Travis Goethel. "Everyone's been running around playing football and it's always important to practice good especially when you're going out too…you don't want to leave on a bad note."
The Raiders will return to the field on Thursday for their final practice before reporting to Training Camp 2012 in Napa, Calif. Log on to Raiders.com, the official Facebook page and Twitter for complete coverage.