Two-time Super Bowl champion head coach Tom Flores poses for a photo.* Photo by Tony Gonzales.*
The Oakland Raiders were well represented at the "Pro Football and the American Spirit" exhibit kickoff reception that took place recently at Stockton's The Haggin Museum.
Raider Legends Morris Bradshaw, Willie Brown, Tom Flores and Napoleon McCallum were on hand for the recent reception for the exhibition which recalls the stories of triumph, tragedy and personal sacrifice made by the more than 1,200 players, coaches and administrators who interrupted or delayed their pro football careers to serve their country during times of military conflict.
Brown, a member of the Pro Football of Fame, donned his HOF induction jacket for the gala. Flores, the two-time Raider Super Bowl-winning head coach, returned to his roots as he was a star quarterback at the then-College of the Pacific in Stockton.  McCallum, who, while playing for the Raiders, also served active duty in the U.S. Navy after graduating from the Naval Academy, was also in attendance. The touring Pro Football Hall of Fame exhibit, which honors over a 1,000 football players and team officials that served in the United States military, also showcased mementos provided by the Oakland Raiders as well as the San Francisco 49ers, and San Diego Chargers.
"History and tradition are very important here with the Raiders and I am more than happy be able to assist in sharing that with the public," said Brown, who also was a coach and administrator for the Silver and Black and is still a regular fixture at team headquarters while serving as Team Ambassador. "I am very proud to be a part of the Raiders rich past, present and future."
Eternal memories of Silver and Black excellence are on display at the exhibit, which is situated on the third floor Tuleburg Gallery of the museum, and runs through September 22 after opening Memorial Day weekend.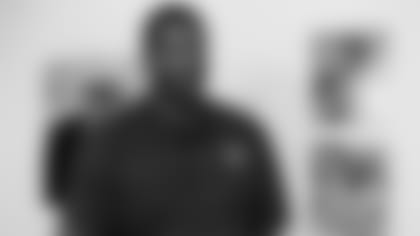 Former Raiders RB Napoleon McCallum poses for a photo. Photo by Tony Gonzales.
On one wall hung photos of the Lombardi Trophy presentation to Raiders owner Al Davis following the Silver and Black's Super Bowl victories.
Other photos included action shots of key plays during Super Bowls including Brown's then-record 75-yard interception return in Super Bowl XI, one of Rod Martin's record three interceptions in Super Bowl XV and Marcus Allen's then-record 74-yard scoring run in Super Bowl XVIII.
In a case nearby were three Super Bowl championship rings from Stockton resident and Raiders interest holder Julius Hartman. A football signed by all of the Raider Hall of Famers present for Al Davis' induction in 1992 was on display near a photo of all of the Raiders in the Hall of Fame.
In another case sat the Hall of Fame bust of Raider Legend Jim Otto while next to that was Otto's helmet and jersey.
"The Raiders football legacy came to life," said Haggin Museum CEO Tod Ruhstaller at the exhibit reception.  "We couldn't have imagined more support than we received from the Oakland Raiders. And, attendees at the reception were thrilled by the presence of VIP guests Coach Tom Flores, Willie Brown, Napoleon McCallum, Morris Bradshaw and members of the front office. It was a special evening and we were honored to have them in attendance."
Pro Football and the American Spirit: The NFL and the U.S. Armed Forces is an inspirational exhibition from the Pro Football Hall of Fame which chronicles the many ways in which the National Football League and its players have responded to America's call during military conflicts.
Photos of McCallum, in action while playing for the Raiders and in his U.S. Naval Academy uniform as a Midshipman, also decked the walls.
Hall of Famer Willie Brown signs an autograph. Photo by Tony Gonzales.
"I've never been one of the museum artifacts before, so I feel kind of old," McCallum said during an interview with the Stockton Record, which was on hand to cover the event. "I've been very, very blessed to play on two great teams in the Navy and the Raiders."
Included are the stories of how the NFL generated millions of dollars in War Bond sales during World War II, was the first sports organization to send groups of players to Vietnam as part of the NFL/USO "goodwill tours," and how it has used its game and resources to raise America's collective level of patriotism during and after such national crises as the Iranian hostage situation, the Gulf War and following the September 11, 2001, terrorist attacks in New York City, Washington, D.C. and Pennsylvania.
Some of the items which highlight this exhibition include Pro Football Hall of Famer Art Donovan's Army uniform; the career medals of General Earnest Cheatham (pro football's highest ranking former player); the Cleveland Browns' sideline jacket of Don Steinbrunner, one of only two NFL players to perish during the Vietnam War and Pat Tillman's Army Ranger uniform.
Raiders fan Chris Lindeman, a Stockton resident, was all too excited about having this exhibit come to town. "I came today specifically to see part of the Raiders history," said Lindeman. "I grew up coming to this museum on field trips as a kid, so to see my favorite team on display in beyond description."