The invitees and honorees from the Sports Hero Luncheon hosted by The Boys & Girls Club of the Coachella Valley.
Photos courtesy Marc Glassman Photography
The California desert converged with Raider Nation recently as Silver and Black legends Tom Flores and Jim Plunkett were guests at the Sports Hero Luncheon hosted by Boys & Girls Clubs of Coachella Valley.
Flores and Plunkett, who both have homes in Coachella Valley, were among the group of athletes selected to attend the luncheon honoring local prep stars in the Coachella Valley.
"Myself and Tom [Flores], and I'm sure the others, have participated in these kinds of events ever since we could," said Plunkett. "It's always nice to give back to help organizations that are doing good for the youth of our country."
The event, which featured a keynote address from former Secretary of State Condoleezza Rice, was emceed by sports broadcaster Al Michaels and paired each sports hero with a local high school athlete from the area.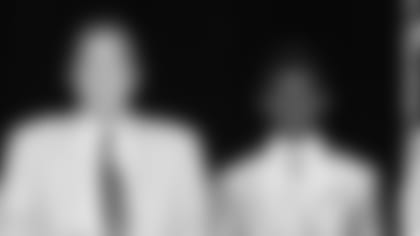 Plunkett was paired with La Quinta High School tailback Chris Toribio, and Flores was matched up with Palm Springs High School football player Franklin Miller.
"It was fun talking and walking down in the introductions with one of the local high school football players," Flores said. "You keep yourself young by talking with young people. When I was doing my thing they weren't even born yet, but athletes support other athletes. It doesn't matter what the age bracket."
In addition to the speech by Rice, the event also featured an auction which raised money for the local chapters of the Boys & Girls Clubs, highlighted by an autographed football provided by Plunkett.
"I donated a Heisman autographed football that 28 former Heisman winners had signed," Plunkett said. "It went for $20,000 which was an all-time high which was a great addition to the event."
As much as the assembled group of prep stars enjoyed meeting and spending time with the decorated former athletes, both Flores and Plunkett shared similar feelings about attending the luncheon.
"I think you should help," Flores said. "I think anyone who's been through a lifetime of sports should, in his or her own way, give back and participate and help out."
Plunkett also echoed the statements from his former coach, with whom he won two Super Bowls, about the importance of giving back to the community.
"We don't live here fulltime, but we are part of this community in the winter and so I just felt compelled to go out and help out," he said. "I was more than happy to do it, there's no question about it."