Frank Castodio signs a ceremonial contract as Raiders General Manager Reggie McKenzie looks on. Photo by Tony Gonzales.
Playing professional football is a dream come true for the men who throw, catch, block, tackle and kick each Sunday in the National Football League. For a young man like Frank Castodio, just playing outside in the sun is a victory. Castodio suffers from chronic kidney disease. While in the hospital at Stanford University in Palo Alto, Calif., Frank's family was approached by the Make A Wish Foundation. It was Frank's wish to meet the Oakland Raiders, obtain some autographs and hang out with the players.
Earlier today, Frank's dream came true.
Frank, accompanied by his brother Alec Grijalva and sister-in-law Megan Grijalva, was greeted by Raider Rusher upon arrival at the Raiders Alameda, Calif., facility.
General Manager Reggie McKenzie was on hand to present Frank with a ceremonial contract and a Raiders jersey.
"Congratulations, we're glad to have you on board," McKenzie told Frank who was smiling ear-to-ear.
Frank went to the equipment room and the locker room to prepare for his first practice as a member of the Oakland Raiders. After meeting with Head Coach Dennis Allen, he was joined by WR Jacoby Ford and FS Charles Woodson as he took the field.
After taking some mental reps, Frank hit the field at wide receiver and took a pitch on a reverse, multiple-lateral play. The 16-year-old wearing jersey #13 picked up some blocking down the left sideline and took it to the house for the score.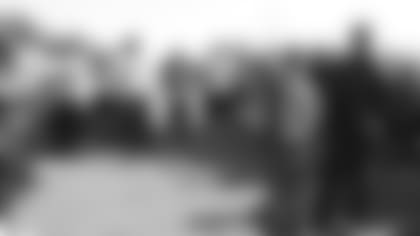 Raiders Head Coach Dennis Allen tells the Raiders about Frank Castodio. Photo by Tony Gonzales.
In the post-practice huddle, Coach Allen explained to the team who Frank is and described his condition. "We have a young man here, Frank Castodio, he's suffering from chronic kidney disease," Coach Allen told the team. "This is a guy who's got a real battle, he's got a real fight, this guy is fighting his tail off. We owe it to him to go out and play well."
Frank then led the breakdown and broke the huddle as the Raiders said, "get to the playoffs," in unison.
After walk-through, Frank spent some time with rookie CB DJ Hayden who went through a life-threatening situation of his own not that long ago.
"Frank's going through his trials and tribulations right now. I've been there. I've been in the hospital bed," Hayden said. "For him to come out here and have fun with us is a great feeling."
After photos and autographs, it was time for a tour of the facility and interviews in the TV studio.
"The Make a Wish Foundation granted his wish to bring him to the Raiders facility to meet some of the players, the coaching staff – it's pretty amazing," said Alec Grijalva. "We have a pretty close relationship. This was a good day, just to see him happy, smile on his face. He loves all these players out here, for them to take him in like that, it's fantastic."
"I'm a big Raiders fan and this only happens once in a lifetime," Castodio said. "I got to practice with them and got to see the weight room and the [training room]. I played [football] since I was little until my freshman year in high school. When I found out I had the disease, I stopped playing football. Next year I'm going to try to play again."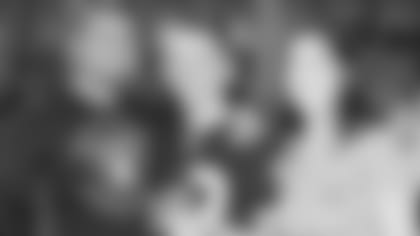 Frank Castodio poses for a photo with his brother Alec Grijalva and sister-in-law Megan Grijalva. Photo by Tony Gonzales.
According to the Make A Wish Foundation's web site, "Make-A-Wish® grants the wish of a child diagnosed with a life-threatening medical condition in the United States and its territories, on average, every 38 minutes. We believe that a wish experience can be a game-changer. This one belief guides us. It inspires us to grant wishes that change the lives of the kids we serve."
"The [Raiders] bring us together," Alec Grijalva said. "It's something to always look back on, he'll always remember this for the rest of his life. We really appreciate everything they've done here. It's been amazing."
Frank's experience will continue tomorrow at O.co Coliseum when the Raiders host the Pittsburgh Steelers.