**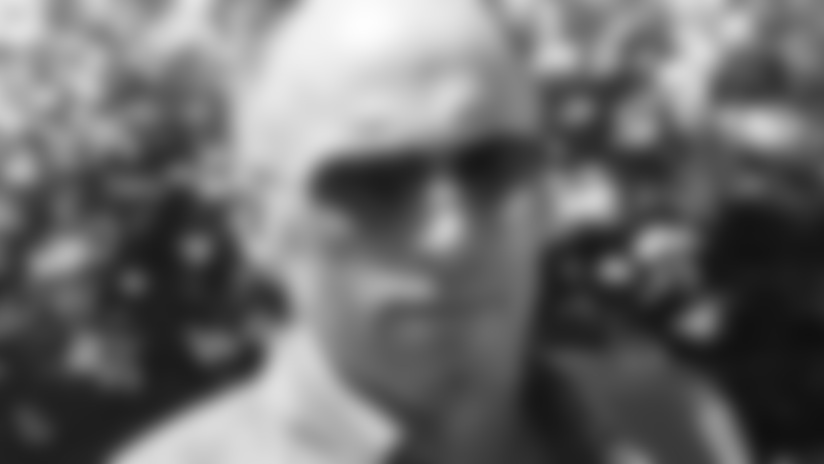 QB Jeff Garcia chats with reporters as he checks into his first training camp with the Raiders. - *Tony Gonzales*
On Tuesday, the front page of the Napa Valley Register read: Silver and Black are Back.  For the next month, the Oakland Raiders will be residents of their Napa Valley Training Complex as Training Camp 2009 takes place at Redwood Middle School, directly adjacent to the complex.
Raiders Equipment Manager Bob Romanski has been hard at work at the Raiders Alameda Facility preparing for the trek to wine country.
"It takes a lot of time and a lot of work to do, but we've got it down now to where if everybody takes care of their department, it goes pretty smooth," Romanksi said.
Romanski and the equipment staff go to great lengths to make sure that all the players and coaches have what they need while at training camp.
"Some players have special clothing needs and some coaches have special needs so we try and take care of that.  Everything we have in Alameda is pretty much here, just on a smaller scale," Romanski explained.
Buses departed from Alameda heading to Napa around Noon while others decided to make the hour drive by car.  Players checked in on Tuesday with two-a-day practices set to commence on Thursday.
First year Raider, tackle Khalif Barnes, is excited for training to begin and expects good things to come.  "I'm happy to be in camp.  I haven't played football in a long time.  January was my last game," Barnes said.  "It's that time of the year again when you get that itch."
With it being Barnes' first camp with the Raiders, he is impressed with the set up.  "It's my first time in Napa and it looks awesome.  I'm just looking forward to having fun," Barnes explained.  
Defensive end Trevor Scott is entering his second training camp with the Raiders and reminisced about training camp last year as a rookie.  "I don't even know if I can put into words how good it feels not to be on the rookie bus," Scott joked.
On going into this camp, Scott is more comfortable in his own skin.  "Just the way I feel about things now,  I feel comfortable and confident going into camp.  The expectations going into this year are higher and I'm feeling pretty good about things," Scott said.
Scott also had some advice for rookies and players trying to make the team.  "It was kind of crazy being drafted in the lower rounds.  When I went out there, I tried not to think about that stuff.  Once we got on the field everyone was in the same boat.  I didn't matter if you were drafted or a free agent.  Nobody had a secure spot on the team and that's how I tried to look at it.  I brought my hard hat to work every day and tried not to worry about things I couldn't control." Scott said.
Seventeen-year veteran Lorenzo Neal agrees with Scott and looks to add leadership to a young team.  "I feel excited man.  It's good.  Every time you are on a new team you are proving yourself again.  It's an opportunity to show people you can still play.  You still want to be great and viewed as the best at your position.  I want to be a leader and show it through my play,"  Neal explained. 
Don't forget the Raiders will hold their annual Raider Nation Celebration on August 8 at the Oakland –Alameda Coliseum with a practice session for the fans.
Their first pre-season game of the season is on August 13 against the Dallas Cowboys.