JPA chairman and Alameda County Supervisor Nate Miley presents Donnie Navidad with a certificate during the commission's meeting.
The Joint Powers Authority today honored Donnie Navidad during a brief ceremony and certificate presentation at this week's meeting.
Navidad came to the aid of another fan at O.co Coliseum following the Raiders versus Tennessee game on November 24 of last year. Navidad, a Stockton native, is a 61-year-old civil employee and United States Marine Corps veteran who served in Vietnam and the reserves for 15 years.
"Donnie Navidad was already a brave hero who served our country courageously for many years," said JPA chairman and Alameda County Supervisor Nate Miley. "But his quick reaction to save a woman's life at the Coliseum truly touched our community at home, right here in Oakland. In the midst of families and friends leaving the Raiders game, Donnie Navidad made sure that a shocking incident did not become a tragedy. The Joint Powers Authority is immensely grateful for yet another heroic act from this man."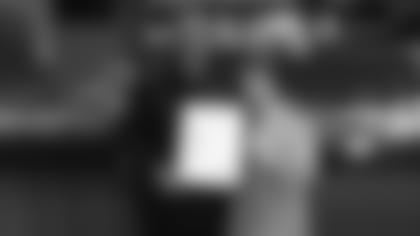 Donnie Navidad and his wife, Lora, show certificate that was presented by JPA.
Raider Legend and Pro Football Hall of Famer Willie Brown visited with Donnie Navidad at his Stockton residence the following day to thank him for his heroic efforts in coming to the aid of another fan.
Brown presented Navidad with a Raider-themed package that also included items for his wife, Lora who was also present at the JPA ceremony. Navidad also received a football used in the previous day's game that was stamped with a "Salute to Service" logo, which Brown autographed. Raider Legends Fred Biletnikoff, George Atkinson, Tom Flores as well as Pro Bowl fullback Marcel Reece also reached out to Navidad to express their appreciation.