Primetime was very kind to the Oakland Raiders Thursday night.
In a game that the Silver and Black absolutely needed to have, Head Coach Jack Del Rio's team went toe to toe with the Kansas City Chiefs, beating Andy Reid and Co., 31-30 in one of the wildest finishes to a football game you'll likely ever see.
With the win, the Raiders snap their four-game skid, improve their overall record to 3-4, and pick up an ever-coveted positive result within the division. The players are now set to enjoy a mini-bye of sorts, and will get back to work Tuesday, but let's not look ahead just yet. For now, let's look back at the playtime percentages from the thrilling win over the Chiefs, and see what we can learn from the numbers.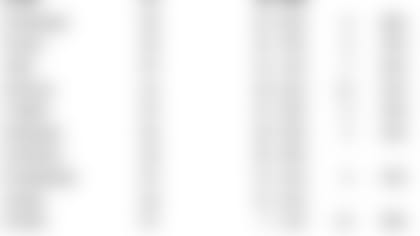 Hello, Amari Cooper– Did the Raiders Pro Bowl wide receiver have the type of start to 2017 that he probably wanted? Likely not, but he erased any memory of his slow start in one, fell swoop against the Chiefs. Cooper enjoyed a career day on Thursday Night Football, playing 78 offensive snaps (95%), hauling in 11 catches for a career-high 210 yards and two touchdowns.
"When he was making the plays, the way he finished after the catch was really special," said quarterback Derek Carr postgame. "Obviously, we all know he can go up and get a ball and all those things. That second touchdown where he cam across, the burst that he had, that's freakish now."
The Raiders offense came alive Thursday night against the Chiefs, and the play of No. 89 was a big reason why.
Carr lets it loose– Going against a tough, well-coached defense like the Chiefs, the Raiders needed a big night from their quarterback, and Derek Carr gave them just that. The Silver and Black's signal-caller went wire to wire, playing all 82 offensive snaps, finishing his evening 29 of 52 for 417 yards and three touchdowns. Not only did "DC" let it rip against the Chiefs, he also did an outstanding job of protecting the football, and at game's end, with his three touchdowns, and no interceptions, he became the first quarterback in NFL history to throw at least 90 touchdowns and less than 40 interceptions in his first 53 games.
The offensive line doesn't miss a beat– With Marshall Newhouse unable to go, second-year lineman Vadal Alexander stepped in for Mike Tice's group at right tackle. Alexander, along with the rest of the starting offensive line (Penn, Osemele, Hudson, and Jackson) played every offensive snap for the Silver and Black, giving Carr ample time to operate, not allowing a sack all evening. The Raiders boasted one of the best offensive lines in football in 2016, and last night, the group looked like just that, a dominant unit.
*Defense                                                                                                                                                                     *
Bowman makes his debut– Just three days after signing with the Raiders, All-Pro linebacker NaVorro Bowman made his debut in Silver and Black, not only playing, but getting the start at middle linebacker as well. Bowman played 60 defensive snaps (97%), and put together a really nice day at the office, tallying a team-high 11 tackles, as well as adding a tackle for loss, and one quarterback hit.
"It feels great, man, just to be wanted," Bowman said postgame. "Guys understand your worth and know how hard you work and how much you love the game. In three days, I've put in 40 hours just really studying this playbook and wanting to come out here and have a great game to show that I still have a lot of football in me."
Hopefully, Bowman's performance Thursday night is just the first of many good days a Raider.
Ellis clogs the middle– As one of the team's interior linemen, Justin "Jelly" Ellis doesn't typically have a huge stat line, but the big man in the middle made sure that he got his against the Chiefs. Ellis played 44 defensive snaps (71%) versus Kansas City, totaling seven tackles, and one tackle for loss. The Raiders interior line has been a strength all season, and that was the case once again Thursday night in primetime.
Mack just keeps doing Mack things– Where do we even begin with Khalil Mack? The man is an absolute force of nature; just ask anyone on the Chiefs offensive line if you want a second opinion. The Raiders all-everything defensive end played all 62 defensive snaps on the evening, and while he tallied just a half a sack, he was a thorn in the side of the Kansas City offense all night. In addition to his half sack, he also totaled five tackles, one tackle for loss, and two quarterback hits.