After the back and forth, the good and the bad, and one very gusty call from Head Coach Jack Del Rio, the Oakland Raiders left The Big Easy with a big win under their belts, beating the New Orleans Saints 35-34 Sunday in what turned into a thrilling Week 1 matchup.
After falling behind by a pair of touchdowns in the second half, the Silver and Black stormed back, and rallied to take down Drew Brees and Co., in what was their first road win after trailing by at least 14 points since 2000.
After returning to the Bay Area Sunday night, the Raiders will now turn their attention to their home opener against the Atlanta Falcons, but before our attention shifts entirety to next week, let's take some time to look back at the playtime percentages from the win over the Saints, and see we what we can learn from the numbers.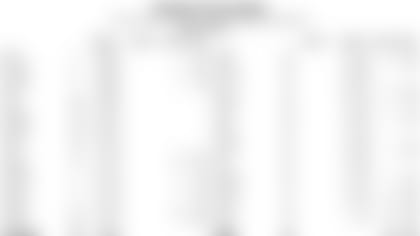 The Offensive Line Is Forced To Adjust –The versatility of offensive line coach Mike Tice's group was on full display Sunday afternoon at the Superdome. After starting right tackle Menelik Watson went down with a groin injury before halftime, and his replacement Matt McCants was forced to leave early as well, Tice had to get creative. He flipped Donald Penn from left to right tackle, moved Kelechi Osemele outside to left tackle, and then inserted Jon Feliciano at left guard. Tice's moves paid off as the Raiders were able to rally and beat the Saints, not allowing a sack of quarterback Derek Carr in the process.
In total, four lineman played all 73 offensive snaps, Penn, Osemele, Rodney Hudson, and Gabe Jackson.
Amari Cooper Begins Season With Trio Of Explosive Plays – Cooper played 72 offensive snaps (99%) in the team's Week 1 win over the New Orleans Saints, finishing the game with six catches for 137 yards. The dynamic wide receiver hauled in three passes from Carr of 30-or-more yards, marking the first time he has accomplished that feat in his short career.
In addition to his trio of explosive plays, Cooper also hauled in a critical pass from Carr on a two-point conversion attempt that helped tie the game at 27-27 midway through the fourth quarter.
Jalen Richard Returns To Louisiana In Style– The rookie running back only played 10 offensive snaps (14%) in Sunday's win, but the Louisiana native no doubt made the most of each and every one. He finished the game with three rushes for 84 yards, and one touchdown, taking his first NFL carry 75 yards to the house.
Not a bad way to open your NFL career in front of your family and friends.
"It feels great," said Richard postgame. "I've been telling people all along it's been an amazing journey. From high school to going to USM [University of Southern Mississippi], battling injuries like I have, and then coming into [training] camp to win a job and get a spot on the roster, and then to come in here and perform like that in my home state, I'm just so blessed."
Keith McGill Sees Significant Time– The converted cornerback played 67 snaps (97%) in the win over the Saints, totaling six tackles and one pass defensed during his time on the field, as he and safety Reggie Nelson patrolled the back end of the Raiders defense.
DJ Hayden Steps Up –Everyone has bad days at work, cornerback Sean Smith's just happened to be on television and in front of 73,000 people at the Superdome. Smith struggled throughout the first half of the game, prompting Del Rio to make a switch, moving Hayden from the nickel back to one of the base cornerbacks in the defensive alignment.
In total, Hayden played 50 defensive snaps (72%), and while Smith's absence was a big storyline, Del Rio voiced his support for Smith postgame.
"I thought that he [Smith] had a rough day, so we took him out," Del Rio explained. "He'll be back. He's going to play well for us, but he didn't play well today."
Bruce Irvin Gets To Brees– Irvin was one of the team's high-profile free agent signings this offseason, and he no doubt showed up in a big way in the early stages of the first quarter, sacking Brees, and forcing a fumble that was recovered by rookie defensive lineman Jihad Ward.
Irvin finished the game with two tackles, the aforementioned sack, three quarterback hits, and one pass defensed, playing 60 defensive snaps (87%) in the win.