The Oakland Raiders hit the practice field Sunday for the first on-field work of the 2015 regular season as they begin preparations for their Week 1 matchup with the Cincinnati Bengals. The team got two players back from injury today, wide receiver Andre Holmes and rookie tight end Clive Walford. Both have missed significant practice and playing time.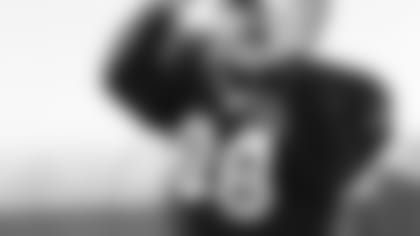 Rookie TE Clive Walford returned to practice after missing significant time due to injury.
"It's great to get them back. We anticipated having them return," said Head Coach Jack Del Rio. "All in all, you do what you can do get your team in shape and be as healthy as possible. We've worked hard at that."
"I felt like I was back where I was. Every one of us can go out there and make plays," Holmes said. "We're definitely really excited, excited to light the scoreboard up, excited to get some wins, this is an exciting time."
"It felt good, it was a long process but it felt good to be back out there with my teammates," Walford said. "It was a little frustrating, because I wanted to come back earlier before the preseason actually ended, I am just happy to be back."
The Raiders were without their latest roster addition, safety Keenan Lambert, who has yet to arrive in Oakland after the Silver and Black claimed him via waivers from the Seattle Seahawks. Defensive back SaQwan Edwards was waived to make room for Lambert.
"We feel like he's a young, aggressive safety that is worthy of a spot right now," Coach Del Rio said of Lambert.
Although the team currently has 53 players on the roster, Coach Del Rio didn't rule out the possibility of more roster moves in the coming days.
"I think this time of year, we all across the league, get to the 53 we have to get to. Then there may be some adjusting as you see the opportunity to improve your football team between now and the time we kick it off. If I tried to say, 'Yeah, this is it.' It may be it may not be," Coach Del Rio said. "It's one of those situations where it's fluid, it has the potential to be fluid and we will always entertain opportunities to upgrade our football team. That'll happen not only right now as we approach the beginning of the season, but that'll happen throughout the year."
Notes:
The Raiders open the 2015 regular one week from today against the Bengals at O.co Coliseum on CBS, and on 98.5 KFOX on the radio. In fact, the Raiders first four games of the regular season will air on 98.5 KFOX in the Bay Area.
Tomorrow kicks off Raiders Week, a weeklong celebration of the start of the Silver and Black's regular season leading up to kickoff. Events are planned at the Oakland Zoo, the NFL Kickoff to 50 events at Pier 39 in San Francisco, and more.
Song of the Day
The ever popular Jay Z makes the cut again with Dirt Off Your Shoulder, from 2003's The Black Album.
Tweet of the Day