The Oakland Raiders host the Denver Broncos in the final regular season match-up of the season. The Broncos travel to O.co Coliseum to try to cement their #1 seed in the AFC West. When the two squads faced off on Monday Night Football at Sports Authority Field at Mile High, the Broncos came out with a 37-21 win, posting 536 yards and dominating time of possession.
This game is all about finishing strong for the Raiders. The Silver and Black have dropped five straight games and look to end the season on a high note. "You just want to go out there and give the fans that come to see us an exciting game and get a 'W,' said RB Darren McFadden. "So we want to go out there and just finish strong and do the best we can for them."
Veteran FS Charles Woodson is not pleased with the team's record, but he wants to give Raider Nation one final thing to cheer about. "The fans deserve more of course," said Woodson. "From a team standpoint, it's been disappointing, but we still want to win football games. That's the reason why you play is to win. It'd be great to go out there and show everybody that there's no quit in our team and hopefully we can come out with the 'W.'"
The Broncos most recently beat the Houston Texans 37-17 at Reliant Stadium after falling to division rival San Diego on Thursday Night Football the week before. "Obviously they're the best team in our division. They're the best team in our conference right now," said Head Coach Dennis Allen. "They're playing extremely well. The quarterback may be one of the best players to ever play the game, so I think this is a good football team. I think this is a really good football team. And we're going to have to have a good plan. We've going to have to go out and compete and play hard. We're going to have to do a great job defensively of keeping the ball in front of us and do a great job of tackling when they throw it underneath."
The Broncos lead the NFL in total offense and passing offense, so the Raiders defense will have their work cut out for them. "They've had one of the best offensive years in the history of the NFL," said defensive coordinator Jason Tarver. "And there are some things that we look at on our film, and we say, 'we can do that better.' And there are certain things that we've done well against teams that do that. That's what we need to focus on. We need to focus on doing our job and controlling the pocket the way we have in certain games and limiting explosive plays. We did limit explosive plays in that first game. And if we take advantage of more opportunities, we'll be in better shape as that game progresses."
QB Peyton Manning now holds the record for most touchdowns thrown in a season with 51. He also has over 5,000 yards passing. "He's just one of the smartest players you're going to play," said Woodson. "He knows the game, he has tons of experience, but he still approaches it as if he's still trying to learn more. He puts his teams in the best situations for the most part and just a hell of a player."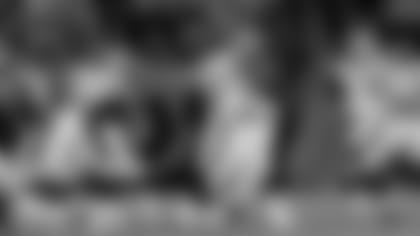 DE Lamarr Houston hits QB Peyton Manning in the teams' first match-up on Monday Night Football. Photo by Tony Gonzales
The Raiders defensive line wants to put pressure on Manning in order to disrupt his efficiency."Just having somebody in his face, condensing the pocket, constantly being around him," said DE Jason Hunter. "When we get our chance to get our hands up, get our hands up so we can bat some of those balls down and just be around him and affect him."
Manning needs just over 200 yards to break the record for passing yards in a season. The Raiders defense, particularly the secondary, does not want to let that happen. "I think cornerback-wise we have to try to get our hands on the guys, not give them free releases up the field all day long," said Woodson. "And then I think safety-wise we have to play top-down – that means not let balls get over our head. We have to make tackles. If we make tackles, we'll be fine."
Broncos WR Eric Decker has been impressed with the way the Raiders defense is able to mask their coverages. "Oakland does one of the better jobs of disguising coverages, especially [Charles] Woodson," said Decker. "He moves around the field. He makes it tough to know if it's going to be two-high, one-high safety, if it's man or zone coverage. That's why 18 [Manning] is one of the best because he can pick that up, he can put you in situations that will make you successful."
While Manning consistently launches passes to WRs Decker, Wes Welker, and Demaryius Thomas, RB Knowshon Moreno keeps the Broncos offense balanced. The veteran running back has recorded 1,015 yards rushing so far this season.
"Knowshon is a tough running back," explained Hunter. "Behind those big offensive linemen he's able to find those seams and get through those seams. We definitely have our challenge in stopping the run and trying to get him and stopping him before he gets started."
The Raiders have done well in their run game also, tying for 5th in the NFL in yards per carry with 4.6. They are led by RB Rashad Jennings, while RB Darren McFadden will once again get back into the mix this week.
QB Terrelle Pryor will be the one handing the ball off to the running backs this week, Coach Allen announced Monday. After five starts by QB Matt McGloin, Pryor will make his ninth start of the season. "I thought [Pryor] made some great plays against us," said Broncos Head Coach John Fox. "I think he's a tremendous young athlete. He reminded me in the first game, and watching tape of him since, of a young Michael Vick with the kinds of things he can do with both his arms and his legs. He's a tremendous talent."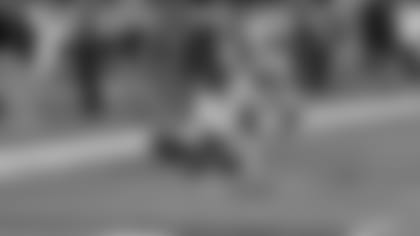 WR Denarius Moore scores a touchdown against the Broncos in the Week 3 match-up. Photo by Tony Gonzales
The Broncos will be without DE Von Miller, who was placed on Injured Reserve this past week. Denver was without Miller the first time the Broncos and Raiders faced off in Denver. Former Chargers LB Shaun Phillips has stepped in for Miller and continued harassing opposing quarterbacks. "I think that's been huge for them," said Coach Allen. "I think their ability to pick up a few guys to a defense that was already pretty good last year, pick up a guy like Shaun Phillips who fills that role of Von Miller when Von was out earlier in the year and obviously now with Von being out for the rest of the year, I think that's a benefit to them."
"We just have to play a perfect game," said Pryor. "We've got to move the ball. Time of possession is going to be huge — not turn the ball over. We're playing against the best quarterback in the league — in league history almost, I'm pretty sure. So we've just got to control the ball and take advantage."
The Raiders offense wants to get the run game going. "They're a hardnosed defense," said RB Darren McFadden. "They're coming off the ball, flying hard and hitting. You want to go out there and just be on top of your game."
Again, the biggest key for the Raiders this week is finishing strong. "Our main thing is taking care of the ball and finish strong," said McFadden. "We can't go out there and stall ourselves with stupid penalties and mistakes so we have to finish strong and take care of the ball."
Despite a losing season, the Silver and Black have every intention of showing up on Sunday and giving Raider Nation a good game. "It's important to me because I want to finish strong," said Hunter. "It's a divisional game against my former team. I know those guys well. The first time they got the best of us at their place. Now we get a chance to redeem ourselves against an offense that's playing extremely well right now. It's going to be a great challenge and I'm looking forward to the opportunity."
"For me, I just take the approach of this is what we do – we play football," added McFadden. "You love this game, it's something you played as a kid, so you just want to go out there and have fun with it."
Hunter is looking forward to seeing the fans at O.co Coliseum one more time this season. "Being at the Black Hole and playing in front of those fans, it's going to be a great opportunity," said the defensive end. "I'm looking forward to it. I'm excited about it. Those fans will be fired up. It's the last game of the season, so they're going to be excited, and against a rival there's going to be a lot of juice out there. I'm just ready to be out there, be happy and just play hard."
Woodson wants to show Raider Nation his appreciation for welcoming him back to the Silver and Black. "It meant a great deal. It's been a lot of fun," said Woodson. "Even though the season hasn't gone the way we would've liked it to go, it's been a great pleasure for me really putting the Silver and Black back on, being out there and playing in the Coliseum. It's been a great time coming back."
Raiders.com would like to say thank you for your continued support and for consistently proving to be the best fan base in all of sports. Make sure to stay with us throughout the off-season for consistent, continuing coverage of your Silver and Black.