The Oakland Raiders host the Washington Redskins at O.co Coliseum in Week 4 action. The 1-2 Raiders will face a 0-3 Redskins squad that is coming off a trip to the playoffs in 2012. The two teams have met 11 times in the regular season with Oakland leading 7-4, with the last meeting in 2009 at O.co Coliseum. The Raiders also faced the Redskins in Super Bowl XVIII, in which RB Marcus Allen led the way to the championship with a then-record 191 rushing yards and two touchdowns.
The Redskins have a dangerous offense with a passing and rushing weapon in second-year QB Robert Griffin III (RGIII). At running back, they are led by Alfred Morris who surpassed 1,500 yards rushing in 2012. The Redskins have veterans WR Pierre Garçon and Fred Davis at tight end.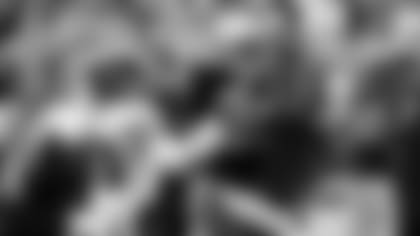 RB Darren McFadden stiff arms the Redskins defender in 2009.
AP Photo
"It's going to be a physical game," said starting middle LB Nick Roach. "They run the ball really well. Their linemen, especially their tight ends and fullback, take pride in being able to block people, so you can tell it's going to be a little bit of an old school football game."
The defense will face RGIII, who ran for 815 yards and seven touchdowns and passed for another 20 TDs last season. "He's got special skills," defensive coordinator Jason Tarver said about RGIII. "He can deliver the ball from any angle. We have got to do a good job in the pocket. He can still make all the throws and he's a good player and a smart player. What we need to do is take care of what we can control and that's the biggest thing, control the pocket, control our calls."
During the offseason, the Redskins' quarterback had knee surgery, missing the off-season and preseason. "He's still a very talented player. He's a good quarterback," said Head Coach Dennis Allen. "He gives them explosiveness on offense and I think that, combined with their ability to run the ball, makes them a dangerous team."
DT Vance Walker knows stopping RGIII will be a challenge, but believes in his line and the things they have to do to get defensive stops. "He's a very elusive guy and the biggest thing is, from a d-line standpoint, you want to try to get more than one guy to win," explained Walker. "He's hard to bring down by yourself. He's going to give you a move and get out of the way for the most part, so you want to have multiple guys winning at the line of scrimmage."
RGIII can extend plays, opening up the field and forcing the defense to, as Coach Tarver says often, use their rules. "It's a challenge because he is one of those guys that can extend plays pretty well with his feet," said LB Nick Roach. "Any time a quarterback can get out of the pocket, it's just another thing you have to be ready for as the plays go a little further in the down. You just know that he could scramble and get some yards."
While the defense has to worry about containing RGIII, they also need to focus on a head coach Mike Shanahan running game. "They're one of the better running teams in the league," said Coach Allen. "They've got two good backs that they can hand the ball off to, as well as the quarterback being a running threat. We've got to do a good job of trying to stop the run. That's one of the things that they do extremely well."
Walker and his teammates are working to perfect their run defense. "Just penetrate. You can't do what they want you to do, which is pretty much run side to side. You have to penetrate. You have to physical," said Walker. "You can't change anything regardless what team you're playing when it comes to running the ball. You always have to be physical. Being physical and penetrating that'll go a long way and then obviously gang tackle, everybody getting to the ball and swarming."
Roach, one of the leaders on defense, believes his unit can get the job done against Washington's offense. "I think despite the fact that they do have a lot of talent, we match up pretty well with them," said Roach. "Being able to play team defense and swarm, I think we'll be all right."
Meanwhile, the cornerbacks and safeties will contend with a passing game ranked 5th in the NFL. "I think they're fast and they're athletic and they do a good job of run after catch," said Coach Allen. "Obviously, Santana Moss has played in this league a long time; he does a really good job for them in the slot. They have the ability to throw the ball, they have the ability to run the ball and we're going to have to be on our A game to win this game." ](http://www.pntrs.com/t/R0BKSkdFREBKTERGSEBISEtERw)
The Raiders offense will face former member of the Silver and Black in CB DeAngelo Hall. They will also face a veteran defensive line and linebacker corps, led by London Fletcher. "They've got talent. They've got two guys on the edge that really can affect the football game," said Coach Allen. "London Fletcher is still an outstanding player, playing middle linebacker for them. I think you look at this team, they started off slow last year and then won seven straight games and won their division. This is a talented football team. This is a good football team that we're playing."
"They play hard and they have some talented guys," added C Stefen Wisniewski. "Their D-ends are pretty good pass rushers, [Ryan] Kerrigan and [Brian] Orakpo, and it's something we have to be ready for. They have a veteran middle linebacker in Fletcher who's been around a long time, real smart, so we're going to have to be on our game to move the ball."
Kerrigan and Orakpo are two of the bigger challenges for the Raiders offense. "We think both [Orakpo] and Kerrigan are elite rushers there. We have to be aware of those guys," said offensive coordinator Greg Olson. "They create matchup issues. They did last week in Detroit, and I'm sure Detroit wasn't prepared for the plan that Washington gave them. When you look at the score, even late into the third quarter, they were doing some good things. They did what they wanted to do: they wanted to limit Detroit's rushing game and they did that with that plan. But yes, two quality defensive rush ends, rush linebackers, whatever you want to call them. They do create matchup issues."
No matter who starts at quarterback for Oakland, the team wants to get their running game going after a stagnant showing versus the Broncos on Monday night. "We have to block. We have to create some running seams and give our backs an opportunity to run the football," said Coach Allen. "We'll have a plan to do some different things to hopefully create some running seams for the backs, but really it comes down to winning the line of scrimmage, and if we win the line of scrimmage we'll be able to run the ball effectively."
Wisniewski, who anchors the line, is determined to get RB Darren McFadden and the rest of the running backs in space this week. "I think it's a combination of getting some movement and we've got to score early so we don't get behind. I think if we have it closer at the beginning, we'll be able to commit to the run game. The more we stick to it, I think we'll get some more open holes," said Wisniewski. "We have to be able to come off the rock and know where we're going, try to get some movement. They're a veteran front, but I think we should be able to run the ball if we do everything right."
WR Denarius Moore, who had 129 yards and a touchdown against the Broncos, wants to build on his success, which he attributes to being extremely focused. He will face Hall and the other Redskins secondary. "They're going to be very physical; they like to get their hands on you," said Moore. "DeAngelo Hall, he likes to talk noise throughout the whole game, so you just have to erase that out and play your game. They'll play a lot of man-to-man. How do we exploit it? Start off with a quick game and let it build from there."
The Raiders are looking forward to playing in front of the home crowd again. "I think it's one of the great environments in pro football and I think anytime you can make your home stadium a home field advantage, and really that falls on us, it's our job to go out there and play well and give the fans something to get excited about so we create that home field advantage," said Coach Allen. "Our guys are excited about playing at home."
The players are excited to have Raider Nation cheering them on. "Yes, very excited. A lot of great fans, a lot of loud fans, good atmosphere. Very excited to be back at home," said Walker.
"I wish we could play every game at home," added Roach. "It's sweet being in front of them, the energy on third down for the defense. It's exciting."