By Justin Lum*
Silver and Black Productions
Quarterback Matt Schaub has 90 career starts under his belt since entering the NFL in 2004 but having a capable backup is crucial in this league. Second-year QB Matt McGloin earned valuable experience last season, starting six games as a rookie. McGloin is only a year older than 23-year-old rookie and second-round pick Derek Carr who has impressed coaches this offseason, including offensive coordinator Greg Olson.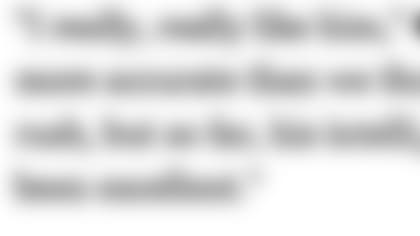 Mini-camp will be another opportunity for Carr and McGloin to compete for second-team reps, making the quarterback room better as a whole.
2. Cornerback Competition
DJ Hayden missed a portion of Organized Team Activities due to injury. If he does not return for mini-camp, which other corner will stand out? There are nine other cornerbacks on the Raiders roster, including veterans Tarell Brown and Carlos Rogers. Then there are Taiwan Jones and Chimdi Chekwa who have been on the team since 2011. But can rookies like Keith McGill and TJ Carrie capitalize on the extra reps?
Despite an upgraded receiving corp, the Raiders current group of wideouts averages under three years in NFL experience. James Jones is the most seasoned pass catcher, leading the league in touchdown receptions in 2012 and going into his eighth year as a pro. Will this be Denarius Moore's breakout season? During the third week of OTAs head coach Dennis Allen said, "He's still got a lot of improvement that he's got to make. I've seen some strides and hopefully he'll continue to make those strides." It was just three years ago that the playmaker out of Tennessee captivated Raider Nation with spectacular catches as a rookie in 2011. Since then, Moore has shown his ability to move the chains with a career average of 15.8 yards per catch.
Andre Holmes can be a sleeper in the red zone at 6'4" and flashed some huge upside against Dallas, Kansas City, and San Diego last season. In the 10 games Holmes played in, he was targeted 52 times and caught 25 balls (48 percent catch rate) with an average of 17.2 yards per catch.
Be so good they can't deny you! Not a word has to be said. — Rod Streater (@rodstreater80) June 13, 2014
Don't forget about the man who led the Raiders with 60 receptions and 888 yards in 2013. Rod Streater, an undrafted free agent in 2012, has bloomed into a solid weapon for Oakland's passing game. Streater continues to use his road to the NFL as motivation, approaching his third season in Silver and Black.
General Manager Reggie McKenzie hooked the defensive line up with a makeover this offseason. The veteran defensive linemen of LaMarr Woodley, Pat Sims, Antonio Smith, and Justin Tuck combine for 166 career sacks. Mini-camp will be another chance for this experienced group to build chemistry.
Offensive line coach Tony Sparano must be licking his chops as mini-camp gets under way. The Raiders added size up front with Austin Howard, Donald Penn and Kevin Boothe this offseason. They also get a healthy Menelik Watson to work with. Coach Allen likes what he sees from the second-year tackle. "I've seen significant improvement in Menelik this year. No. 1, he's been out here every day. he's improving on his technique…The thing I like about where Menelik is right now, I like his mindset, I like his mentality, I like the way he's going about doing his job and I like the way he's working."
One of the newest additions on the offensive line, Penn, believes this group will play like the Raiders of old. "We're going to run the ball, and we're going to run the ball and run the ball, until they stop us from running the ball. It's going to be hard. We're going to be a physical offensive line. We're going to play tough. We're not going to take any stuff. We're going to go out in the games and we're going to dictate the tempo."
The Raiders also have depth inside with guards like Boothe and promising rookie Gabe Jackson. With that said, the combined weight of Penn, Barnes, Wisniewski, Howard, and Watson is a whopping 1,613 pounds.
Now that Khalil Mack has participated in rookie mini-camp and OTAs, how much more will he improve in his first mini-camp as a Raider? After working with the first-round pick for about a month, teammates like Donald Penn and Charles Woodson have taken notice.
Penn: "He's going to have a lot of sacks late in the down. He has a motor that's relentless. As a tackle, you have to stay on him until you hear the whistle or hear the crowd cheer."
Woodson: "I've watched him a couple of times off the edge, and he's a guy that can bend at the waist, he can get low. He can get under tackles if he's going around the edge. He's quick enough to where he can get a guy in space coming off the edge. He can make movements in or out and go either way, and he seems to be put together pretty well, so we know he has some strength."
Darren McFadden returned kicks today at practice. Coach Dennis Allen said "anything is an option" in regard to McFadden filling that role. — Steve Corkran (@CorkOnTheNFL) June 9, 2014
It was thought-provoking to see Darren McFadden return kicks during OTAs. The former Razorback averaged 24.4 yards per kickoff return at Arkansas and ran a 4.33 40-yard dash before being drafted to Oakland. With explosive straightaway speed at nearly 220 pounds, McFadden can be a logical option at kick returner. Will he continue to get special teams reps during mini-camp?