RB Kory Sheets hits the sled during OTAs. Photo by Tony Gonzales.
It has been an interesting year for RB Kory Sheets.
Six months ago, the former Purdue Boilermaker was wrapping up his second season in the Canadian Football League [CFL] playing for the Saskatchewan Roughriders, and now he's finishing up his third week of Organized Team Activities [OTAs] for the Raiders at their Alameda facility.
Sheets' journey to Northern California has been a long road.
After an impressive career at Purdue that saw him become the all-time leader in touchdowns (54) and number two in career rushing yards (3,341) for the Boilermakers, he went undrafted in the 2009 NFL Draft before he was signed as a free agent by the San Francisco 49ers.
Over the next several years, Sheets had stops with a few other NFL franchises before eventually heading north to Canada.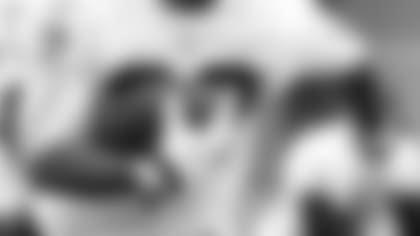 RB Kory Sheets has made his way back to the NFL after making a name for himself in the Canadian Football League. Photo by Tony Gonzales.
"Basically, I didn't get any calls at the beginning of 2012, so I had a decision to make, whether it was to keep playing football and give it one more shot," said Sheets when asked about why he left the NFL. "I was actually headed toward an Arena Football League tryout when I got the call to go up to the CFL. A buddy of mine knew the head coach that was taking over in Saskatchewan and said he needed a running back and was willing to give me a shot."
Once he arrived in Saskatchewan, Sheets dazzled on the field, rushing for over 1,000 yards during both of his seasons in the CFL and also winning the Grey Cup MVP award in 2013.
However, when he got the call to join the Oakland Raiders, the opportunity was too good to pass up.
"I've always wanted to play in the NFL," he said. "When I was down here before, in Miami, I really didn't get a chance to play because of my injuries. I feel like now I'm ready and I have one more shot to do it and I'm going to take full advantage of it."
Transitioning back into life in the NFL, Sheets realizes what a tremendous opportunity has been presented to him in Oakland.
"I wouldn't say that I have to prove anything. It's more that I have one more shot to make a run at this thing and I have to take full advantage of it," he said. "I can't be too tired. I can't say 'I'm too tired to study' or 'I don't feel like doing this right now,' because I won't have time to do it later."
Heading into 2014, the Raiders look to have a revamped rushing attack with recently acquired RB Maurice Jones-Drew and incumbent Darren McFadden. The young back is looking forward to earning his spot and learning from some proven NFL rushers.
"We all pretty much take care of each other. It doesn't matter who's competing for a spot, we all just want to make sure that everybody knows what they're doing," said Sheets.
The Raiders have big expectations for their run game this season, and Kory Sheets believes that the running backs in Oakland are up for the challenge.
"The sky's the limit," he said. "We have two guys that rushed for over 1,000 yards. MJD led the league at one point, and you have a couple of guys that are younger and want to prove things to people. The sky's the limit."