"Stop the run and push the pocket."
That's how DT Pat Sims describes his job on the defensive line, and what an important job it is.
While Sims' numbers may not jump off the stat sheet, he serves a vitally important role on a Raiders defense that hopes to snuff out the run in 2014.
This season will be a different one for the Fort Lauderdale, Fla., native as the upcoming campaign will mark his second wearing the Silver and Black. During the offseason, Sims re-signed with the Raiders and heads into year two in the Bay Area feeling more at ease.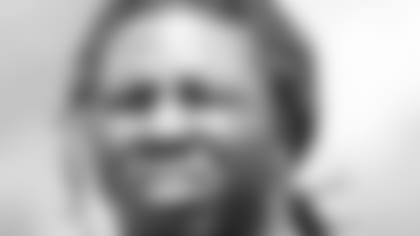 Photo by Tony Gonzales
"Of course I'm a little more comfortable," he said. "I don't have to worry about too much stuff. I just have to go out there and play my game. I know what I'm capable of doing, plus I have better players around me."
Two of those players that Sims referenced are DE LaMarr Woodley and DE Justin Tuck who General Manager Reggie McKenzie brought in this offseason to help solidify Oakland's defense. He believes that the addition of the two veterans will help him immensely.
"I have guys here now that have played in the league and have won Super Bowls and accomplished a lot of stuff in their career," he said. "I'm glad to be playing next to them."
Another addition, Raiders first-round selection LB Khalil Mack, has Sims excited for what 2014 can bring Raider Nation.
"He's an athlete," said Sims when describing the University of Buffalo product. "He's a freak. We just have to put him in the right situations and he's going to be hell."
Sims continued, "Khalil is going to go out there and do his thing, because he can play almost any position in the front seven." Sims made sure to jokingly add with a smile, "Besides defensive tackle though."
Sims is entering his seventh NFL season, and the surprisingly nimble veteran is coming off the best year of his career, starting all 16 games and totaling 49 total tackles in 2014.
Following his impressive effort last season, the 6'2" run stopper wants to build on last year and continue to improve. "It feels good to get back on the field and get out there and work on your technique and try to get better for the upcoming season," he said during the Raiders offseason program. "I'm trying to make this a better season than what it was last year. I'm happy, and I'm glad to be out here."
Optimism from Raider Nation is high, as the roster that Reggie McKenzie constructed has produced excitement around the team, and Sims can see the improvement from last year.
"I know we're going to go out there and win this year," he said. "I see it in our guys' eyes. I'm ready."
Sims is prepared, and if the veteran can stay healthy and produce, 2014 could be another big season for him and the Raiders alike.