**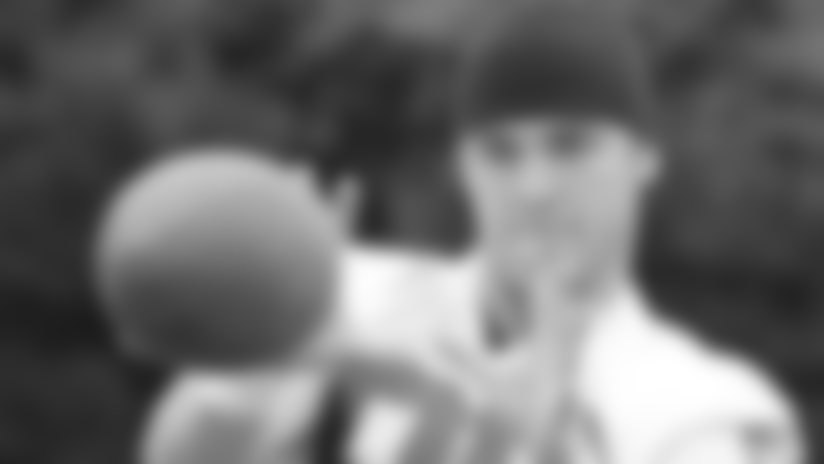 Rookie WR Nick Miller gets in some extra work catching the ball. - *Tony Gonzales*
On Monday, the pads will come on and full-contact drills will be on display at Raiders Training Camp.  Sunday's schedule featured the last two of the "teaching" practices.  Head Coach Tom Cable led the team through a continuation of the first three days of camp, featuring learning intensive drills with minimal contact and plenty of instruction.
At this point, Coach Cable is ready to see what was taught during the first four days of camp in action.  "I think we're getting kind of getting settled in terms of the learning phase and all of that.  We've gotten all of the stuff taught now," Cable said.  "So, from that standpoint [we're] pleased, but we'll start over tomorrow and really have something to gauge it on once we add the physical part to it."
Physicality is not the only thing heating up on Monday, so will the fight to get a spot on the final roster and a place at the top of the depth chart.  "Competition starts tomorrow—it's on," Cable stated.  "Everyone's got to fight for a job to get this thing down to 53 (players), and the right 53.  And inside of that, who your starters are."
Khalif Barnes is participating in his first Raiders Training Camp after spending his first four seasons in the league with the Jacksonville Jaguars.  The transition to a new locker room has been smooth for the offensive tackle.  "The locker room is great—a bunch of funny guys up there, the camaraderie is good," Barnes said.  "I want to come in; I want to be a part of the guys.  I don't want to stand out or [be] above anybody or anything like that.  That's never been my type of deal."
"We're getting some good teaching in," Barnes said in regards to the first four days of camp.  While he has liked getting instruction at the beginning of camp, he is certainly ready to go at full-speed, "Something I like doing is coming off the ball real fast.  I'm excited to do that tomorrow with pads on so we can get a live look and get a little bit of hitting going on."
**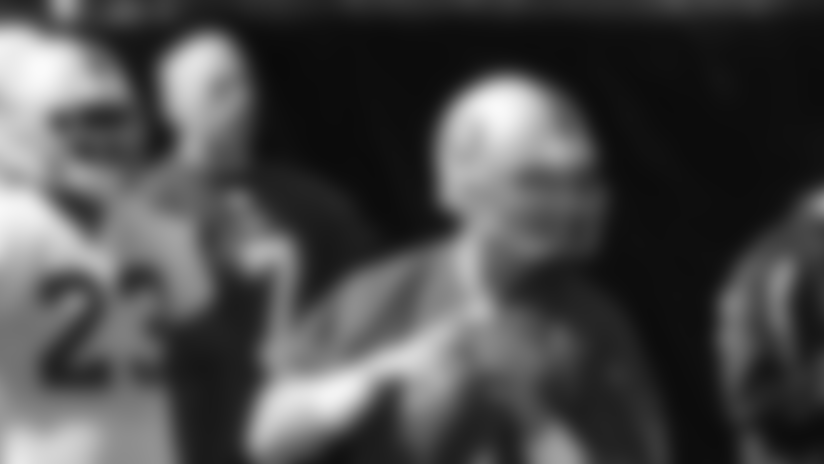 QB Charlie Frye sets to throw. - **
Another player in his first training camp with the Silver and Black is quarterback Charlie Frye, who comes to the team after stints with the Cleveland Browns and Seattle Seahawks.  Frye anticipates a big difference in the pace of practice on Monday, "[The transition] will probably be like preseason to the regular season that jump.  We're going about half-go right now and so it will be a big pickup in the speed and that's what's exciting about it."
Rookie wide receiver Nick Miller from Southern Utah has been a fan of the learning aspect of practice the past four days. "I think it was real smart of Coach Cable and all of the coaches to let us learn and do all of that rather than just throw us in there and make a lot of mistakes," Miller said.
Despite the fact that he has appreciated the slower pace the past four days, Miller is also among the many Raider players looking forward to tomorrow's practice.  "[We're] going to speed it up tomorrow, that's when the pads come on and the big boys come out," Miller explained. "Everybody's ready to get out there, everybody's been chattering a little bit.  So, everybody's ready to get the pads on."
The Raiders will practice next week at their Napa Valley Training Facility before busing to Oakland for the Raider Nation Celebration on Saturday, August 8.  The event will feature a full practice in front of the fans at the Oakland-Alameda County Coliseum.  The Raider Nation Celebration is a free event and is open to the public.
This article has been reproduced in a new format and may be missing content or contain faulty links. Please use the Contact Us link in our site footer to report an issue.