**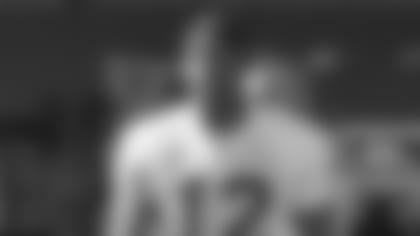 Rookie WR Darrius Heyward-Bey takes the field for his first training camp practice. - *Tony Gonzales*
The Oakland Raiders hit the practice field at their Napa Valley Training Complex for two practice sessions as the on-field work officially got underway for Training Camp 2009.
The big news at the Raiders Napa Valley Training Complex this afternoon was the signing of and the arrival the Silver and Black's first round pick in the 2009 NFL Draft, WR Darrius Heyward-Bey. The 6'2", 210-pound, former University of Maryland star signed his contract at the team's Alameda, Calif., facility and made it to Napa in time to participate in the team's afternoon practice session.
After practice, Raiders Head Coach Tom Cable took to the podium to officially announce the signing and field questions from the media.
"We are pleased to sign Darrius Heyward-Bey, who practiced today as you saw. It's a credit to him and his people to get him here on time, all those things to not be missing more than one practice," Coach Cable said. "With all the learning that is going on I think this is a really big deal for us. So we are really excited about that."
After Heyward-Bey took part in his first training camp practice as a professional football player, he addressed the media and talked about getting the deal done and starting camp.
Twitter tile"It feels great to get it done. I came in on the first day of practice. Missed the first one [practice], but got here for the second one," Heyward-Bey said. "I feel prepared and ready to go at this level. I just got to put it all together and work hard and show it."
Coach Cable also announced that QB Andrew Walter was released today.
Be sure to follow all of the Raiders' training camp news and updates with Twitter.