For a total of 100 days, we'll take a look at the men who have played for the Raiders jersey number by jersey number. This series will highlight some of the greatest players in NFL history. In some cases, the player and jersey number are synonymous. In other cases, the jersey number represents sustained greatness at a particular position. Some players are superstitious about their jersey number. Whatever the case may be, jersey numbers are an important part of the fabric of professional football.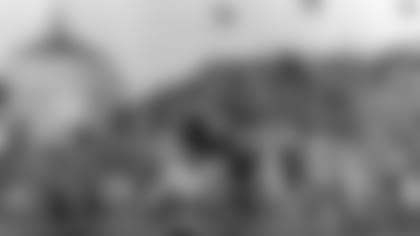 QB Cotton Davidson (19) looks for TE Bob Mischak (87) during a 35-17 win over the Buffalo Bills at Frank Youell Field in 1963.* Raiders Archives.*
Jersey No. 19 has not been chosen often in Raiders history. It has become more popular in recent years due to the change in the number rule that allows receivers to wear 10-19. However, one particular quarterback in the 1960s wore it quite well in Silver and Black.
Cotton Davidson – QB – 1962-69
Davidson entered the AFL with the Dallas Texans (Kansas City Chiefs) in 1960 after playing for the NFL's Baltimore Colts in 1954 and '57. He was acquired by the Raiders early in 1962. As a Raider, he appeared in 58 games with 28 starts and completed 412 of 977 pass attempts for 6,532 yards, 41 TDs and 63 INTs. He is the 11th leading passer in Raiders history.
David Williams – WR – 1987
Williams played 1 season for the Raiders after spending a season with Tampa Bay. He played in 3 games with 2 starts and caught 4 passes for 104 yards.
Johnnie Morant – WR – 2004-06
Morant was originally selected in the 5th round of the 2004 NFL Draft out of Syracuse. He saw action in 15 games with 2 starts and caught 8 passes for 90 yards.
Travis Taylor – WR – 2007
Taylor played in 1 game for the Raiders during the 2007 season after spending 5 years with the Baltimore Ravens and 2 with Minnesota and did not catch a pass. He also played in a game for the Rams in 2007. 
Todd Watkins – WR – 2008-09
Watkins was claimed off waivers from the Atlanta Falcons during the 2008 offseason. In 2 seasons, he played in 21 games with 1 start and caught 8 passes for 90 yards.
Butler was selected in the 7th round of the 2013 NFL Draft out of San Diego State. He played in 10 games with 2 starts during his rookie season and caught 9 passes for 103 yards. He swicthed to No. 12 prior to the 2014 season.
Vincent Brown - WR - 2014
The Raiders signed Brown Sept. 16, 2014, after he played for the San Diego Chargers from 2011-13. He saw action in 7 games and caught 12 passes for 118 yards.