For a total of 100 days, we'll take a look at the men who have played for the Raiders jersey number by jersey number. This series will highlight some of the greatest players in NFL history. In some cases, the player and jersey number are synonymous. In other cases, the jersey number represents sustained greatness at a particular position. Some players are superstitious about their jersey number. Whatever the case may be, jersey numbers are an important part of the fabric of professional football.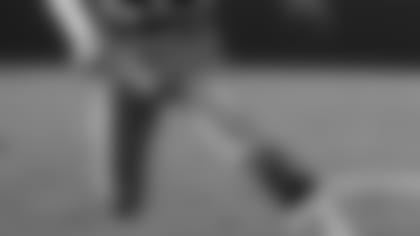 Day 26 of our series includes a Hall of Fame wide receiver and Super Bowl MVP, a few bell-cow running backs and some talented defensive backs. This impressive group of Raiders all donned No. 25.
Teresa is the first running back in team history to rush for 100 yards in a game. After playing in just one game for the San Francisco 49ers in 1958, Teresa played in 14 games for the Raiders in 1960. He carried the ball 139 times for 608 yards and 6 TDs, and caught 35 passes for 393 yards and 4 TDs. He also returned 5 punts for 12 yards and 4 kickoffs for 61 yards.
Vernon Valdez – DB – 1962
After a year with the NFL's Rams in 1960 and a season with the AFL's Bills, Valdez spent a year with the Raiders in 1962. He played in 10 games and recorded 4 interceptions for 47 yards. He returned 2 punts for 14 yards.
Claude Gibson – DB – 1963-65
Gibson joined the Raiders after two years with the San Diego Chargers. He played in 42 games and returned 86 punts (9th in team history) for 1,083 yards and 3 TDs. He also returned 11 kickoffs for 196 yards. He intercepted 9 passes for 145 yards.
Fred Biletnikoff – WR – 1967-78
After the Raiders selected him in the 2nd round of the 1965 AFL Draft, Biletnikoff (pictured) donned No. 14 before switching to his signature No. 25 in 1967. He played in 24 games in No. 14, and caught 41 passes for 603 yards and 3 TDs. In all, Biletnikoff played in 190 games with 144 starts and caught 589 passes for 8,974 yards and 76 TDs. He was named the MVP of Super Bowl XI as the Raiders defeated the Minnesota Vikings 32-14. He was inducted into the Pro Football Hall of Fame in 1988.
Irvin Phillips – DB – 1983
After spending the 1981 season with the San Diego Chargers, Phillips played in five games for the Raiders in 1983.
Ricky Williams – RB - 1985, 1987
Williams wore No. 49 for the Raiders in 1985 and No. 25 in 1987. He appeared in a total of three games. He was originally selected in the 9th round of the 1983 NFL Draft by the New England Patriots.
Land, a special teams standout, played in 140 games with 7 starts. He recorded 2 interceptions for 13 yards. He returned 2 kickoffs for 27 yards in 1992.
Anthony Prior – DB – 1998
After three years with the Jets and two with the Vikings, Prior played in 4 games with the Raiders in 1998.
Charlie Garner – RB – 2001-03
Garner joined the Raiders after five years with the Eagles and two with the 49ers. He played in 46 games with 40 starts and carried the ball 513 times for 2,354 yards and 11 TDs. He caught 211 passes for 1,905 yards and 7 TDs. He played in Super Bowl XXXVII. He finished his NFL career with one season with Tampa Bay.
Denard Walker – DB – 2004-05
Walker joined the Raiders after four years with the Titans, two with the Broncos and one with the Vikings. He played in 25 games with 5 starts and recorded 1 interception for 45 yards and 1 fumble recovery and return for 28 yards.
Justin Fargas – RB – 2006-09
Fargas played for the Raiders from 2003-09. He switched from jersey No. 20 to 25 in 2006. In total, he played in 92 games with 32 starts and carried the ball 827 times for 3,369 yards and 10 TDs. He also caught 77 passes for 523 yards. Fargas was originally selected in the 3rd round of the 2003 NFL Draft. He is the 10th leading rusher in team history and recorded a 1,000-yard rushing season in 2007 (1,009 yards on 222 carries).
Rock Cartwright – RB – 2010-11
Cartwright joined the Raiders after eight years with the Redskins. He played in 31 games and returned 9 kickoffs for 118 yards. He carried the ball 13 times for 67 yards and caught 5 passes for 34 yards.
Goodson played in 12 games and carried the ball 35 times for 221 yards and caught 16 passes for 195 yards and 1 touchdown. He also returned 16 kickoffs for 359 yards.
DJ Hayden – CB – 2013-present
Hayden was selected in the first round of the 2013 NFL Draft out of the University of Houston. He played in eight games with two starts. He recorded 1 interception and 1 forced fumble before his rookie season was cut short by injury. In 2014, Hayden saw action in 10 games with 8 starts and recorded 1 interception and 10 passes defensed.