For a total of 100 days, we'll take a look at the men who have played for the Raiders jersey number by jersey number. This series will highlight some of the greatest players in NFL history. In some cases, the player and jersey number are synonymous. In other cases, the jersey number represents sustained greatness at a particular position. Some players are superstitious about their jersey number. Whatever the case may be, jersey numbers are an important part of the fabric of professional football.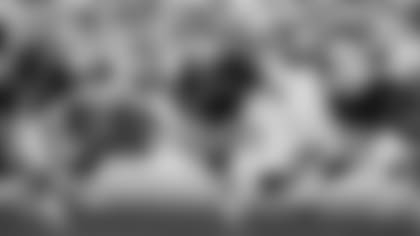 RB Frank Hawkins (27) looks for running room against the Miami Dolphins. AP Photo.
Day 28 of our series takes a look at jersey No. 27, which has been a popular number for Raiders players over the years. From running backs to return men to talented defensive backs, No. 27 has been a consistent sight in Silver and Black.
Joe Cannavino – DB – 1960-61
Cannavino played in 28 games and intercepted 9 passes for 59 yards, and added 1 punt return for 4 yards during his two years in Oakland.
George Boynton – DB – 1962
A former 16th round pick in the 1960 NFL Draft of the Baltimore Colts, Boynton played in 3 games for the Raiders in 1962.
Rich Mostardo – DB – 1962
Mostardo joined the Raiders after a year with Cleveland and a season with Minnesota in the NFL. He played in 5 games for Oakland.
Joe Krakoski – DB – 1963-66
Krakoski played with Washington in 1961 and joined the Raiders in 1963. He played in 51 games and intercepted 4 passes for 39 yards. He also returned 9 punts for 42 yards. Krakoski was named 2nd Team All-AFL in 1963.
Glenn Ellison – RB – 1971
After playing college football at Arkansas, Ellison played in 1 game for the Raiders in 1971.
Smith played the last year of a 10-year career with the Raiders. He played in 14 games and returned 41 punts for 486 yards and 19 kickoffs for 420 yards.
Rich played in 2 games for Oakland. He finished out the season with the Cleveland Browns after his release from the Raiders.
Frank Hawkins – RB – 1981-87
Hawkins was originally selected in the 10th round of the 1981 NFL Draft out of Nevada-Reno. He played in 88 games with 34 starts and carried the ball 431 times for 1,659 yards and 15 TDs. He also caught 97 passes for 691 yards and 3 scores. He was a member of the Raiders Super Bowl XVIII championship team.
Derrick Gainer – RB – 1992
After playing for the Browns in 1990, Gainer played in 2 games for the Raiders in 1992 and carried the ball twice for 10 yards. He went on to play for the Cowboys.
Jones played two years for the Raiders. He wore No. 27 in 1994, and No. 44 in 1995. He played in 15 games total and carried the ball 27 times for 112 yards and caught 2 passes for 6 yards. He also returned 5 kickoffs for 92 yards.
Calvin Branch – DB – 1997-00
Branch was selected in the 6th round of the 1997 NFL Draft out of Colorado State. He also wore No. 37 during a comeback attempt in 2005. In all, he played in 60 games with 1 start. He returned 13 kickoffs for 214 yards. He is currently a scout for the Raiders.
Scott wore No. 27 in 2002 and appeared in 1 game. He wore No. 37 in 2003 and played in 5 games for the Raiders.
Ronney Jenkins – KR – 2003
After playing 3 years with the San Diego Chargers, Jenkins appeared in 7 games for the Raiders in 2003. He returned 25 kickoffs for 553 yards.
J.R. Redmond – RB – 2003-04
Redmond joined the Raiders after three years with the Patriots. He played in 17 games with 1 start and carried the ball 30 times for 149 yards and caught 33 passes for 239 yards. He also returned 8 kickoffs for 153 yards.
Fabian Washington – CB – 2005-07
The Raiders selected Washington in the 1st round of the 2005 NFL Draft out of Nebraska. He played in 45 games with 28 starts and intercepted 5 passes for 4 yards. He went on to play 3 seasons for the Baltimore Ravens.
Rashad Baker – DB – 2007-08
After two seasons with Buffalo, one with Minnesota and two with New England, Baker played in 10 games with 1 start for the Raiders. He recorded 3 interceptions for 8 yards.
Matt Giordano – DB – 2011-12
After four years with the Colts, one with the Packers and one with the Saints, Giordano played in 31 games with 22 starts for the Raiders. He recorded 7 interceptions for 175 yards.
Rashad Jennings – RB 2013
Jennings joined the Raiders as a free agent after three years with Jacksonville. He played in 15 games with 8 starts and led the Raiders in rushing with 733 yards on 163 attempts and 6 TDs. He also caught 36 passes for 292 yards.
Carlos Rogers - CB - 2014
Rogers joined the Raiders as a free agent after spending 3 years with the San Francisco 49ers. He spent the first 6 years of his career with the Washington Redskins. In 2014, Rogers saw action in 7 games with 7 starts and recorded 35 tackles, 1 pass defensed and 1 forced fumble before his season was cut short by injury.