For a total of 100 days, we'll take a look at the men who have played for the Raiders jersey number by jersey number. This series will highlight some of the greatest players in NFL history. In some cases, the player and jersey number are synonymous. In other cases, the jersey number represents sustained greatness at a particular position. Some players are superstitious about their jersey number. Whatever the case may be, jersey numbers are an important part of the fabric of professional football.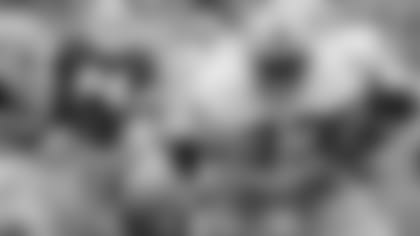 RB Kenny King (33) played for the Raiders from 1980-85. AP Photo.
No. 33 is an iconic jersey number in just about every American sport and the Raiders have had their share of talented players don the jersey.
Doug Mayberry – RB – 1963
After two seasons with Minnesota in the NFL, Mayberry played in two games with the AFL's Raiders in 1963.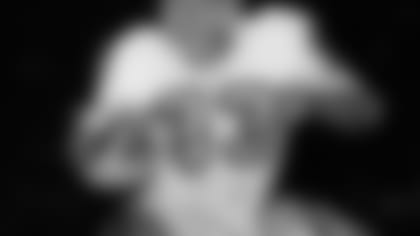 Billy Cannon – TE – 1964-69
Cannon (pictured) entered the AFL as a running back with the Houston Oilers in 1960. He joined the Raiders in 1964 and by 1965 he had converted to tight end. Cannon won the Heisman Trophy with LSU in 1959. For the Raiders, he played in 79 games with 24 starts and gained 338 yards on 89 carries with 3 TDs and caught 134 passes for 2,268 yards and 25 TDs. He also returned 21 kickoffs for 518 yards. He was named 1st Team All-Pro in 1967, and was selected for the 1969 Pro Bowl while a member of the Raiders.
The Raiders selected Carter in the 3rd round of the 1975 NFL Draft. He played in 8 games and gained 26 yards on 11 carries and caught 2 passes for 39 yards. He returned 1 kickoff for 13 yards. He went on to play three years for Tampa Bay.
Rick Jennings – WR – 1976-77
Jennings was primarily a return man. The Raiders selected him in the 11th round of the 1976 NFL Draft. He played in 13 games and returned 6 punts for 59 yards and 20 kickoffs for 510 yards. Jennings caught 1 pass for 10 yards and gained 22 yards on 10 carries. He was acquired by the San Francisco 49ers during the 1977 season.
Kenny King – RB – 1980-85
King was acquired in a trade with the Houston Oilers in 1980 and helped the Raiders win Super Bowl XV that season. He set a then-Super Bowl record with an 8-yard TD reception for a TD. In all, King played in 85 regular season games with 67 starts and gained 2,468 yards on 576 carries with 7 TDs. He caught 89 passes for 715 yards and 1 TD. He was also a member of the Raiders Super Bowl XVIII championship team.
After playing for Miami in 1986, Ellis played in 3 games with 1 start in 1987. He returned 25 kickoffs for 541 yards, carried the ball 33 times for 138 yards and 2 TDs, and caught 5 passes for 39 yards.
Demise Williams – DB – 1987
Williams played in 1 game for the Raiders during the 1987 season.
Eddie Anderson – S – 1987-97
Anderson joined the Raiders after a year with Seattle. He played in 159 games with 116 starts. He picked off 19 passes for 531 yards and 3 returns for TDs. Anderson recorded 4 forced fumbles and 7 fumble recoveries. His 102-yard interception return for a touchdown against Miami in 1992 is the longest in Raiders history.
Brooks played in 6 games for the Raiders after playing for the Bills, Jaguars, Packers, and Chiefs. He now serves as an NFL Network analyst and contributor to NFL.com.
Anthony Dorsett – S – 2000-03
Dorsett, the son of Hall of Fame running back Tony Dorsett, joined the Raiders after four years with the Houston Oilers/Tennessee Titans. He played in 62 games with 45 starts and logged 2 interceptions for 65 yards and 2 TDs. He forced 2 fumbles and recovered 3.
Easy joined the Raiders after three years with the Kansas City Chiefs. He played in all 16 regular season games.
Dominic Rhodes – RB – 2007
Rhodes joined the Raiders after five years with the Indianapolis Colts. He saw action in 10 games with 2 starts and gained 302 yards on 75 carries with 1 TD. He also caught 11 passes for 70 yards and returned 16 kickoffs for 312 yards. He returned to the Colts for 2 more seasons.
Tyvon Branch – SS – 2008-2014
The Raiders selected Branch in the 4th round of the 2008 NFL Draft out of the University of Connecticut. He played in 75 games  starts and grabbed 4 interceptions for 62 yards and added 8 sacks. Branch has also returned 8 kickoffs for 120 yards. He has forced 3 fumbles and recovered 4, including 1 that he returned for a TD in a win over the Chargers in 2010.