For a total of 100 days, we'll take a look at the men who have played for the Raiders jersey number by jersey number. This series will highlight some of the greatest players in NFL history. In some cases, the player and jersey number are synonymous. In other cases, the jersey number represents sustained greatness at a particular position. Some players are superstitious about their jersey number. Whatever the case may be, jersey numbers are an important part of the fabric of professional football.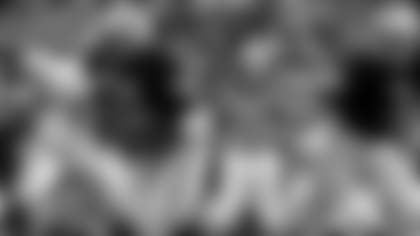 RB Hewritt Dixon takes a handoff from QB Daryle Lamonica during Super Bowl II against the Green Bay Packers. AP Photo.
No. 35 has been worn by a wide variety of running backs and defensive backs since it first saw Silver and Black in 1961.
Walt Kowalczyk – RB – 1961
Kowalczyk joined the Raiders after two years with Philadelphia and one with Dallas. He played in 4 games and gained 28 yards on 10 carries and caught 3 passes for 8 yards. He returned 1 kickoff for 19 yards.
Tommy Morrow – DB – 1962-64
Morrow was the first to gain notoriety in No. 35 for the Raiders. He played in 42 games and picked off 23 passes for 346 return yards. He returned 3 punts for 13 yards. He even served as the punter in 1962 and punted 45 times for 1,654 yards. He was named 1st Team All-AFL in 1963.
Hewritt Dixon – RB – 1966-70
Dixon took over for Clem Daniels and continued Daniels' run of success. After spending three years with Denver, he played in 66 games with 37 starts for the Raiders and gained 2,960 yards on 731 carries with 13 TDs. He caught 190 passes for 1,750 yards and 10 scores. Dixon was selected for four All-Star games and named 1st Team All-Pro in 1968. 
Jess Phillips – RB – 1975
Phillips joined the Raiders after five years with Cincinnati and two with New Orleans. He played in 14 games with 2 starts and gained 298 yards on 63 carries with 1 TD. He also caught 4 passes for 25 yards and returned 12 kickoffs for 310 yards. He finished his career with two years in New England.
Terry Robiskie – RB – 1977-79
The Raiders selected Robiskie in the 8th round of the 1977 NFL Draft out of LSU. He played in 24 games with 6 starts and gained 303 yards on 81 carries with 3 TDs and caught 10 passes for 87 yards. He also returned 10 kickoffs for 147 yards. After two years with Miami, Robiskie entered the coaching ranks and has held several positions throughout the NFL.
Dwayne O'Steen – DB – 1980-81
O'Steen joined the Raiders after two years with the Rams. He played in 31 games with 12 starts and intercepted 4 passes for 12 yards. O'Steen was a key member of the Raiders Super Bowl XV championship team and went on to play for the Colts, Buccaneers and Packers.
Steve Smith – RB – 1987-93
Smith was a bruising fullback who paved the way for the likes of Marcus Allen and Bo Jackson. Smith played in 103 games with 84 starts and gained 1,528 yards on 84 carries with 7 TDs. He also caught 113 passes for 1,049 yards and 11 touchdowns. He also returned 6 kickoffs for 65 yards. Smith finished his career with two years with Seattle.* *
| | |
| --- | --- |
| | |
| Jersey No. 35 is currently worn by CB Chimdi Chekwa. Photo by Tony Gonzales. | |
The Raiders selected Aska in the 3rd round of the 1995 NFL Draft. He played in 23 games with 2 starts and gained 336 yards on 74 carries with 1 TD and caught 8 passes for 63 yards. He also returned 3 kickoffs for 63 yards.
David Terrell – DB – 2004
Terrell spent the last year of his NFL career with the Raiders after playing for the Redskins for four seasons. He saw action in 16 games and recorded two passes defensed.
John Bowie – DB – 2007-09
The Raiders selected Bowie in the 4th round of the 2007 NFL Draft. Bowie saw action in 5 games.
Chimdi Chekwa – DB – 2011-present
The Raiders selected Chekwa in the 4th round of the 2011 NFL Draft. He has played in 32 games, primarily on special teams, with 5 starts and has forced a fumble and recovered a fumble. He caught a pass for 22 yards on a fake punt in 2013.