For a total of 100 days, we'll take a look at the men who have played for the Raiders jersey number by jersey number. This series will highlight some of the greatest players in NFL history. In some cases, the player and jersey number are synonymous. In other cases, the jersey number represents sustained greatness at a particular position. Some players are superstitious about their jersey number. Whatever the case may be, jersey numbers are an important part of the fabric of professional football.
Fifteen Raiders have worn No. 42 in Raiders history, including a few hard hitting safeties and productive skill position players.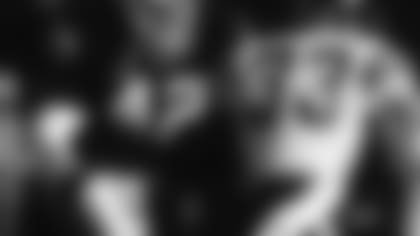 Hall of Fame defensive back Ronnie Lott played for the Raiders for two years. AP Photo.
Dobie Craig – WR – 1962-63
Craig played in 26 games with 11 starts for the Raiders. He caught 34 passes for 688 yards and 6 TDs and carried the ball once for 8 yards. His 93-yard reception from QB Tom Flores in 1963 is the 3rd longest pass play in team history.
Bill Laskey – LB – 1966-70
Laskey joined the Raiders after a year with Buffalo. He played in 53 games with 22 starts and recorded 4 interceptions for 66 yards and recovered 5 fumbles. He went on to play for the Colts and Broncos.
Tom Maxwell – DB – 1971-73
Maxwell joined the Raiders after two years with the Colts. He played in 28 games and recovered one fumble. He returned 12 punts for 41 yards and 1 kickoff for 26 yards. Maxwell finished his career with a year with the Houston Oilers.
Steve Jackson – DB – 1977
Jackson played in 6 games and intercepted one pass for 33 yards and recovered one fumble.
Monte Jackson – DB – 1978-82
Jackson joined the Raiders after three years with the Rams. He played in 65 games with 37 starts and picked off 6 passes for 30 yards, and recovered 3 fumbles. He was a member of the Raiders 1980 Super Bowl Championship team.
Vance Mueller – RB – 1986-90
Selected by the Raiders in the 4th round of the 1986 NFL Draft, Mueller played in 73 games with 5 starts. He gained 469 yards on 128 carries with 3 TDs. He caught 40 passes for 452 yards and 2 TDs. Mueller returned 39 kickoffs for 878 yards.
Ronnie Lott – S – 1991-92
Lott joined the Raiders after 10 years with the 49ers. He played in 32 games with 32 starts and recorded 9 INTs for 52 yards. He forced 2 fumbles and recovered 2 fumbles. He finished his career with two years with the Jets. Lott was inducted into the Pro Football Hall of Fame in 2000.
Ball joined the Raiders after six years with the Bengals. He played in 16 games and carried the ball twice for 10 yards.
Eric Turner – S – 1997-98
Turner played for the Raiders from 1997-99 before his untimely death. He wore No. 42 in 1997 and '98, and switched to No. 29 in 1999. In all, he played in 32 games with 31 starts and recorded 8 interceptions for 196 yards and 1 TD. He also racked up 5 fumble recoveries with 99 return yards and a TD. His 94-yard INT return for a TD against Denver in 1998 is the 5th longest in team history.
Ray played in 8 games for the Raiders in 1999.
Terry Kirby – RB – 2000-02
Kirby joined the Raiders after three years with Miami, three years with San Francisco and one with Cleveland. He played in 19 games and gained 151 yards on 37 carries. He caught 29 passes for 196 yards and 1 TD.  Kirby also returned 65 kickoffs for 1,491 yards and 2 TDs, including a 96-yarder at Pittsburgh in 2002.
The Raiders selected Nash in the 6th round of the 2002 NFL Draft out of Albany State (Ga.) and appeared in two games in 2004.
Lee joined the Raiders after a year with Dallas and one with Green Bay. He played in 16 games with 3 starts and returned 4 kickoffs for 49 yards. He carried the ball 21 times for 72 yards and 2 TDs and caught 20 passes for 138 yards.
Shelton Johnson – S – 2013
Johnson joined the Raiders as an undrafted free agent out of Wisconsin in 2013. After spending the first 12 games of the season on the practice squad, Johnson was signed to the active roster in December. He played in four games and recovered a fumble at San Diego.
Asante joined the Raiders in 2014 after spending time with Indianapolis and Tampa Bay. He appeared in 6 games with 2 starts and recorded 24 tackles and forced 1 fumble.