For a total of 100 days, we'll take a look at the men who have played for the Raiders jersey number by jersey number. This series will highlight some of the greatest players in NFL history. In some cases, the player and jersey number are synonymous. In other cases, the jersey number represents sustained greatness at a particular position. Some players are superstitious about their jersey number. Whatever the case may be, jersey numbers are an important part of the fabric of professional football.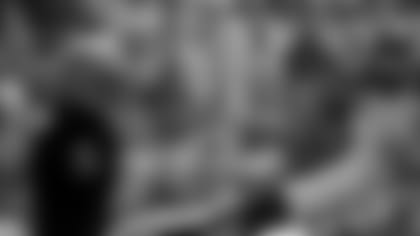 Day 6 of our series and we continue with a look at the players who have worn jersey No. 5 - one punter, five kickers and two quarterbacks.
Talley was the Raiders full-time punter during the strike-shortened 1987 season. He punted 56 times for 2,277 yards (10th in Raiders history) and averaged 40.7 yards per punt in 12 games. He also spent time in the USFL.
Michael Husted – K – 1999
Husted played in 13 games in one season for the Raiders after 6 seasons in Tampa Bay. He made 20 of 31 field goal attempts and went 30 for 30 on his extra point attempts for a total of 90 points. He played in parts of two seasons after leaving the Raiders (Washington 2000, Kansas City 2002).
Signed as an injury replacement for Sebastian Janikowski, Conway played in one game and made his lone field goal attempt and all three of his extra point attempts in a 27-24 loss to the Denver Broncos at Mile High Stadium in Denver. He had two tours of duty with Washington and spent time with the Jets, Giants and Browns.
Originally drafted by the Detroit Lions in 1978, Breech played for the Raiders in 1979. He played in all 16 games and made 18 of 27 field goal attempts, and 41 of 45 extra point attempts for a total of 95 points. He then spent 13 years with the Cincinnati Bengals after the Raiders cut him. Chris Bahr came over after getting cut by the Bengals and became the Raiders placekicker in 1980.
Ford joined the Raiders in 1995 and played in a total of 37 games in Silver and Black. He made 45 of 62 field goal attempts and 86 of 89 extra point attempts for a total of 221 points. He was originally drafted by the Pittsburgh Steelers in the 7th round of the 1995 NFL Draft.
Kerry Collins – QB – 2004-05
Originally signed as a backup to Rich Gannon, Collins became the starter when Gannon suffered a career-ending injury early in the 2004 season. He appeared in 29 games with 28 starts with the Raiders. He finished his time in Oakland as the 9th leading passer in team history. He completed 591 of 1,078 pass attempts for 7,254 yards, 41 TDs and 32 INTs as a Raider. He played 17 seasons in the NFL for 6 different teams. He went on to play for the Colts and Titans.
Bruce Gradkowski – QB – 2009-10
Gradkowski played in 13 games with 8 starts for the Raiders. He completed 165 of 307 pass attempts for 2,066 yards, 11 TDs and 10 INTs. He is best remembered for the stunning come-from-behind win over the Pittsburgh Steelers at Heinz Field in Pittsburgh during the 2009 season, during which he threw 3 fourth quarter touchdown passes, including the game-winner with 9 seconds left. He has gone on to play for Cincinnati and Pittsburgh.
Signed as an injury replacement for Janikowski, Rayner played in one game for the Raiders and recorded one kickoff. He also played for Buffalo, Detroit, Cincinnati, San Diego, Kansas City, Green Bay and Indianapolis.