For a total of 100 days, we'll take a look at the men who have played for the Raiders jersey number by jersey number. This series will highlight some of the greatest players in NFL history. In some cases, the player and jersey number are synonymous. In other cases, the jersey number represents sustained greatness at a particular position. Some players are superstitious about their jersey number. Whatever the case may be, jersey numbers are an important part of the fabric of professional football.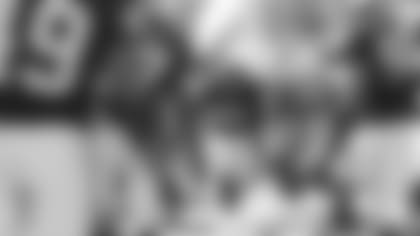 The Raiders selected LB Sio Moore in the 3rd round of the 2013 NFL Draft. Photo by Tony Gonzales.
Twelve players have worn No. 55 in Raiders history, from run-stuffers to special teams stand-outs. All 12 were linebackers.
Riley Morris – LB – 1960-61
Morris played in 30 games from 1960-62 and recorded three interceptions for 79 yards. He switched to No. 92 in 1962.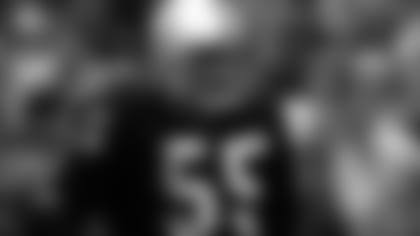 Dan Conners – LB – 1966-74
Conners (pictured) originally wore No. 60 from 1964-65 before switching to No. 55. The Raiders selected him in the second round of the 1964 AFL Draft out of the University of Miami (Fla.). In all, he played in 141 regular season games with 88 starts and grabbed 15 interceptions for 232 yards and three TDs, and recovered 16 fumbles for 112 yards and 2 TDs.
Matt Millen – LB – 1980-88
The Raiders selected Millen in the 2nd round of the 1980 NFL Draft out of Penn State. He helped the Raiders win two Super Bowls. Millen played in 133 regular season games with 127 starts and recorded 11 sacks, 7 interceptions for 114 yards and 4 fumble recoveries.
Gordon joined the Raiders after three years with the Jets and played in 10 games for the Raiders in 1990. He went on to play three years in Cincinnati.
James Folston – LB – 1994-98
The Raiders selected Folston in the 2nd round of the 1994 NFL Draft out of Louisiana-Monroe. He played in 65 games with 12 starts, forced one fumble, recovered one fumble and recorded one sack.
Bobby Brooks – LB – 1999-01
An undrafted free agent out of Fresno State, Brooks played in 30 games with the Raiders and contributed mostly on special teams.
Shurron Pierson – LB – 2003
The Raiders selected Pierson in the 4th round of the 2003 NFL Draft out of South Florida. He played in six games and went on to play a season with the Chicago Bears.
Danny Clark – LB – 2004-05
Clark joined the Raiders after four years with Jacksonville. He played in 18 games with 16 starts and recorded three sacks, one forced fumble, and 181 solo tackles. He went on to play for New Orleans, Houston and the New York Giants.
Robert Thomas – LB – 2006-07
Thomas joined the Raiders after three years in St. Louis and one in Green Bay. He played for the Raiders from 2006-08, and wore No. 55 from 2006-07 and No. 94 in 2008. In all, he played in 32 games with 11 starts and forced three fumbles, recovered one fumble and logged 79 solo tackles.
Jon Alston – LB – 2008-09
Alston joined the Raiders after a year in St. Louis. He wore No. 94 in 2007, and No. 55 from 2008-09. He played in 36 total games with eight starts, forced two fumbles and recorded 32 solo tackles. He carried the ball once for 22 yards on a fake punt in 2008.
Rolando McClain – LB – 2010-12
The Raiders selected McClain in the first round of the 2010 NFL Draft out of Alabama. He played in 41 games with 38 starts and recorded 6.5 sacks, one interception for 10 yards, one forced fumble and 175 solo tackles.
Sio Moore – LB – 2013-present
The Raiders selected Moore in the 3rd round of the 2013 NFL Draft out of Connecticut. He played in 15 games with 11 starts and recorded 4.5 sacks, forced one fumble and logged 38 solo tackles in 2013. In 2014, he started 11 games at weak-side linebacker before having his season cut short due to a hip injury.