For a total of 100 days, we'll take a look at the men who have played for the Raiders jersey number by jersey number. This series will highlight some of the greatest players in NFL history. In some cases, the player and jersey number are synonymous. In other cases, the jersey number represents sustained greatness at a particular position. Some players are superstitious about their jersey number. Whatever the case may be, jersey numbers are an important part of the fabric of professional football.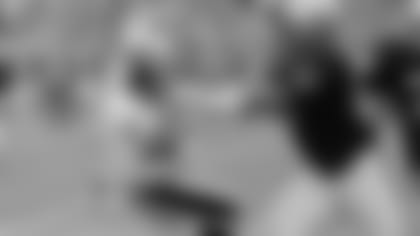 Otis Sistrunk puts the hit on Steelers QB Terry Bradshaw. AP Photo.
Eight players have worn jersey No. 60 in Raiders history, including a Super Bowl-winning defensive tackle who once claimed to have played his college football at the University of Mars.
Tom Louderback – LB – 1960-61
Louderback joined the AFL's Raiders after two years with the NFL's Philadelphia Eagles. He played in 28 games and grabbed three interceptions for 53 yards and one TD and recovered one fumble. He went on to play for Buffalo in 1962.
Conners originally wore No. 60 from 1964-65 before switching to No. 55. The Raiders selected him in the second round of the 1964 AFL Draft out of the University of Miami (Fla.). In all, he played in 141 regular season games with 88 starts and grabbed 15 interceptions for 232 yards and three TDs, and recovered 16 fumbles for 112 yards and 2 TDs.
Otis Sistrunk – DL – 1972-79
Sistrunk, who once said he came from the University of Mars, did not play college football. He played in 98 games with 98 starts in the regular season, and in numerous playoff games. He was a member of the Raiders 1976 Super Bowl championship team. He was selected 1st Team All-AFC in 1974.
Liles played in two games for the Raiders and one for the Lions during the 1980 season.
The Raiders selected Marsh in the 1st round of the 1981 NFL Draft. He played in 45 games with 29 starts and logged one fumble recovery.
Rick Ackerman – DT – 1987
The Raiders acquired Ackerman from the Chargers in 1984. He wore No. 97 in 1984. After missing the 1985-86 seasons, he re-joined the Raiders and wore No. 60. In all, he played in nine games with two starts and recorded two sacks and one fumble recovery.
Rory Graves – T – 1988-91
Graves played in 49 games with 45 starts at multiple positions along the offensive line from 1988-91.
Loper joined the Raiders after three years with the Titans and one with the Lions. He played in 10 games with four starts in 2010.