For a total of 100 days, we'll take a look at the men who have played for the Raiders jersey number by jersey number. This series will highlight some of the greatest players in NFL history. In some cases, the player and jersey number are synonymous. In other cases, the jersey number represents sustained greatness at a particular position. Some players are superstitious about their jersey number. Whatever the case may be, jersey numbers are an important part of the fabric of professional football.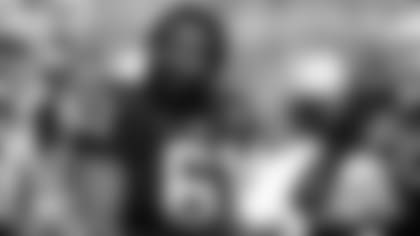 Ten players have worn jersey No. 61 in Raiders history, including a pair of Super Bowl Champions.
Roedel played in 14 games for the Raiders during the 1961 AFL season.
Ogas played in six games for the Raiders in 1968. He went on to play for Buffalo in 1969.
The Raiders selected McMath in the 4th round of the 1976 NFL Draft. He played in 14 games and recovered one fumble as the Raiders went on to win the Super Bowl. He played one season in Green Bay.
Dave Stalls – DT – 1983, 1985
The Raiders acquired Stalls from the Buccaneers during the 1983 season as the Silver and Black won their third Super Bowl. After missing 1984, Stalls played for the Raiders in 1985. In all, he played in 10 games and recorded a ½ sack and recovered one fumble.
Tautolo joined the Raiders in 1987 after playing for the Giants in 1982 and '83. He played in three games with three starts.
Freeman joined the Raiders after three years in Denver and saw action in two games for the Silver and Black.
Hart joined the Raiders in 1991 after playing the 1989 season with the Seahawks. He saw action in one game.
Chris Morris – C/G – 2006
The Raiders selected Morris in the 7th round of the 2006 NFL Draft out of Michigan State. He wore No. 61 in 2006, and then switched to No. 51. In all, he played in 47 games with 11 starts.
Gerard Warren – DT – 2007-09
Warren joined the Raiders after four years in Cleveland and two in Denver. He played in 44 games with 37 starts and recorded 10 sacks and two forced fumbles. He went on to play for New England.
Stefen Wisniewski – C/G – 2011- 14
The Raiders selected the nephew of legendary offensive lineman Steve Wisniewski in the 2nd round of the 2011 NFL Draft out of Penn State. He played in 61 games with 61 starts for the Silver and Black.