For a total of 100 days, we'll take a look at the men who have played for the Raiders jersey number by jersey number. This series will highlight some of the greatest players in NFL history. In some cases, the player and jersey number are synonymous. In other cases, the jersey number represents sustained greatness at a particular position. Some players are superstitious about their jersey number. Whatever the case may be, jersey numbers are an important part of the fabric of professional football.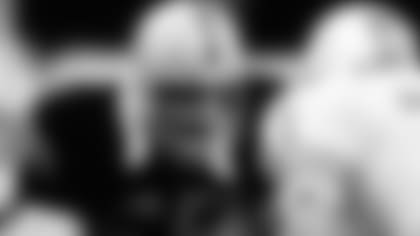 Mickey Marvin in action against the Miami Dolphins.
Only six players have worn jersey No. 65 in Raiders history, most of whom played long-term, significant roles along the offensive line.
Wayne Hawkins – G – 1960-69
Hawkins played his college football at the University of the Pacific. In 10 seasons with the Raiders, he played in 136 regular season games. Hawkins was selected to five AFL All-Star games, and named first or second team All-AFL six times.
Paul Seiler – T – 1971-73
Seiler joined the Raiders after two years with the New York Jets. He played in 26 games with one start for the Raiders.
Mickey Marvin – G – 1977-87
The Raiders selected Marvin in the 4th round of the 1977 NFL Draft out of Tennessee. He played in 120 regular season games with 108 starts and was a key member of the Raiders 1980 and 1983 Super Bowl championship squads. He is currently a scout for the Raiders organization.
Max Montoya – G – 1990-94
Montoya joined the Raiders after 11 years with the Cincinnati Bengals. He played in 66 games with 51 starts and was selected for the Pro Bowl in 1993.
Sims joined the Raiders as an undrafted free agent after spending time in NFL Europe. He played in 136 regular season games with 119 starts. He started at left tackle in Super Bowl XXXVII. Sims was part of an offensive unit that led the NFL in rushing in 2000 and total offense in 2002. He went on to play three years for the San Francisco 49ers.
Mike Brisiel – G – 2012-2013
Brisiel came over to the Raiders as a free agent in 2012 after five years with the Houston Texans. He played in 30 games with 30 starts for the Silver and Black.