For a total of 100 days, we'll take a look at the men who have played for the Raiders jersey number by jersey number. This series will highlight some of the greatest players in NFL history. In some cases, the player and jersey number are synonymous. In other cases, the jersey number represents sustained greatness at a particular position. Some players are superstitious about their jersey number. Whatever the case may be, jersey numbers are an important part of the fabric of professional football.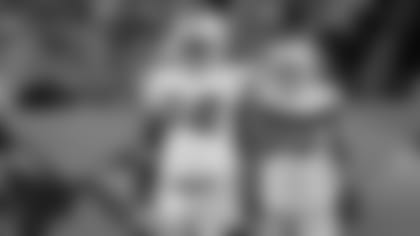 DT Stacy McGee. Photo by Tony Gonzales
Ten players have worn jersey No. 92 in Raiders history, including several stout interior defenders.
Morris played in 30 games from 1960-62 and recorded three interceptions for 79 yards. He switched to No. 92 in 1962 after wearing No. 55 from 1960-61.
McMillen split time with the Raiders and Eagles in 1987. He played in one game and recorded one sack for the Silver and Black.
King joined the Raiders after four years with the Bengals. He played in 16 games with three starts.
La'Roi Glover – DT – 1996
The Raiders selected Glover in the 5th round of the 1996 NFL Draft out of San Diego State. He played in two games. He went on to play for the Saints, Cowboys and Rams.
The Raiders selected Amey in the 7th round of the 1998 NFL Draft out of Arizona State. He played in four games with one start.
Junior Ioane – DT – 2000-02
The Raiders selected Ioane in the 4th round of the 2000 NFL Draft out of Arizona State. He played in nine games and recorded one sack. He went on to play for the Houston Texans.
Terdell Sands – DT – 2003
The Raiders claimed Sands off waivers from the Green Bay Packers and he wore No. 92 in 2003. Sands wore No. 90 from 2004-08. He played in 76 games with 14 starts and recorded four sacks and recovered two fumbles. He played in one game for New England in 2009.
Ted Washington – DT – 2004-05
Washington joined the Raiders after three years in San Francisco, one in Denver, six in Buffalo, two in Chicago and one with New England. He played in and started 32 games for the Silver and Black and recorded three sacks and forced two fumbles. He went on to play for Cleveland.
Richard Seymour – DT/DE – 2009-12
The Raiders acquired Seymour in a trade with the Patriots. Seymour played in 53 games with 52 starts in four years with the Raiders after eight years in New England. He recorded 18.5 sacks, forced one fumble and recovered two fumbles as a Raider.
Stacy McGee – DT – 2013-present
The Raiders selected McGee in the 6th round of the 2013 NFL Draft out of Oklahoma. He played in 15 games with five starts and recorded 0.5 sacks and recovered one fumble.