Raiders WR Amari Cooper takes part in the 21st annual NFLPA Rookie Premiere. Photo courtesy of the NFLPA.
– Unique Marketing Event Hosted by NFLPA in Los Angeles May 28-31 Includes Sponsor & Licensee Activities, Business of Football Seminars, and Trading Card Photo Shoots in Team Uniforms –
COURTESY NFLPA – More than 40 top rookies from the 2015 NFL Draft class, including Raiders WR Amari Cooper, were in Los Angeles to learn the business of football at the 21st annual NFLPA Rookie Premiere. A robust roster of business partners were on site to grow their brands and create and promote their product lines through the utilization of group player rights.
The four-day event is hosted by the NFL Players Association, via its marketing and licensing arm NFL Players Inc.  It features one of the most exciting moments for the rookies – wearing their official Nike team uniforms for the first time together during photo shoots with trading card companies Topps and Panini America at LA Memorial Coliseum.
Launched in Los Angeles in 1994, NFLPA Rookie Premiere is the landmark, first-of-its kind event across professional sports, providing business partners with unmatched early access to many of the NFL's most promising and marketable young stars. Each year, the NFLPA facilitates approximately 100 individual player service deals for Rookie Premiere participants. The event also generates numerous opportunities for current and former players.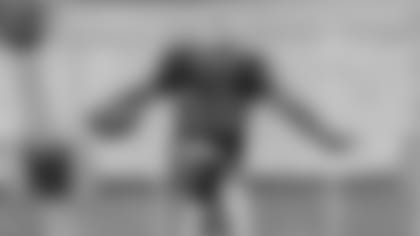 Throughout the first major business event following the NFL Draft, players gain information to assist in the development of their professional careers and personal brands. The union's annual orientation includes seminars focused on financial planning, brand building and group player rights. Among the guest speakers are former and active NFL players as well as NFLPA Executive Director DeMaurice Smith and NFL Players Inc. President Ahmad Nassar. NFLPA sponsors and licensees will be on site to capture player content for use during the season, host retail events and engage with rookies on a personal level during networking activities.
"NFLPA Rookie Premiere is the best opportunity for our partners to engage early on with the next wave of the NFL's marketing stars," said Ahmad Nassar, President, NFL Players Inc. "Beyond providing a platform to learn about the business of football and benefits of their union as they game plan for their new careers, Rookie Premiere gives players a chance to showcase their personalities so that the NFLPA team can use that insight to connect the right players with the right brands to tell their story."
Among the rookies who participated this year are wide receiver Amari Cooper (Alabama, Oakland Raiders), quarterback Jameis Winston (Florida State, Tampa Bay Buccaneers), quarterback Marcus Mariota (Oregon, Tennessee Titans), defensive end Leonard Williams (Southern Cal, New York Jets), running back Melvin Gordon (Wisconsin, San Diego Chargers), running back Todd Gurley (Georgia, St. Louis Rams), wide receiver DeVante Parker (Louisville, Miami Dolphins) and wide receiver Kevin White (West Virginia, Chicago Bears).