QB Matt Leinart calls the play in the huddle. Photo by Tony Gonzales

The Raiders took the field for their ninth practice of their 2012 Training Camp, powered by Verizon 4G LTE. The camp grind is in full effect as the Raiders head into an off day. The team will return to practice on Friday, only a couple days before their first preseason game against the Dallas Cowboys at O.Co Coliseum on Monday Night Football.
General Manager Reggie McKenzie brought in numerous veterans during the off-season. The guys coming from around the league are enjoying the set up of the Raiders training camp in Napa, Calif. "You can't beat it out here, especially coming from Arizona where we were in Flagstaff, which is nice, but it was farther away," said QB Matt Leinart. "The logistics here are just so much easier. Everything is very close. It's a great hotel, it's a great facility. Houston was nice, but the weather was miserable. This has to be one of the best training camps in the NFL. Just being in this city, the weather, it's great."
TE Tory Humphrey has also appreciated the Napa Valley weather. "I was in New Orleans last year so the weather [here] is much better, no humidity. I mean, it gets a little hot, but nowhere near New Orleans."
The practice facility is literally next door to the hotel, making the "commute" to camp easy. "It's a perfect set up," said CB Ron Bartell. "The proximity to the hotel is wonderful. I literally take 10 steps out of my room and I'm right at the facility. The fans have been great. The weather is nice. You're in wine country so you can't complain about that. I love it so far."
CB Shawntae Spencer, who joins the Silver and Black from across the Bay in San Francisco, has been pleasantly surprised with the Raiders Napa Valley Training Complex. "I actually like it," said Spencer. "Being up here in Napa, the set up is real nice as far as the proximity from the hotel where we stay to the field. I can walk out of my room and be in the locker room or on the field in 30 seconds. That's comforting."
Spencer is also comfortable with the new team during training camp because of the number of familiar faces in the organization between the media relations team, team security, video crew, defensive backs coach Johnnie Lynn and defensive coordinator Jason Tarver and players. "That made the transition a lot smoother," said Spencer. "Just a lot of familiar faces outside of the locker room and a lot of familiar faces in the locker room. I was familiar with Michael Huff through mutual friends. Played against Ron Bartell a lot and we actually share a birthday so we have a real nice friendship going. So it's a good feeling."
As intimidating as it can be meeting a whole new group of people, the incoming veterans have had no trouble fitting in with their new team. "It's not really that hard because we're all football players so we can all relate to what's going on in each other's lives so it's not hard at all," said Humphrey.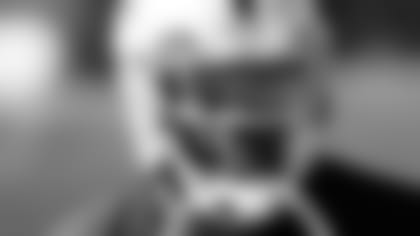 CB Ron Bartell. Photo by Tony Gonzales
"It's easy," echoed Leinart. "We've got a good group of guys here. I was around during the summer during OTAs and mini-camp and stuff so football is a fraternity. No matter what team you come from, there's all ready a respect there for each other because we do the same thing. It's been an easy transition."
Bartell has been the brunt of jokes as one of the older guys on the team now, but is enjoying himself so far. "It's been fun," said Bartell. "I'm only 30 and I'm like the fourth or fifth oldest guy on the team, so that's different. They give me a hard time about being an old man, but it's been an experience. Everybody has welcomed me with open arms. I love the atmosphere around here. The new coaching staff has been great. From the top down from the owner to Reggie all those guys they've welcomed me."
The guys have also had the opportunity to experience a little of the Bay Area and Raider Nation. "The fans have been wonderful," added Bartell. "The Bay Area is beautiful and my family loves it, so I'm hoping I can stay here a long time."
As easy as the transition has been for these veterans, the change in structure of training camp has been even better. "It's different to be honest with you," said Spencer. "I really love how Coach Allen structured it. It's distributed very evenly as far as the amount of practice days that we have and then the off days that we have and then the meeting times and things like that from down time and things like that. I've been a part of a lot worse before the new CBA, when the two-a-days were killing guys, so I have no complaints right now."
Bartell has endured two-a-day practices for years, so he welcomes the new training camp schedule. "The structure is different because when I first came in the league, we had real two-a-days so it was a lot more of a grind," explained Bartell. "It was a lot more physical, you had two padded practices a day, so to have one padded practice and then a walk-through later in the evening, you can't really complain about it. From that standard it's a little bit different. I tell the younger guys all the time, they have it so good with this new CBA because it helps you recover better and it helps you take care of your body so it gives you a better opportunity to make the team. I love it."
"The structure and the organization have been great so far," added Leinart. "Everything has been run smoothly and we've been just going to day-to-day."