Chloe Gonzales (left) poses for a photo with the other competitors in her division after winning the PP&K National Championship.
Two-time Raiders Team Championship winner in the 6-7 girls bracket, Chloe Gonzales, won the NFL PUNT, PASS & KICK National Championship in her division, in Indianapolis, the day before the Indianapolis Colts hosted the Tennessee Titans Sunday, Jan. 3.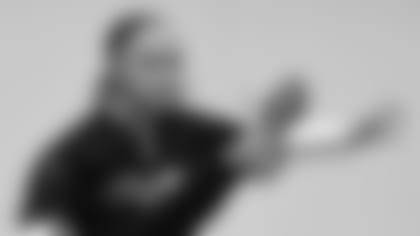 Finalists competed separately in five age divisions with the top scorer in each group crowned national champion. All participants launched two punts, two passes and two kicks with scores based on distance and accuracy (in feet). The best score from each activity was tabulated to determine the athlete's total. All youngsters advanced to the national championships through local, sectional and team championship competitions held throughout the NFL regular season. The top four scorers in each age group from across the country qualified as national finalists.
NFL Punt, Pass & Kick, which began in 1961, is celebrating its 53rd anniversary. It is one of the nation's largest grassroots sports skills competitions. NFL stars – including Pro Football Hall of Fame quarterbacks TROY AIKMAN and DAN MARINO – competed in the Punt, Pass & Kick program as youngsters. "USA Football is pleased to manage the Punt, Pass & Kick program," USA Football Executive Director SCOTT HALLENBECK said. USA Football is the sport's national governing body and the official youth development partner of the NFL and its 32 teams. "This fun football competition rooted in fundamental skills continues to capture the imagination of young athletes, boys and girls alike."
All participants and their guests were provided airfare, hotel accommodations and tickets to the Sunday, Jan. 3, game between the Indianapolis Colts and Tennessee Titans. Champions were recognized between the third and fourth quarters as well as at www.nflppk.com.