The 2018 NFL Draft gets underway Thursday evening at 5 p.m. PT, and the Oakland Raiders are scheduled to make their first pick at the No. 10 overall slot in the first round.
Let's take a look at some other interesting Raiders draft facts:
This year, the NFL awarded 32 compensatory selections to 15 teams for the 2018 NFL Draft. The compensatory picks will be positioned within the third through seventh rounds based on the value of the compensatory free agents lost.
Under the rules for compensatory draft selections, a team losing more or better compensatory free agents than it acquires in the previous year is eligible to receive compensatory draft picks. Compensatory free agents are determined by a formula based on salary, playing time and postseason honors. The formula was developed by the NFL Management Council. Not every free agent lost or signed by a club is covered by this formula.
A rule change approved by clubs in 2015 permits compensatory draft picks to be traded.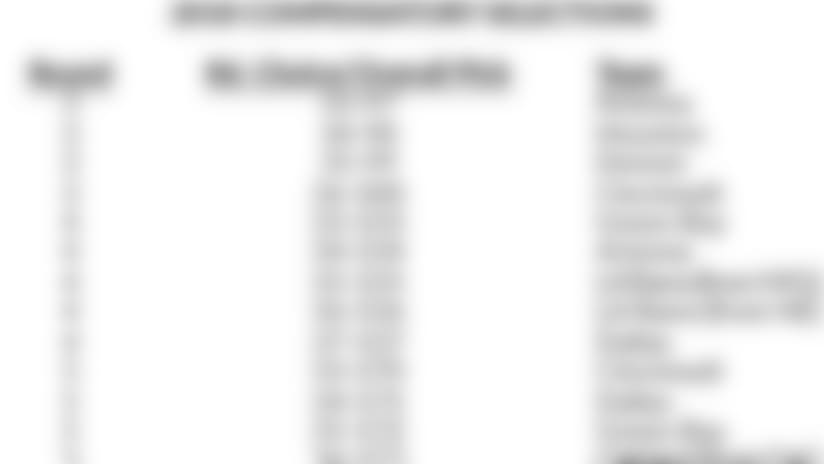 Since his time as a Pro Personnel Assistant with the Green Bay Packers in 1994, Raiders General Manager Reggie McKenzie has played an integral role in acquiring high-caliber talent through both the draft and free agency processes, en route to building competitive rosters on the field come gamedays.
Upon arrival as the Raiders' general manager in 2012, McKenzie brought a refined football acumen to the Silver and Black in his quest to immediately impact the club's already positive trajectory. Under McKenzie's leadership and guidance, the team has acquired eight Pro Bowlers, four through the draft and five more while navigating through free agency: S Charles Woodson (2013 free agency), RB Latavius Murray (2013 Draft), DE Khalil Mack and QB Derek Carr (2014 Draft), T Donald Penn (2014 Free Agency), WR Amari Cooper (2015 Draft), C Rodney Hudson (2015 Free Agency), S Reggie Nelson and G/T Kelechi Osemele (2016 Free Agency).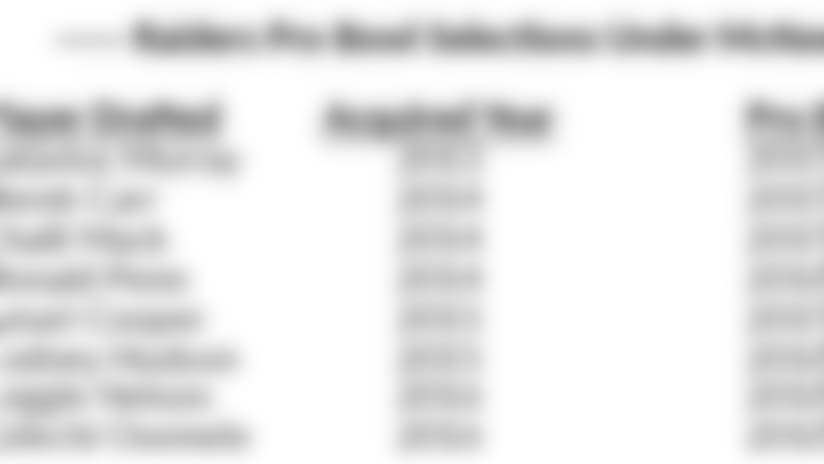 Before his arrival in Oakland in 2012, McKenzie spent 18 years in Green Bay's organization, earning the role of Director of Pro Personnel and Director of Football Operations for the last 15 years of his tenure with the Packers. Over those 15 seasons, McKenzie's role in the draft paid dividends for the club, as his draft analysis and in-depth research led to the selection of 20 Pro Bowlers, 10 of which were multi-selections to the squad in subsequent seasons and one who was originally an undrafted free agent. Those players are listed below: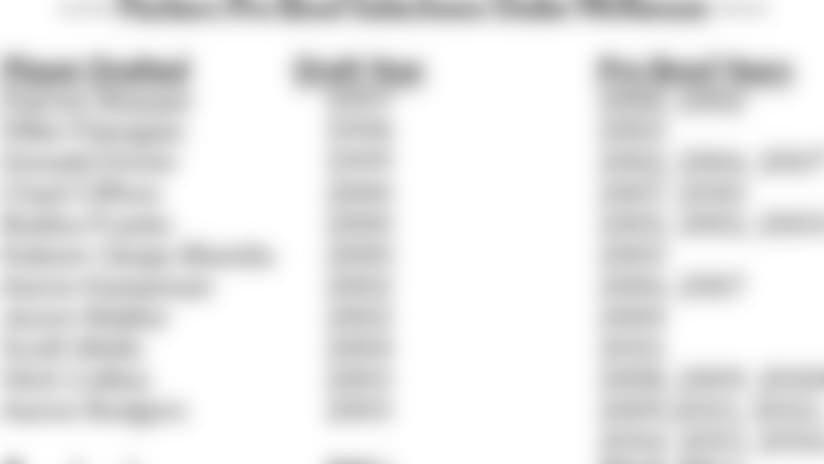 Below is a look at the Raiders' most recent selections at each position in the NFL Draft:
Since the common draft started in 1967 as part of the AFL-NFL merger, Oakland has selected just one interior offensive lineman in the first round (Gene Upshaw, 1967). Don Mosebar was drafted as a tackle in 1983 before moving to center.
In the first round of the 2017 NFL Draft, the Raiders selected CB Gareon Conley, the sixth time the Raiders have drafted a cornerback in the first round since 2000. Below is a list of the most recent selections in the first round of the NFL Draft at each position: