QB Carson Palmer takes the snap during the Raiders 26-16 victory in Kansas City in Week 8. Photo by Tony Gonzales
The Oakland Raiders host the Kansas City Chiefs at O.co Coliseum in 2012 Week 15 action. The two teams first met in Week 8 at Arrowhead Stadium where the Raiders emerged with a 26-16 victory. The Silver and Black will be facing a slightly different Chiefs squad than they saw in late October. Gary Gibbs is now the play-caller on defense, WRs Dwayne Bowe and Steve Breaston are injured, and the Chiefs parted ways with CB Stanford Routt.
"I think [they've changed] a little personnel-wise," said Head Coach Dennis Allen. "Obviously without having Dwayne Bowe offensively, I'm sure there will be some differences. In what they're doing defensively, they've had a few personnel changes, so I think that's the biggest difference in what we've seen. I know, obviously, Gary Gibbs is calling the defenses now on game days, so there's been some subtle adjustments and subtle differences."
Offensive coordinator Greg Knapp sees more differences in personnel than scheme in the Chiefs defense. "A big change in personnel, with a wide variety of guys," said Coach Knapp. "They've had some injuries, some changes in the secondary; but the scheme for the most part is the same. They've done a good job of being efficient on third downs and red zone. That's where they've made their hay. They've given up some yards, but they're doing a good job on third downs and red zone to get off the field. Good pass rushers again with [Tamba] Hali and Justin Houston, two good edge rushers in back-to-back weeks for us to contend with."
CB Brandon Flowers is still starting for the Chiefs and poses a challenge for the wide receivers. "On the offensive side, I just think we're going to have to beat man-to-man," said WR Rod Streater. "They play good man-to-man technique. They've got Flowers and a couple other good corners like Arenas. It's going to come down to focusing on beating man."
Safety Eric Berry will also be patrolling the secondary for Kansas City. "When you look back earlier in the year, they matched him up against Antonio Gates against San Diego," said Coach Knapp. "He's a very good safety, in my opinion, that is not just one-dimensional. Sometimes safeties can be a box safety, or a deep safety; he plays both well. He's got great range to play the middle safety, but he has no problem playing linebacker. In fact, in their sub-packages, he will play the linebacker a majority of the time, and he'll stick his nose in there. He's good against the run, and he can cover a tight end really well."
The Raiders want to go out and take advantage of opportunities like they did at Arrowhead. "Very solid on defense," said QB Carson Palmer. "They have really cut down on giving up big plays. It is a very solid and stout group, tough to run the ball against. We went back and forth with them last time and then at the end of the game we hit some big runs and finished in four-minute mode taking a knee and that's what we want to do this time. "
The offense expects to get challenged by the Chiefs defense. "They're going to go out and play hard," said FB Marcel Reece. "They have good linebackers. They've got Derrick Johnson over there, who's a veteran, who's very fast, and very athletic. He has great instincts and makes a lot of good plays. They've got a lot of things going on right now that present threats to offenses. We've got to go out there and execute like we try and do every week."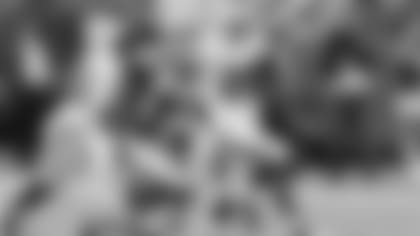 RB Darren McFadden ran for 114 yards in Week 8 at Arrowhead Stadium. Photo by Tony Gonzales
As the Raiders offense works on their execution, the defense will be facing a Kansas City offense led by QB Brady Quinn and powered by RB Jamaal Charles. Charles only had five carries in Week 8, but the Raiders expect him to be much more of a factor Sunday. "I would think that they would turn around and hand the ball off to him," said Coach Allen. "He's one of the more explosive players in the league. I believe he's fifth in the league in rushing right now and he's rushed for 100 yards, I think it's four of the last five games. He's an explosive player on their offense, a guy that can go make plays for them. I would anticipate they would try to get him the ball."
The defense will work to contain the back like they did several weeks ago. "It's very tough to do, man," said S Mike Mitchell. "He's awesome. He's one of the better backs I've played against in football, not just in the NFL. He's a very good running back. He's very fast and very explosive and can hit the home run. We just really have to do a good job of doing what our coaches tell us to do: set the edge, don't run sideways, get penetration and keep him bottled up. He's the type of runner that one guy usually doesn't get him because he's so shifty. Keep swarming him, be physical and put a hat on him. Every time he carries the ball, see how tough he is, not how fast he is."
Defensive coordinator Jason Tarver wants to see the same containment of Charles he did in Arrowhead. "Charles is a heck of a back," said Coach Tarver. "Thought our guys did a good job on him last [time] and that's going to make them even more motivated so we have to swarm and get off of blocks and make sure we're knocking them back, not the other way around. Good running game. In the past few weeks, they've limited their turnovers and that's why they've improved a little bit, so we have to make sure we take the ball away and stop the run."
LB Omar Gaither has a lot of respect for Charles. "He's as explosive as they come," said Gaither. "You've got to keep him bundled up. He reminds me, and I didn't play against this guy, of Barry Sanders. He gets one yard, two yards, three yards, and then 85 yards. I think he's the highest average back in history with more than 700 attempts. He's definitely the workhorse, especially with Bowe being out."
Although Kansas City will be without their leading receiver, the Raiders secondary is still focused on containing the passing attack. "I think, even without him, they still have pretty good receivers and they're going to come out and play," said CB Phillip Adams. "We've got to respect them; we've got to respect the receiving corps and just go out there and play hard."
Mitchell believes the Chiefs will be able to offset Bowe's absence. "They're still going to try to run the ball and be very physical," said Mitchell. "They have a good running back. Quinn has been playing well. I think we're going to see a lot of the same stuff: a lot of runs and a lot of shots. I don't think it's going to change too much. They'll probably try to get number 22 [Chiefs RB/WR Dexter McCluster] the ball a little more."
Headed into this week's game, the Raiders want the division win. "The focus is everybody's job," said Palmer. "The focus is on your individual job and finding a way to win. Win your individual battles up front, and win your battles on the outside, and don't think about past games, don't think about records, just think about what your job is on each play and executing your job."
The players know this season has not turned out as they had planned, but they are grateful for the Raider Nation's support and are looking forward to taking the field at O.co Coliseum for the final home game of the 2012 campaign. "I know it's been rough this year, but we really love and appreciate your guys' support," Mitchell said. "Just come out for the last game and let us end this season on a high note. As far as playing our home games, protect our home and I can't wait to see you guys out there."