The NFL announced today the 32 players honored as their team's Man of the Year. Representing the best of the NFL's commitment to philanthropy and community impact, these players are now eligible to win the Walter Payton NFL Man of the Year Award presented by Nationwide. The Walter Payton NFL Man of the Year Award recognizes a player for his excellence on and off the field.
---
"Justin Tuck, defensive end and captain for the Oakland Raiders, is committed not only to being a force on the field, but also a force in philanthropy. He has been a strong supporter of education and literacy for over eight years. Justin's extensive philanthropic work has been recognized and honored by numerous charitable organizations.Inspired by their own educational experiences,Justin and his wife, Lauran developed Tuck's R.U.S.H. for Literacy in 2008. The program focuses on providing access to books, combating summer learning loss and closing the educational opportunity gap that exists for low-income Americans. The program has given more than 65,000 books to over 11,000 students across the country. The Tucks further their philanthropic efforts through grants and have given over $320,000 to youth-serving literacy and financial literacy nonprofits."
---
Three of these nominees will be selected as finalists for the award, named for the Hall of Fame Chicago Bears running back, Walter Payton, who died in 1999. Finalists will be announced in January 2016.
The winner will be announced during the 5th Annual NFL Honors awards show, a two-hour primetime special airing nationally on Feb. 6, the night before Super Bowl 50, from 9-11 p.m. ET on CBS.
Each of the 32 team nominees receives a $5,000 donation to their charity of choice. The two runner-ups will receive an additional $6,000 donation, and the winner will receive an additional $50,000 donation. Donations will be courtesy of the NFL Foundation and Nationwide.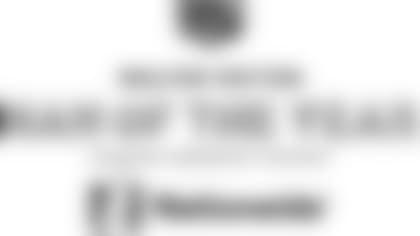 "Serving their communities and philanthropic causes is a strong and long-standing tradition of NFL players," said NFL Commissioner ROGER GOODELL."These outstanding young men embrace and represent that important commitment of giving back to our communities. We salute and thank our players for their leadership."
To further celebrate and promote the 32 nominees, Nationwide, the presenting sponsor of the award, will execute an inaugural Charity Challenge. Team nominees will each have a unique hashtag and fans will be encouraged to tweet using player hashtags. The player hashtag that generates the most mentions will win a $20,000 donation to his charity of choice from Nationwide.
"As a company who understands the importance of community service and giving, Nationwide is proud to be the sponsor of the Walter Payton NFL Man of the Year Award," said Nationwide's Chief Marketing Officer TERRANCE WILLIAMS. "While only one of these men can win the award, the fact that they have been nominated makes them, and the communities they serve, winners. We congratulate this year's nominees and thank them for their leadership."