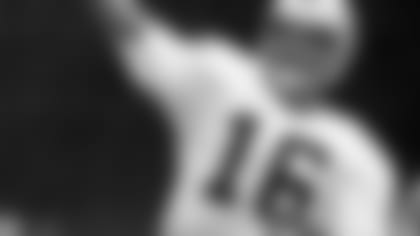 QB Jim Plunkett came off the bench throw for 108 yards and one touchdown.
"It was a typical Raiders-Kansas City game in Kansas City," said QB Jim Plunkett. "The Chiefs always come out with a lot of emotion against us and it always seems like they have 'alumni day' or something similar to fire up the crowd when they play us."
Over four decades, the Raiders vs. Chiefs series has always been something special. The rivalry started when the Chiefs were the Dallas Texans in the American Football League and continued as both teams shifted stadiums and home cities.
For this 1986 game in Kansas City's Arrowhead Stadium, the Chiefs had their first sellout crowd in three years. The Chiefs, under fourth-year Head Coach John Mackovic, had won three of their first four league games. The Raiders, with Head Coach Tom Flores now in his eighth season at that post, and his 21st as a Raider, had struggled to a 1-3-0 start.
Coach Flores took his team into Arrowhead with stellar RB Marcus Allen sidelined by an ankle injury for the second straight game. Naval Academy graduate Napoleon McCallum would get the start in the backfield with QB Marc Wilson and FB Steve Strachan.
The Chiefs roared out of the starting gate scoring three times in the first 18 minutes to take a 17-0 lead. They scored on a 24-yard field goal by Nick Lowery five minutes into the initial period and then added a touchdown later that quarter on an 18-yard run by Boyce Green. In the early second quarter, the Chiefs completed a 10-play, 66-yard drive, scoring on a one-yard pass from QB Todd Blackledge to TE Paul Coffman. Chiefs 17-Raiders 0. Two questionable pass interference penalties had helped position Kansas City for the touchdown.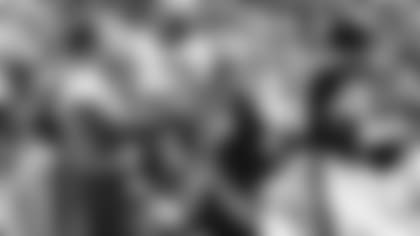 DE Howie Long leads a defensive line charge against Chiefs QB Todd Blackledge.
The Raider defensive secondary, usually a strength for the Silver and Black, was depleted before halftime. CB Mike Haynes strained a calf muscle and S Vann McElroy was ejected after an on-field brawl.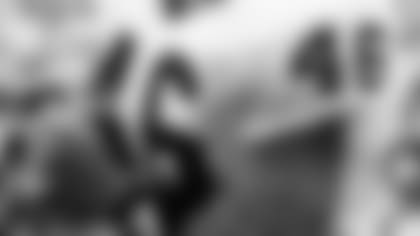 TE Todd Christensen heads upfield after one of his five receptions on the day.
"One classic example of the second guy getting caught," McElroy said. "Irv Eatman of the Chiefs came flying over the top after the play and hit our Jeff Barnes late. I threw a punch. I was going after a guy trying to hurt our people."
The Raiders offense came to life midway through the second quarter, after LB Jerry Robinson pounced on a fumble at the Kansas City 37. On third-and two, Wilson passed to TE Todd Christensen for nine down to the 28. McCallum ripped off a five-yard gain behind T Bruce Davis and G Charley Hannah. McCallum ran inside again, this time for 11 yards. Wilson finished the drive with a 12 yard pass to WR Dokie Williams along the end line for the touchdown.
Stefon Adams, subbing for the banished McElroy, intercepted a Blackledge pass in the end zone to conclude the next Kansas City drive and leave the score Chiefs 17-Raiders 7 at halftime.
In the first 30 minutes of play the hometown Chiefs had 17 points, 12 first downs and 121 yards on offense. They had forced two Raiders turnovers—a fumble and an interception – and had only punted once.
But things would change dramatically in the final 30 minutes. The Chiefs would not score another point. They would get only three first downs, 60 yards of total offense, cause no turnovers and be forced to punt five times by a rejuvenated Raiders defense.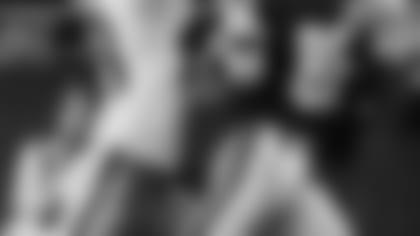 S Sam Seale bats the ball away from Kansas City WR Emile Harry.
On the Raiders opening second half possession, Wilson pitched three strikes in a row with completions to Williams for 12, Jessie Hester for six and Williams for 12 more. Then McCallum broke clean up the middle behind the line of Davis and Hannah on the left side, Don Mosebar at center and Mikey Marvin and Henry Lawrence on the right side, going 12 yards for the touchdown. Chiefs 17-Raiders 14.
On their next offensive sequence the Raiders lost their starting quarterback. The "old pro"—38-year old Jim Plunkett—strode onto the field for the Silver and Black.
"There are great passers in the NFL, and then there are individuals who are like General George Patton," said Raiders CB Lester Hayes. "Jim Plunkett is one of those stupendous leaders. That's his forte."
Plunkett led his team by completing two passes to climax the drive, one for 18 yards to Christensen and the second for 18 yards and the go-ahead touchdown to Hester. With the Raiders in front, 21-17, the third quarter came to an end.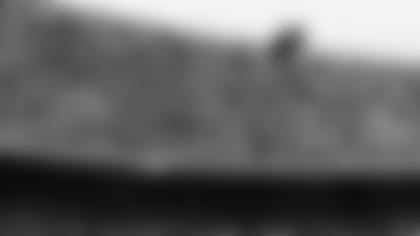 WR Dokie Williams hauls in a 12-yard scoring pass from Marc Wilson for the first Raiders TD.
Pro football's premier punter Ray Guy pinned the Chiefs at their own 11 with one punt. Subsequently, the Raiders got the ball back on their own 33, and later on their own 36. From the 36-yard line, Plunkett engineered a masterful march to the Kansas City two. From there, a 19-yard field goal by Chris Bahr opened the Raiders spread to seven points, 24-17, with 2:55 left to play.
A sack on a safety blitz by Stacey Toran, two passes defensed by S Sammy Seale, one by LB Jeff Barnes and finally, on fourth and down, tight coverage by Toran, and the Chiefs were denied.
The Raiders calmly ran out the clock, preserving the stirring 24-17 victory in another classic comeback in one of pro sports' great continuing rivalries.
"We started slowly. I think we saw some things we could exploit in the second half and we did a much better job," said Christian after the game. "Napoleon played so well and gave us an awful lot of confidence in our running game. I think we may have a tendency with the 'Great One' (Marcus Allen) out to think that we can't run, but obviously the 'Top Gun' (ensign Napoleon McCallum) showed that we could."
Great praise was also directed toward Jim Plunkett by all hands. "Thank the old man for this one," said many players on the happy plane ride back home.