The Raiders are less than 48 hours away from one of their biggest games in franchise history.
That might be a bit of an ambitious statement for a preseason game. However, this one will be the first Raiders game in Allegiant Stadium with fans in attendance. No fans were allowed in the stadium during games last season due to COVID-19 restrictions, so this will give many their first opportunity to be in the team's new home for the first time. Head Coach Jon Gruden is currently getting his team prepared for the matchup against the Seattle Seahawks, as he expects a high level of competition from his younger players fighting for roster spots.
Here are some of the best soundbites from Thursday's media availability.
On the emotions of coaching in first game in front of fans in Allegiant Stadium:
"It gives you goosebumps. It gets you excited. I don't think you're going to get to see a lot of the players play unfortunately because of the reality of what this is. This is an exhibition game. But to unite with our fans and kickoff football season officially in Las Vegas is something we're really excited about and something we really take a lot of pride in."
On the snap count the Raiders' offensive line will see:
We want to see our right tackle [ Alex Leatherwood ] play a little bit. We want to see our new center [ Andre James ] play a little bit. We've got some young players that are competing for jobs that need to play a lot, so we are going to look at them. A couple of veteran guys won't play, but you'll see our first-round draft choice and you'll see our young center."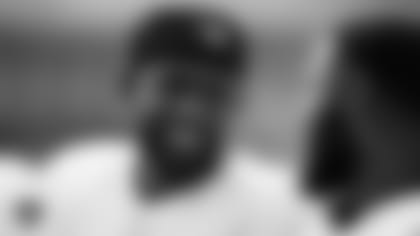 On the impact of having Casey Hayward Jr.:
"I think it helps all the corners. It helps Trayvon Mullen, it helps Nate Hobbs. We're young back there. John Abram, [Tyree] Gillespie, [Tre'von] Moehrig. They are all young. To have a guy in there that's been on a great defense, that knows the inner workings of all the things that are going to happen, it's a huge asset for us. I said it earlier, it's much like Eric Allen did for Charles Woodson back in the day."
On having 2002 NFL MVP Rich Gannon at practice Thursday:
"He's going to broadcast the game, and I can't believe he's not doing all the games. His preparation, his work ethic; I've always marveled at. He's a great friend and I've had a lot of great experiences with him. To see my dad and Gannon out there on the same day, my two favorite G-men of all-time."