Legendary quarterbacks Cotton Davidson (left), Kenny Stabler and Tom Flores get re-acquainted. Photo by Tony Gonzales.
The George Blanda Memorial weekend was held in conjunction with the Raiders versus Kansas City Chiefs game. The weekend events were kept quiet and free of public announcements so as not to distract from the contest between the two old American Football League foes.
The celebration of the life and career of the Raider Legend was held in true Raiders fashion. Well over 100 former coaches, players and administrators were in attendance including members of all three Super Bowl Championship teams.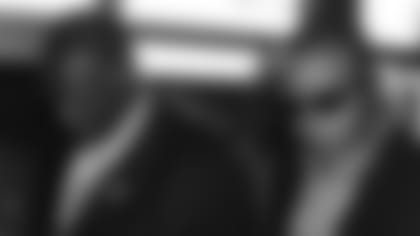 Henry Lawrence (left) and Carl Weathers check in for the event. Photo by Tony Gonzales.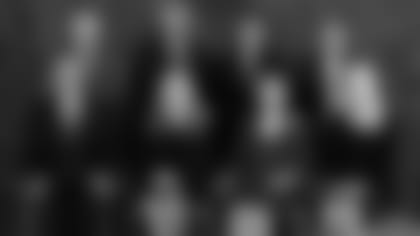 Back row, l-r: Fred "Curly" Morrison, Bill McColl, John Herrera and George Karras.Front row, l-r: George Blanda, Jr., Susan Blanda, Betty Blanda and Leslie Blanda. Photo by Tony Gonzales.
Blanda's family, including wife Betty, were in attendance. The Raiders held similar memorial events for Legends Gene Upshaw and Jack Tatum.
The prevailing thought – once a Raider, always a Raider – permeated the event which illustrated the fact that the Raiders organization always has and always will take care of its own.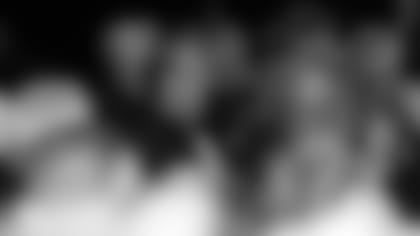 Raiders Owner Al Davis takes in the event. Photo by Tony Gonzales.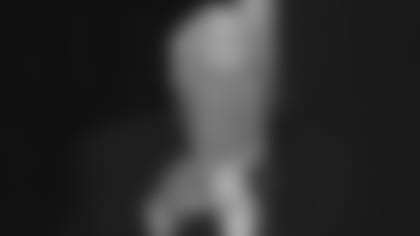 Hall of Fame Head Coach John Madden recalls the life and times of George Blanda. Photo by Tony Gonzales.
For many in attendance who had not seen each other in years it seemed like old times when sharing moments of remembrance of the great George Blanda, who passed away in September.
Raiders Owner Al Davis once said of George Blanda, "He's the greatest competitor the game has ever seen. Some may have been his equal, but none greater. Pride and Poise, Commitment to Excellence go hand in hand with George Blanda. No player has made more of a contribution to the growth of professional football than George Blanda."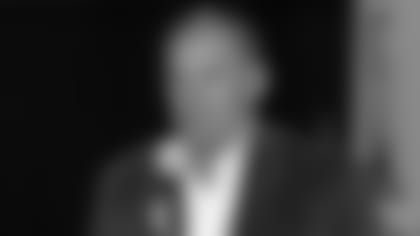 Hall of Fame Center Jim Otto speaks about the late George Blanda. Photo by Tony Gonzales.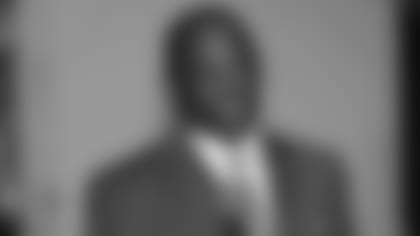 Three-time Super Bowl Champion Cliff Branch recalls playing with George Blanda. Photo by Tony Gonzales.
Everyone involved shared the sentiment that this was a stirring ceremony, with stories shared and a celebration of the life of the Pro Football Hall of Famer. Featured speakers included Mr. Davis, John Madden, Tom Flores, Jim Otto, Willie Brown, Ken Stabler, Clem Daniels, and Ron Mix.
When the Raiders Owner presented him for induction into the Pro Football Hall of Fame in 1981, Davis called Blanda the greatest clutch player the game of pro football has ever known.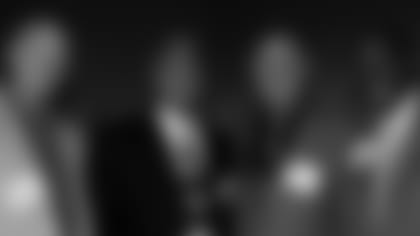 Left to right: Steve Sylvester, Mike Siani, Art Thoms and Gerald Irons. Photo by Tony Gonzales.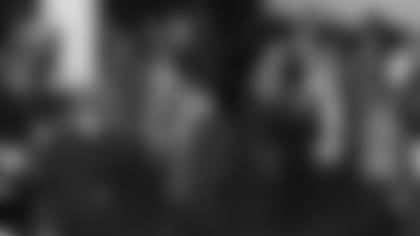 Former players, coaches, administrators and members of the Blanda family mix and mingle. Photo by Tony Gonzales.
Those in attendance got a chance to see many of those moments once again as a stirring video chronicled "The Miracle of George Blanda" in 1970, which will live for eternity in the history of the Raiders as well as all of professional football. That year, Blanda's last-minute heroics as a quarterback and place kicker resulted in four victories and a last second tie for the Silver and Black.
It was an emotional ceremony for all who attended. The love and emotion shown by the players who had not seen each other in many years was truly a heartwarming experience.
Raider Legend Warren Bankston expressed sentiments shared by all those in attendance:
"I am grateful to God for the camaraderie, fellowship and the great fraternity of the Oakland Raiders. Mr. Davis has never forgotten us. This indeed was a somber, yet happy occasion, to not mourn George Blanda's death, but celebrate his life."
George Blanda Memorial Attendees
| | | |
| --- | --- | --- |
| Bob Albo | Willie Hall | Mike McCoy |
| Dalva Allen | Harold Hart | Bill Miller |
| George Atkinson | James Harvey | Bob Mischak |
| Tony Banfield | Frank Hawkins | Ron Mix |
| Warren Bankston | Lester Hayes | Fred "Curly" Morrison |
| Jeff Barnes | Mike Haynes | Bob Nelson |
| Duane Benson | Ted Hendricks | Carleton Oats |
| Fred Biletnikoff | Charlie Henningan | Jim Otten |
| Rodger Bird | Dr. Steve Henningan | John Otten |
| Jeff Birren | Ken Herock | Gus Otto |
| Betty Blanda | John Herrera | Jim Otto |
| George Blanda, Jr. (son) | Don Highsmith | Burgess Owens |
| Leslie Blanda (daughter) | Marv Hubbard | Art Powell |
| Susan Blanda | Bob Hyde | Mike Rae |
| Sam Boghosian | Gerald Irons | Derrick Ramsey |
| Ron Botchan | Rick Jennings | Bob Romanski |
| Morris Bradshaw | George Karras | Dick Romanski |
| Cliff Branch | Tom Keating | David Rowe |
| Willie Brown | Chuck Kendall | Joe Scannella |
| George Buehler | Kenny King | Mike Siani |
| Dave Casper | Jon Kingdon | Bubba Smith |
| Mario Celotto | Kelvin Korver | Jack Squirek |
| Dan Connors | Ted Kwalick | Ken Stabler |
| T.J. Cooley | Henry Lawrence | Scotty Stirling |
| Clem Daniels | Jacky Lee | Bob Svihus |
| Ben Davidson | Al Locasale | Steve Sylvester |
| Cotton Davidson | Stewart London | Bob Talamini |
| Tommy Davidson | John Madden | Mike Taylor |
| Al Davis | Errol Mann | Skip Thomas |
| Bruce Davis, Sr. | Marv Marinovich | Art Thoms |
| Jerry Davis | Rod Martin | John Vella |
| Mark Davis | H. Rod Martin | Phil Villapiano |
| Mike Davis | Rich Martini | Carl Weathers |
| Al Dotson | Ira Matthews | Gary Weaver |
| Tom Flores | Tom Maxwell | Howard Williams |
| Fred Glick | Randy McClanahan | Ray Willsey |
| David Grayson | Kent McCloughan | Marc Wilson |
| Bill Groman | Bill McColl | |