Suite holders enjoy wine tasting at the Raiders game versus the Miami Dolphins. Photo by Allan Yuan.
A collaboration of wineries from Napa's Silverado trail and the Sierra Nevada foothills joined the Silver and Black to participate in a wine tasting.  Once a year, fine wine tasting is featured at a Raiders game, and this year suites holders were privy to a sampling from wineries such as Fawnridge, Mumm, Beringer, Mondavi and Regusci.
Participants toured several suites throughout the stadium that hosted the wineries. Those who chose to explore the unique varietals, history, and tradition found that the wineries had unique connections to the Raider Nation.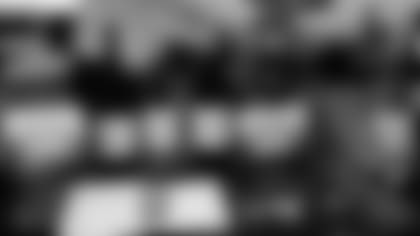 Fawnridge Winery shared its wine with Raiders fans. Photo by Allan Yuan.
Fawnridge's founder, Stewart Perry, a life-long Raiders fan, shared his prized varietals with other members of the Raider Nation.
"We're a smaller mom and pop operation and were fortunate to be the only Foothill representative in the wine industry," Perry said.  "We put out a little different style wine than the Napa region, so we're happy to bring a different style wine to the Raiders fans today. We haven't made a wine yet that hasn't won an award so we're proud of that and hope the Raiders can uphold the same level of quality."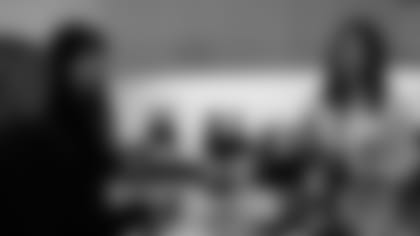 Raider fans sample wines from different wineries. Photo by Allan Yuan.
Mumm Winery, known for their Sparkling wines, has a commonality with the Raiders in that they have partnered with longtime fan and Grammy Award Winner, Carlos Santana. "In 1999, Carlos teamed up with the winemaker during a visit to create a DXV Couvet specifically to his palate," said Chad Nance, Mumm's Tasting Room Supervisor. The wine is only sold at the winery in Rutherford and proceeds go to Santana's Milagro Foundation.
Participating for the first time at the event, Robert Mondavi's Wine Educator, Jon Laurm, represented a winery that was founded in 1966, the same year the Oakland-Alameda County Coliseum opened. "We have well-cultured fans in the Raider Nation, many have spent time up in the Napa Valley."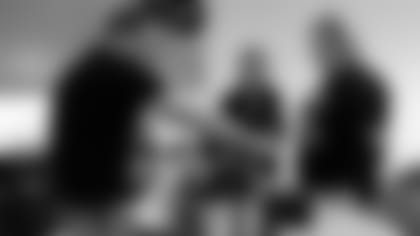 Regusci Winery participated in the wine tasting. Photo by Allan Yuan.
"Ghost Winery" is a name given to a few remaining early Napa Valley wineries that were in existence between 1860 and 1900, and Neil Bason, Direct Sales Manager for Regusci Winery, shared their rich history in the Napa Valley and their pride in sharing that tradition with the Raider Nation.  "The spirit of Raiders and the passion they have on the field, we have the same passion for making great wine," Bason said.  "We've had a great response to our wines from the Raiders fans.  Typical in their nature, they appreciate greatness when they see and taste it!"