6 Santa Clara County High School Seniors
Awarded REACH Youth Scholarships
Oakland Raiders defensive back Tevin McDonald and punter Marquette King were on hand for the Friday morning breakfast.
SAN JOSE (April 29, 2016) – The REACH Scholarship Awards celebrated its 20th year this morning by awarding six outstanding young athletes with college scholarships. Each of the nominees has sought out sports though their respective high schools to aid in overcoming major hardships. The stories of these students inspired athletes like Ronnie Lott and Eric Reid, who have overcome obstacles of their own, to attend the awards ceremony and meet the young athletes. Below is a list of recipients of the award, along with a brief summary of their accomplishments.
For each of the last 20 years, the San Jose Sports Authority has recognized the drive, determination and perseverance of student athletes from high schools throughout Santa Clara County. Schools nominate qualified students and each student writes an essay describing the obstacles they have overcome. The essays are submitted to the San Jose Sports Authority and reviewed by the selection committee comprised of local media, sports industry representatives and community leaders and eight student athletes are selected to receive scholarships. To qualify for the scholarship, students must be a high school senior, maintain a minimum 2.5 GPA, participated in at least one high school athletic activity, have demonstrated community involvement, and overcome adversity to reach his or her goals.
The 2016 REACH Awards program featured 17 student athletes from 11 high schools, including Independence High School, Live Oak High School, Archbishop Mitty High School, Santa Teresa High School, Westmont High School, Leland High School, Eastside College Preparatory School, Valley Christian High School, Los Altos High School, Los Gatos High School, Silver Creek High School, and Presentation High School.
2016 REACH Youth Scholarship Award Winners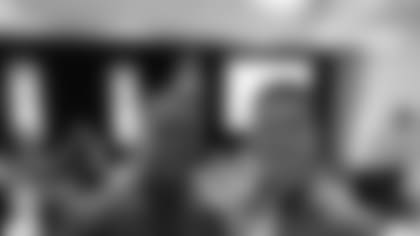 Oakland Raiders defensive back Tevin McDonald poses for a photo with Bailey Thayer.
Bailey Thayer, Los Altos High School [$3,000]
Baily is a humble young man and an all around athlete participating football, basketball, lacrosse, and track throughout high school. Bailey faced an unfortunate and unlucky series of events losing both his sister and brother to brain cancer. After his parents lost their house and their jobs, Bailey found his strength by his love of sports. and helping his family start and operate  a foundation for families with loved ones in the hospital.  Baily hopes to run track at either Concordia University or Cal Poly next year with a life long service to making a difference in the life of others.
Nick Murtha, Leland High School [$2,500]
As a junior point guard leading his basketball team to the CCS Championship game, Nick was looking forward to leading his team back to CCS his senior year with is team. After colliding with another player during an AAU game that summer, Nick faced several incorrect diagnoses before he and his family found he had an Ependymoma brain tumor. Having the tumor removed in July 2015, Nick then faced six weeks of radiation and three months of chemotherapy. With encouragement and support from his friends and family, Nick pushed himself to get back on the court. In January of this year, Nick did just that. Back on the court but not at full strength, Nick found himself in a different role on the team, being the cheerleader, offering encouragement, and moral strength that his team needed to win CCS. Next year, Nick hopes to improve his basketball skills at a junior college in hopes of transferring to a college where he can play basketball at full strength again.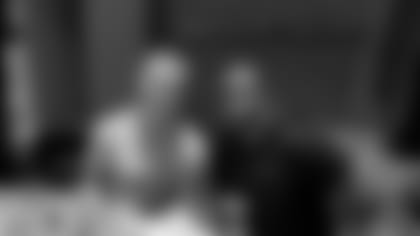 Oakland Raiders punter Marquette King poses for a photo withAlexei Van Klaveren.
Alexei Van Klaveren, Valley Christian High School [$2,000]
At three years old, Alexei was adopted from an orphanage in Kazakhstan. When he was seven, his family adopted his younger brother from the same orphanage. Finding a love for wrestling in high school, Alexei challenged himself physically and mentally. Living with cerebral palsy, Alexei has a very mature outlook on life and a strong mental capacity with the ability to recognize that not everyone is born the same. Constantly using his mind to convince his body to push through tough times, Alexei is now a confident young man who was recognized as most inspirational on his wrestling team.
Merin Kolte, Archbishop Mitty High School [$1,500]
Merin is a poised young woman who approaches life with extreme grace and maturity. Receiving several volleyball awards and recognitions, Merin excelled at volleyball from junior high school through high school. Merin excelled at volleyball from junior high school through high school. receiving several volleyball awards and recognitions,
Merin's happy healthy family was hit with the devastating news that her mother was diagnosed with stage three colon cancer in 2011 and her dad with stage four kidney cancer shortly after.  About a year later with her mom's prognosis looking better, Merin's dad lost his battle to cancer.  Starting at a new high school, Merin found an escape in playing volleyball. Next year, Marin will be playing D1 Volleyball at UC Irvine.
Carly Polisso, Los Gatos High School [$1,500]
Carly is a strong young woman who started high school at Mountain View High School. Carly's mom was diagnosed with ALS in 2009. Playing basketball has always been a passion of Carly and her family and a place where she finds happiness.  As Carly's mom's medical needs increased a family decision was for Carly and another sibling to move to Los Gatos with her sister. Her sister is head coach of the Los Gatos High School basketball team and  Carly was able to continue to play basketball with her mom as her biggest fan attending every game. Carly hopes to pursue a degree in psychology in college.
Edward McCarthy, Santa Teresa High School [$1,500]
Edward was recognized by his football teammates as his team's most inspirational player. Through high school, he struggled through a grade two concussion and his dad's tough fight with esophageal cancer. Quickly learning how to take care of his family including raising his younger brother, Edward also managed to spend time volunteering at a local church and senior care facility. Edward plans to be the first member of his family to pursue a college degree and to fulfill his desire to make a difference in his community. 2016 REACH Youth Scholarship Nominees:
ARCHBISHOP MITTY HIGH SCHOOL
Merin Kolte
*           * EASTSIDE COLLEGE PREPARATORY SCHOOL
Tiverio Madrigal Landa
Pablo Mendoza
Simone Noble
Addison Partida-Vasquez
INDEPENDENCE HIGH SCHOOL
Devin Ary
Justine Lee
LELAND HIGH SCHOOLNick Murtha
LIVE OAK HIGH SCHOOLAnthony Ditta
LOS ALTOS HIGH SCHOOLBailey Thayer
LOS GATOS HIGH SCHOOL
Carly Polisso
PRESENTATION HIGH SCHOOL
Chloe Isleta
SANTA TERESA HIGH SCHOOL
Ashley Mathews
Edward McCartney
SILVERCREEK HIGH SCHOOL
Dontye James
VALLEY CHRISTIAN HIGH SCHOOL
Alexei Van Klaveren
WESTMONT HIGH SCHOOL
Kathryn Morris
---
About the San Jose Sports Authority
The San Jose Sports Authority is a non-profit organization whose mission is to increase the City of San Jose's economic development, visibility and civic pride through sports. Serving as the City's sports commission since its inception in 1991, the Sports Authority has provided leadership and support to attract or host hundreds of sporting events in San Jose and the South Bay. The Sports Authority also supports and operates community, youth and amateur sports programs, including the San Jose Sports Hall of Fame, The First Tee of San Jose, and the REACH Youth Scholarship Program. To learn more, visit www.sjsa.org.