January 20, 2013 - Senior Bowl Day 1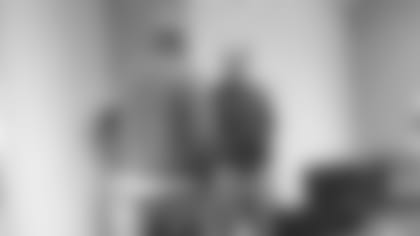 New special teams coordinator Bobby April catches up with DB coach Johnnie Lynn just before Sunday's staff meeting. The two coached together in Philadelphia.
Al Saunders, the Raiders' senior offensive assistant, will call plays for the North at this week's Senior Bowl.
Until Head Coach Dennis Allen hired new offensive coordinator Greg Olson Saturday, that was the plan. And after the addition of Olson, who arrives in Mobile Sunday night, that remains the plan.
That was one clarification Allen made in leading a staff meeting Sunday afternoon in the Raiders' area of Senior Bowl headquarters. Olson isn't the only member of the Raiders to arrive Sunday. A few scouts were due in Mobile Sunday night after attending the East-West Shrine Game in St. Petersburg, Fla.
When he arrives, Olson will join the Raiders in capitalizing on an opportunity they don't want to be in again, coaching the Senior Bowl. The responsibility is given to one of the teams selecting in the top five of the upcoming draft. Oakland (4-12) is scheduled to select third. The Raiders, Allen reminded the staff, will get to know players on the North team more than other teams, to better determine whether they will fit the foundation Oakland has laid. The Raiders will eat with the players from both teams and interact with North players in practices and meetings, opportunities other teams don't have.
San Francisco, which coached in three straight Senior Bowls from 2006-08, built the core of its current NFC championship team through drafts during those offseasons.
Additionally, tight ends coach Mark Hutson is handling the offensive line while Allen concludes his search for the next Raiders line coach. Hutson was a two-time All-American on the offensive line at Oklahoma.
New special teams coach Bobby April has hit the ground running. He is in place and will run the special-teams portions of practice and meetings this week. He was especially interested, as the scouts and coaches went over each prospect at Sunday's staff meeting, whether each player had return ability. Even players without much college experience as a returner will be put in that situation this week.
Hutson is one of several coaches on the current Raiders staff with recent college coaching experience. That could prove a key factor in the future, as each of those coaches already know many of the players in attendance at the Senior Bowl, having recruited them, coached against them, or in some cases, even coached those players. That group also includes special-teams assistant Keith Burns, quarterbacks coach John DeFilippo, WR coach Ted Gilmore, assistant strength and conditioning coach John Grieco, offensive assistant Nick Holz, defensive assistant Travis Smith, defensive coordinator Jason Tarver and defensive-line coach Terrell Williams. All those individuals are in Mobile not only to coach, but also to offer their first-hand knowledge, or second-hand reports through people they know, on each prospect in attendance. That intelligence, along with the information compiled by scouts 12 months of the year, will be invaluable to the Raiders this week.
Williams' knowledge of players on both sides of the ball is very deep, considering he has coached and recruited recently for Purdue and Texas A&M.
Allen said he wants the practices run professionally, the right way. So, the Raiders staff is paying special attention to details such as reps. The Raiders aren't going to babysit any of the players, either. Oakland's staff expects them to demonstrate their own professionalism, by being on time for meetings, being attentive and following the directions they're given on the field.
As for the game, which kicks off Saturday at 1 p.m. from Ladd-Peebles Stadium (NFL Network), South team head coach Jim Schwartz and Allen have a few ground rules in place, regarding offensive and defensive strategies, and there will be no fakes on special teams, but other than that, fans should expect a game organized in an NFL manner, minus one detail – sideline headsets.
The Raiders coaches and scouts establish the depth chart and manage playing time.  Many players will get either 15 plays or one quarter. The Raiders also will gauge many of the players' flexibility, practicing them at unfamiliar positions. Some players, for instance, used to playing left tackle, will also play right tackle. Some offensive guards will also snap.
After meeting formally with players for the first time Sunday night, the Raiders will open the practice week Monday afternoon at Ladd-Peebles Stadium.