Entered Florida State as the nation's No. 1 recruit and lived up to the billing as he developed into an All-ACC First Team selection and All-American as a junior in 2014...appeared in 36 games with 26 starts in his career and had 89 tackles, 23 TFLs and eight sacks.
2014**: Versatile second-year starter led the Seminoles with 11 tackles for loss in 13 games, while playing defensive end, defensive tackle and Jack linebacker...also played fullback in some jumbo goal-line packages...All-ACC First Team selection by the coaches and media and two-time ACC Defensive Lineman of the Week...collected Sports Illustrated All-America Second Team accolades...established season-high marks in tackles (44), pass break-ups (5) and forced fumbles (2)...ranked second on the team with three sacks...registered new career-highs with nine tackles against Virginia, including four for losses; also forced a fumble to win second ACC Defensive Lineman of the Week honor...forced a fumble on FSU's first defensive play and finished with three TFLs versus Wake Forest...able to play on the inside and on the edge on FSU's defensive line...his 23 career tackles for loss was four shy of FSU's all-time top 20...appeared on the Bednarik, Nagurski and Lombardi Watch Lists.
2013: Seminoles starter at the right end and a key contributor to the nation's third-ranked total defense (281.4 ypg) and No. 1 scor- ing defense (12.1 ppg)...the sophomore was named one of the top defensive linemen in the conference by both the coaches and the media...in his second season in Tallahassee made 11 starts and appeared in 12 games, making 28 tackles...became a major force when it came to splash plays in 2013 with two fumble recover- ies, a forced fumble, 9.5 TFL, 3.5 sacks, an interception and a TD return...recovered a fumble and returned it 37 yards for a touch- down at Clemson...had a monster performance in the BCS National Championship Game, totaling a career-high 3.0 tackles for loss in- cluding a sack... had six tackles against Auburn...recorded 2.0 TFLs and 1.0 sacks on four total tackles against Miami...intercepted a pass and made two tackles, including 0.5 sacks, at Wake Forest... had three tackles and then-career-highs with 2.0 TFL, an eight- yard sack and a forced fumble at Florida...posted three tackles in the season opener at Pitt...finished with four tackles and 1.0 tackles for loss against Nevada...made one tackle – a 3-yard loss – and broke up a pass against Idaho.
2012: Appeared in 11 games and made his first career start in the ACC Championship Game replacing Cornellius Carradine...the only true freshman to register a start for FSU on the defensive side of the ball...came into the ACC Championship with seven tackles on the season and doubled that number in one game, register- ing seven versus the Yellow Jackets, including a tackle for loss... made three tackles and registered his first pass break-up against Northern Illinois in the Orange Bowl in his second career start... recorded his first career sack on the road in a win over Maryland... was projected to redshirt in 2012, but was forced into action due to the loss of Brandon Jenkins in week one and then into the start- ing line-up after losing Carradine in week 12.
PERSONAL: Near consensus top-rated prospect in America in 2012...USA Today defensive player of the year...ESPNU 150 mem- ber...2012 Parade All-American...SI.com Second Team All-American ...ESPNHS First Team All-American...247Sports Defensive Player of the Year for 2012 where he garnered a perfect 100 rating...one of just four players with a 100 rating from 247Sports...listed at No. 1 by ESPN, Scout and 247Sports...Rivals listed him at No. 3 nation-ally...five-stars from Rivals, Scout and 247Sports...unanimously ranked No. 1 at his position whether it be defensive end or de- fensive tackle...the top player coming out of the state of Texas... Scout said it is hard to find a player as big and explosive as Ed- wards...of his 72 tackles as a senior 32 were for a loss including 11 sacks...named the state of Texas Class 4A Defensive Player of the Year as a junior by the Associated Press...recorded 127 tackles, 50 tackles for loss and 18 sacks leading Denton Ryan to a state runner-up finish...recorded 69 tackles and three sacks as a fresh- man on top of catching 17 passes for 361 yards and three TDs...his high school coach raved about his work ethic as he and his father, former FSU star Mario Edwards, work out together at 6 a.m. each morning...Edwards wears the same number (15) as his dad did at FSU...chose Florida State over Texas, Alabama, LSU, Oklahoma and Oklahoma State, among others.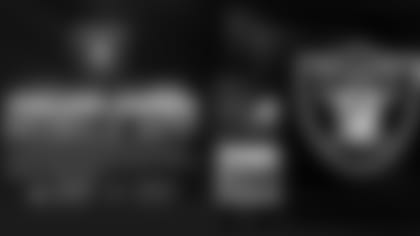 ](http://www.raiders.com/fans/mobile-app.html)