style="text-align: center;">style="text-align: center;">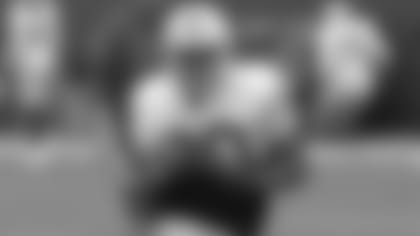 Running Back Jalen Richard
"By any means" has become the mantra of the 2016 Oakland Raiders, and for the undrafted players on the team this phrase holds a special significance.
At one point or another, everybody has to pay their dues and earn their way in the world. Life isn't always easy, and it can be a grind, but it's the hope of achieving a goal that fuels individuals to excel. For certain players hopeful of making it to the NFL, going undrafted is just another obstacle put in the way of accomplishing that goal. For Raiders wide receiver Andre Holmes, who went undrafted in 2011, the chip on his shoulder has never left him, and it continues to spark his drive even now that he's in his fifth year in the league.
"I always feel like I have to play with some type of chip, or like it's my last year," Holmes said. "Now, I've established myself in the NFL, but now I have to fight the other thing that plagues players which is age."
Holmes, now 28, joined the Raiders practice squad during the 2013 season and worked his way up to the active roster, serving primarily as a member of the special teams unit. In his four seasons with the team, he's accumulated 1,395 receiving yards, and 11 touchdowns.The Hillsdale-product credits much of his success to the opportunity he earned on special teams, noting that he wasn't willing to let this chance pass him by.
"The main thing for me and receivers that come in is special teams," said Holmes. "That's what got me in the league; it's kept me in the league, and it's always important."
Making it to the league is a hurdle in itself, but once the dream becomes a reality, it's a constant battle to stay there. Holmes is cognizant of the fact that if he lets up for one instant, his fight could be over.
"I feel like no matter where you are, whether you're first round or undrafted, every year is a fight," he said. "You should never feel comfortable, because if you do, you're not going to stay in the league for very long."
After earning his way to his current role, Holmes realizes that the next step in his journey is to help the younger players mature, and grow as men on and off the field, specifically the undrafted guys. One player who has grown fond of Holmes is rookie running back Jalen Richard, who also went undrafted.
This season, Richard is averaging the highest yards per carry on the team at 5.7, has rushed for 386 yards, and 173 receiving yards, to go along with a rushing and receiving touchdown. He has helped put the offense in good field position on multiple occasions because of his explosiveness on as both a kick and punt returner. The rookie running back totes the 'By Any Means' mentality with him everywhere he goes, especially when he's on the field.
"To make this team I had to scratch, I had to buy it – not literally – but  I had to basically give my all, and do everything humanly possible 'By Any Means' to make the team," said Richard. "We take that 'By Any Means' mentality, and come out of here with a win, no matter if it looks good or if it looks bad."
Through 17 games, including preseason, Richard has continued to learn the ropes, and get a feel for life in the NFL. Not only has Holmes been able to provide him with advice, but No. 30 is following in his footsteps as he leads by example. Richard has observed the way Holmes conducts himself on and off the field, and notes that has played a significant role in his own development.
At the end of the day, players like Holmes and Richard are able to stay motivated and excel at what they do because they're passionate about the game of football. It's more than just a job to them and they take it seriously day-in and day-out because if they stumble for a mere second, it could all end at a moment's notice.
"I'm having so much fun, I've been enjoying it, it's a blessing, and it just makes all of us undrafted guys go harder," Richard said with a smile. "We continue to keep a chip on our shoulder and us being out there, we know it can be taken away any day."
Here are some other notable current Raiders who entered the league as undrafted free agents:
| | | | | |
| --- | --- | --- | --- | --- |
| Position | Player | School | Year | Team |
| DL | Denico Autry | Mississippi State | 2014 | Oakland |
| LS | Jon Condo | Maryland | 2005 | Dallas |
| WR | Andre Holmes | Hillsdale | 2011 | Minnesota |
| WR | Johnny Holton | Cincinnati | 2016 | Oakland |
| G/T | Austin Howard | Northern Iowa | 2010 | Philadelphia |
| P | Marquette King | Fort Valley State | 2012 | Oakland |
| DT | Darius Latham | Indiana | 2016 | Oakland |
| QB | Matt McGloin | Penn State | 2013 | Oakland |
| FB/RB | Jamize Olawale | North Texas | 2012 | Dallas |
| T | Donald Penn | Utah State | 2006 | Minnesota |
| RB | Jalen Richard | Southern Mississippi | 2016 | Oakland |
| WR | Seth Roberts | West Alabama | 2014 | Oakland |